Saving Bees & Protecting the Planet, Teen Volunteers to Reverse the Declining Bee Population
Meet Daily Point of Light Award honoree Natasha Threat. Read her story and nominate an outstanding volunteer or family as a Daily Point of Light.
Natasha Threat was in 6th grade when she read an article about the rapidly declining bee population. Important crop pollinators responsible for pollinating one-third of the food consumed by Americans, as beehives have suffered dramatic losses over the last decade, the production of food crops have similarly decreased.
Deciding to do her part to reverse the declining bee population, Carlsbad, California resident Natasha launched Beegether in 2016, zeroing in on a burgeoning problem in her own community. Discovering that grassy slopes commonly found between town property and privately owned land is sometimes sprayed with chemicals that kill weeds but also kill bees, 15-year-old Natasha is replanting these slopes with flowers and bee-friendly plants. Raising several thousand dollars to contribute to a better future for the environment, Natasha is changing her community, one bee at a time.
What inspires you to volunteer?
I have always been fascinated with the idea of giving back. Community has given so much to me growing up and supporting my interests, and it gives me joy to give back to my community. I hope to foster a similar experience of such a welcoming community for others.
Explain how you are supporting bees.
I realized that in my community, there are plots of land nestled between public and private land that are basically ignored. As a cheap way to kill weeds on the slopes, it usually ends up being sprayed with a ton of Glyphosate, a systemic herbicide that has been labeled a probable carcinogen. I became really concerned about this because there could be harmful chemicals around children playing on these slopes, and it's also a bee-killing chemical. I decided that I could replant slopes with flowers and other bee-friendly plants so that bees are attracted back to these slopes, and there are less harmful chemicals near other animals and humans.
Describe your role with Beegether.
As founder of Beegether, I manage our online communications. I also raise money for Beegether through garage sales and other fundraising. Bees are a keystone species and their decline is really concerning to me. I know if we can provide a safe haven for bees, we'll be able to help pollination.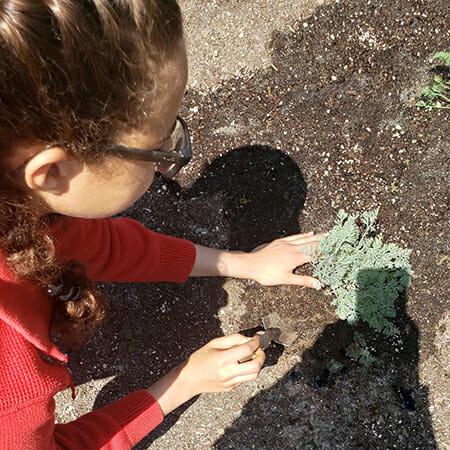 Share one personal story with me from your volunteerism.
When I planted my first slope next to my old school, Poinsettia Elementary, I first educated my principal on why I wanted to do this and explained how harmful the chemicals being sprayed on slopes were. I found this an important area to preserve as it is near the field where students (including me) played. She was proud of me for taking the initiative to make a difference. It was gratifying to see that my principal was so thankful, and when I visited the spot later, I saw all the bees buzzing around, the children playing. It was so rewarding.
What flowers and plants do you plant on your slopes?
It costs about $1,200 to plant each slope, and I enjoy figuring out what grows best where. I plant a lot of Bottlebrush, bees just love this flower, they're on it every season. I am hoping to do more slopes in the future. I really enjoy gardening, and I also have a lot of house plants in my room.
What's one way you hope to inspire others in your service?
I hope to inspire others to find an action that really means something to them. When you find something you're passionate about, service won't feel like work, it won't feel forced, but rather, something you enjoy that will make a difference.
Why do you think it's important for others to give back?
This is our world and we need to do our best to take care of it. If everybody did one little thing to give back, then our world would be so much better. Coming together as a community is better for our planet and it strengthens bonds between us all. It also gives us an opportunity to create a better future for our children.
In one word, what does volunteering mean to you?
Community.
When you're not volunteering or at school, what do you do for fun?
I really enjoy reading and learning French and Spanish.
How can readers help?
My plans to plant a second slope at another nearby elementary school have been put on hold because of the coronavirus pandemic. I hope to be able to go speak with the students at that school and plant the slope next spring. As we rely on donations and fundraising to plant slopes, please visit my website for more information about how you can help.
Do you want to make a difference in your community like Natasha Threat? Find local volunteer opportunities.
Share this post