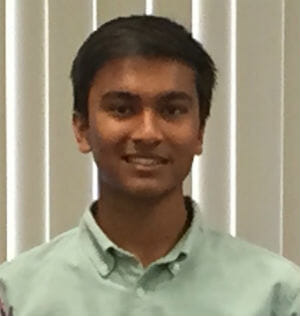 Today, World Sight Day, we honor Shalin Shah with a Daily Point of Light Award. Read his story and nominate an outstanding volunteer or organization as a Point of Light.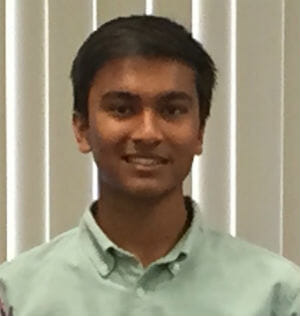 Shalin Shah
Two years ago, as a ninth grader in Orange County, California, Shalin Shah watched a documentary about a surgeon who traveled to North Korea and, with a simple procedure, returned sight to people suffering from cataracts.
The gesture, and the ailment, was an eye-opener for Shalin, now a 16-year-old junior.
"It seemed such a simple thing and yet it had such a great impact," he says. "I wanted to see how I could make a contribution, using my own skills."
So he spent his summer vacation building a free app, called Voice, which allows the blind, in effect, to read what is before them.
Like other apps designed for this purpose, Shalin's relies on technologies such as computer vision, which analyses pictorial information, and optical character recognition, which allows a user to photograph a written segment (from a book, sign or label) and then converts the image into data. Analyzing the data it has collected, the app then voices the words out loud.
"In talking with blind people, I began to understand some of the weaknesses of the apps that are already out there for them," Shalin says.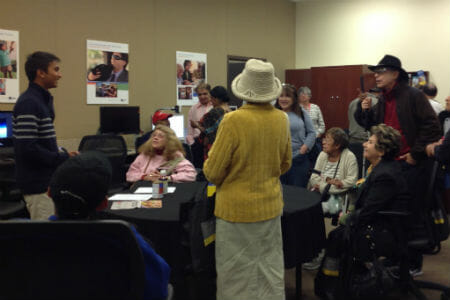 Shalin Shah, left, discusses his app during a seminar in Los Angeles at the Braille Institute of America.
Users complained that some apps couldn't handle poor lighting or interpret photos taken at slight angles.
One of the greatest challenges for Shalin was making sure that the app could communicate when it had correctly detected all four corners of a document.
Once he was done, Shalin set about distributing his creation – for free. (Get it here.)
"Another similar app costs about $100," he says. "But I learned that 63 percent of America's 6 million blind people are unemployed and I decided to offer Voice for free. They need my help, not for me to charge them money."
Shalin posted news of his product on online forums for the visually impaired and contacted organizations such as the Braille Institute of America and the California School for the Blind.
So far, various versions of the app – now available in 30 languages – have been downloaded 13,000 times.
This budding computer scientist, who is scouting colleges now, has big ideas for future versions of the app, such as one that helps people with dyslexia and one that is entirely voice controlled. He also dreams of helping people who might not have easy access to eye doctors by developing an app that could take a photo of a person's eyes and diagnose whether disease, such as glaucoma or cataracts, is present.
"I believe that anyone should try to help people by using what they like and want to do," he says. "For me, that was computer science. But everyone has some skill or interest that they can share – they can have fun while helping out."
Share this post