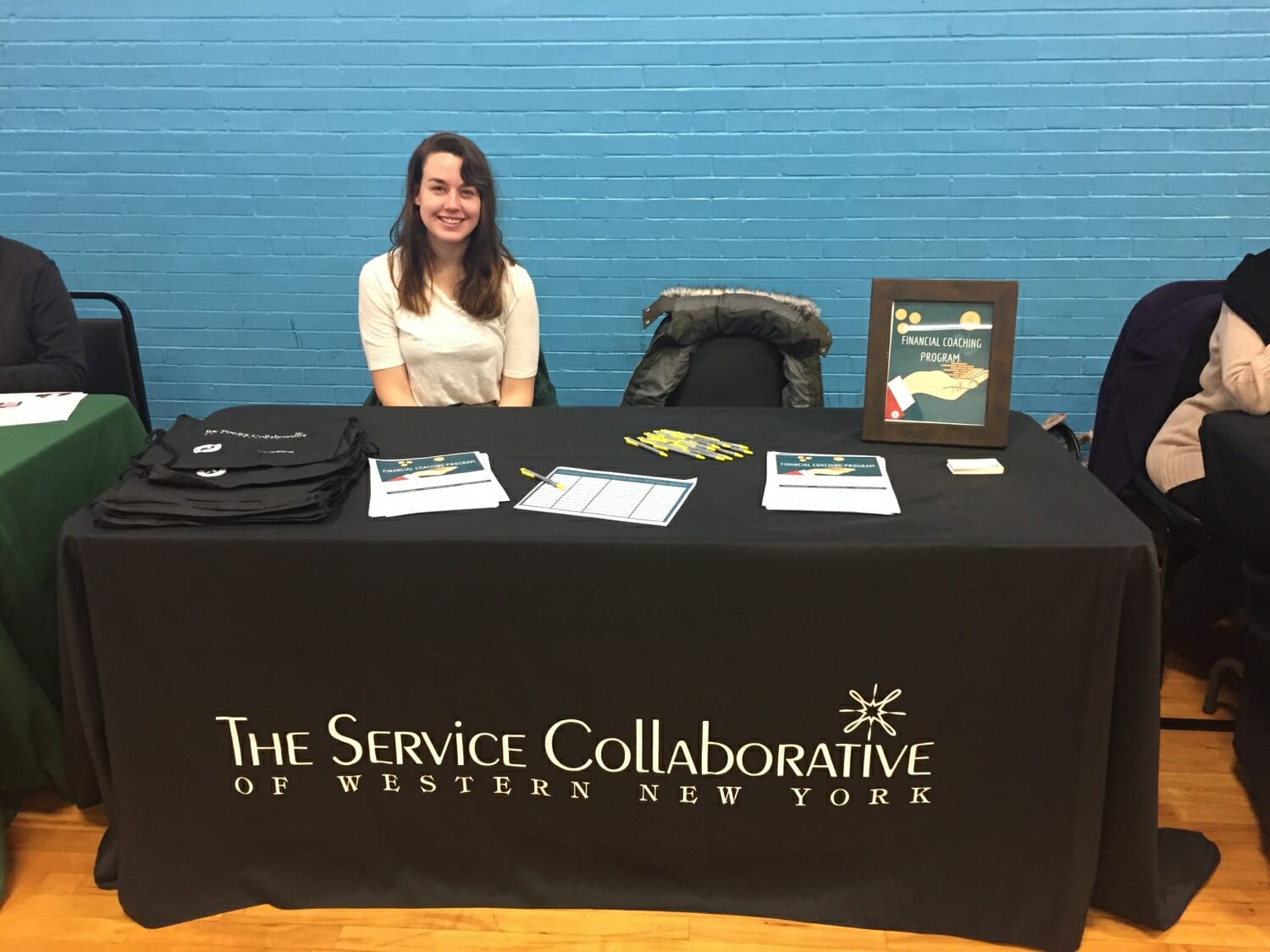 In celebration of AmeriCorps Week 2017 (March 4-11), Points of Light is recognizing some of the outstanding AmeriCorps members who currently serve or who have served in our ServiceWorks, Ready Corps, Frontline Families, and Financial Opportunity Corps programs with Daily Point of Light Awards. AmeriCorps Week is a time to salute AmeriCorps members and alums for their service, thank AmeriCorps community partners, and share stories about the impact of AmeriCorps on communities and on the lives of those who serve.
Joining AmeriCorps after college seemed like a natural fit to Shannon Gillen, who had been volunteering all her life. Shannon had the passion, but she worried she might not have the technical skills to join the Financial Opportunity Corps. She majored in art and internal studies in college, not finance. However, as a former Volunteer Income Tax Assistance volunteer, she understood the importance and need for financial literacy programs.
According to the National Foundation for Credit Counseling's 2016 Financial Literacy Survey, Americans have a strong desire to improve their level of financial capability. Three in four adults (75 percent) agree – and nearly one in four (24 percent) strongly agree – that they could benefit from advice and answers to everyday financial questions from a professional.
The Financial Opportunity Corps recruits and trains volunteers as financial coaches who help people from low- and moderate-income households achieve financial stability. Shannon is the first Financial Opportunity Corps member at the Service Collaborative of Western New York in Buffalo, N.Y. She spent the first several months developing a Financial Coaching Program in partnership with local agencies. The result is six, 2-hour financial workshops that meet monthly at two different locations. Each session has a specific topic with a guest speaker. In February, a guest speaker from the local Habitat for Humanity Restore, discussed relocating and refurnishing homes at a discount and handed out coupons. In order to make the program approachable, Shannon arranged for complimentary food and childcare.
A key part of her position is recruiting and supporting volunteer financial coaches. With the support of Financial Opportunity Corps members, financial coaches meet one-on-one with participants to develop strategies to reduce debt, improve credit, start saving for emergencies, access benefits and build assets for long-term financial health.
Now that Shannon's program has started, her typical day is busier. A good part of her day is devoted to volunteer and client management, as well as creating partnerships with local organizations. She enjoys the fact that she gets out a lot to go to tabling events and community meetings to promote the program. She loves seeing people nod their heads in agreement when she says "Everyone could use a little financial literacy."
Shannon is now currently working to develop a Junior Financial Coaching Program in partnership with Canisius College and the Mass Ave Project, a youth urban-farming program. This would help prepare high school juniors and seniors for the financial realities of going to college or moving out on their own.
To learn more about Service Collaborative of Western New York's financial literacy programs, visit their website. The Financial Opportunity Corps is a partnership between Points of Light, Bank of America and the Corporation for National and Community Service. You can also learn more about personal financial literacy tools for yourself and others by using Bank of America's Better Money Habits.
Share this post