Sharing Her Love of Nature with Others, Minnesota Woman Spends Retirement Volunteering in the Great Outdoors
Meet Daily Point of Light Award honoree Elizabeth Heeren. Read her story and nominate an outstanding volunteer or family as a Daily Point of Light.
Most Americans probably remember learning about the Mississippi River in school. Maybe it's memories of a teacher talking about how the river provided Native Americans and early settlers with vital resources, or reading about the adventures of Mark Twain's Huckleberry Finn as he journeyed down the river on a raft. But fewer Americans can probably say that they were able to experience the marvels of the Mississippi River for themselves.
Elizabeth Heeren of St. Paul, Minnesota, hopes to change that with the volunteer work she does for numerous wildlife and outdoors programs, including Big River Journey – an experience provided by the National Park Service that allows young students to get out on the river.
"A lot of the time, it's the first time they've ever been on a boat. They actually get out in the water and they get into the woods," Elizabeth said. "The kids are excited to see birds, are surprised that the rocks are full of fossils, learn that the water has all sorts of life, and can consider how the Mississippi River is a part of them."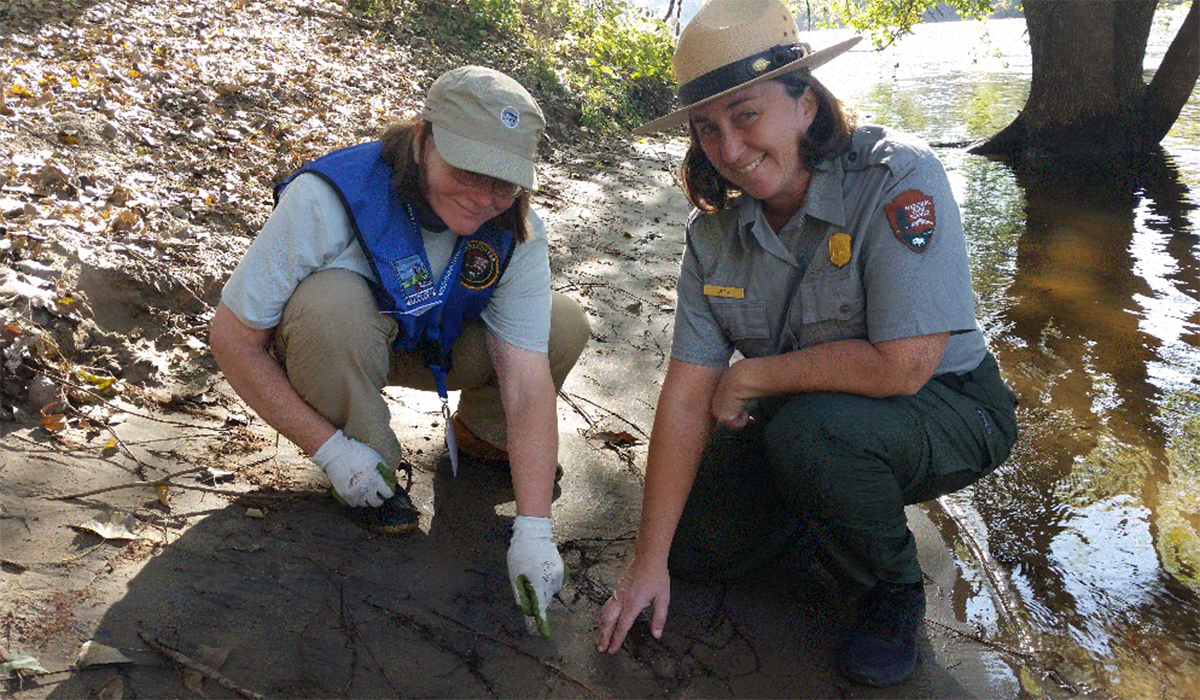 Aboard a riverboat that cruises down the Mississippi, third- to fifth-grade students get to learn different topics at each station, which are led by park rangers. Volunteers like Elizabeth assist the rangers to ensure each station goes smoothly.
"Showing kids how to use binoculars, though it might seem intuitive to adults, is not intuitive to kids," said Paula Swigley, volunteer coordinator with the National Park Service. "They put them on upside-down, they try to look through them backwards. Our volunteer support helps us be able to give each student individualized attention and support in all of the stations."
Elizabeth says her love for the outdoors started as a child, and has grown ever since. After working as a fruit and vegetable inspector, she retired and found herself with a lot of time on her hands. After a neighbor suggested she volunteer for the National Park Service, she started working with their Seedsters program, growing plants in her own home to be replanted in parks.
But Elizabeth didn't stop with just one program. In fact, she volunteered for so many programs that she became the National Park Service's Volunteer of the Year in 2018.
"It's not unusual for volunteers to volunteer across multiple different programs," Paula explained. "But Elizabeth volunteers more than average, for sure. She volunteered more than 450 hours on 80 different days. She's pretty outstanding."
On top of all the hours she dedicates to the National Park Service, Elizabeth is also a Minnesota Master Naturalist Volunteer, which required her to complete 40 hours of training and a minimum of 40 hours of volunteer service to promote awareness, understanding and stewardship of Minnesota's natural environment. She is a docent at the University of Minnesota's Bell Museum of Natural History, and she also volunteers with numerous other programs to assist scientists in collecting data on Minnesota's vast biodiversity, including monarch butterflies, wasps and more.
While Elizabeth could easily spend her time enjoying the wonders of wildlife and nature by herself, she chooses to volunteer and share it with others because, "the more you know about it, the more you care about it."
"I enjoy helping people become aware of the marvels of the world right around them, right here, outside their door," Elizabeth said. "I want to help inspire them to maintain and protect those natural resources for the future."
Do you want to make a difference in your community like Elizabeth? Find local volunteer opportunities.
Share this post