Shocked that Girls Around the World Were Being Killed Just for Their Gender, this Georgia Teen Started a Volunteer Organization to Help End Female Gendercide
Meet Daily Point of Light Award honoree Himani Kalra. Read her story and nominate an outstanding volunteer or family as a Daily Point of Light.
Himani Kalra knew that female gendercide or femicide was a major problem in countries such as India and China. But never did the 16-year-old imagine that such a horrific thing could happen in the US.
"I saw a police report video and the police had heard the cries of a baby," Himani recalled of the incident that happened last year. "They followed the voice into the woods and found a baby girl, which had been disposed of in the woods in Cumming, (Georgia), with her umbilical cord still attached."
"It was a case of female gendercide," Himani was convinced. And it reaffirmed to her that her organization, Save the Girl Child, was as needed as ever.
Himani, from Atlanta, Georgia, first started Save the Girl Child in 2018 as a Girl Scout project, but it has since grown into a larger movement with the goal of ending female gendercide and infanticide, which is the killing of female adults, children or infants, solely because of the fact that they were born a girl in a society where boys are preferred and more valued.
It's most prevalent in South/East Asian countries such as China, India and Pakistan, but it's happening around the world, even in the US, with the United Nations estimating that around 140 million girls are "missing" around the world, as "the result of son preference, including gender-biased sex selection."
"In the societies where it happens, the female gender has less status in society because they're given less opportunities, less rights," Himani explained. "In those societies, it's also considered that the male child is going to be the ones who support the parents in old age whereas the girl child is going to be the one going to the in-law's house."
"But that's what we're working to stop, to change the image of how women are portrayed," she added.
With the help of her volunteers, Himani has been working to end female gendercide through three ways: 1) raising public awareness around the issue, 2) helping girls in underprivileged communities feel valued, and 3) empowering girls through education to become independent women in the future.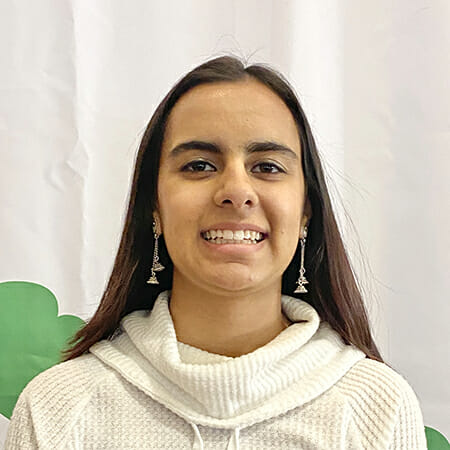 Himani first started by creating a website for her organization and a Facebook page called "Every Girl Matters." Through these platforms, she spreads important information on female gendercide by sharing videos, different news articles and posts. The Facebook page has over 7,300 followers and her website has been accessed by over 12,000 people, according to Himani. She has also delivered public presentations and distributed over 3,000 brochures on female gendercide to her community.
With her family being from India, Himani has a special connection to the country that sees some of the highest numbers of female infanticide. In the Jahangirpur Village and Delhi slums, over 50% of girls do not survive past the age of 16 and most are not allowed to go to school, according to Himani. So that's exactly where she went to distribute over 1,750 care kits packed with books, writing materials and stuffed toys for these underprivileged girls.
After she returned back home to Atlanta, she found a way to continue helping these girls by partnering with a nonprofit organization called The Invisible Girl Project, which rescues baby girls from infanticide in India. Himani and her volunteers created over 500 cards filled with words of encouragement and love to send to these girls through the organization.
"We're so thankful to be fighting for justice alongside young women like Himani!" the Invisible Girl Project said in a Facebook post. "She's a leader in her community & we're deeply encouraged by her passion for the vulnerable."
Knowing the amount of immigrant families living in Georgia, Himani also focused her efforts in the refugee settlement hub of Clarkston, Georgia. Dubbed as the "most diverse square mile in America," over 30% of the city's residents are foreign-born and 60 different languages are spoken in the community.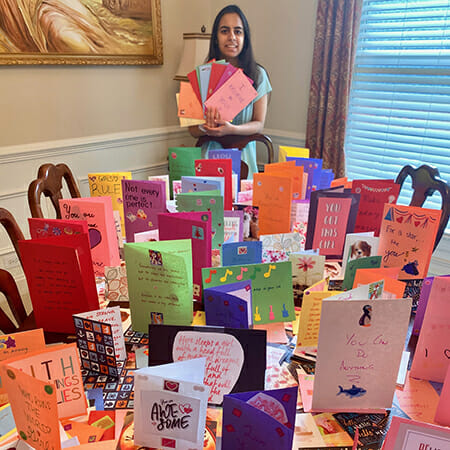 Through a nonprofit organization called Friends of Refugees, Himani was able to meet refugee and immigrant girls who came to Clarkston from countries where patriarchy is still prevalent. She started tutoring these girls, all 130 of them, helping them learn science through a self-designed curriculum and improve their reading by setting up a classical book program.
"Basically, we want to provide an educational background for them so when they grow up, they can also have the same rights, the same opportunities and be equal to their male counterparts," Himani said.
Running Save the Girl Child is a lot of work, especially for a high school student who has her own schoolwork, extracurricular activities and social life to worry about. But Himani said it's all worth it when she sees the impact she's making in the girls' lives and their families.
"If I'm giving a writing notebook to a girl in the slum, I'll see her face light up in excitement at the thought of a gift," Himani said. "To her, it might just be a gift, but I know it's an opportunity for her, something that could turn her life around."
"Just seeing how these girls transform into confident young woman who have hope for their future and are valued and empowered. That's the most rewarding," she said.
Do you want to make a difference in your community like Himani? Find local volunteer opportunities.
Share this post