Sisterhood Makes Impact in Volunteer Circles Across New Jersey and Pennsylvania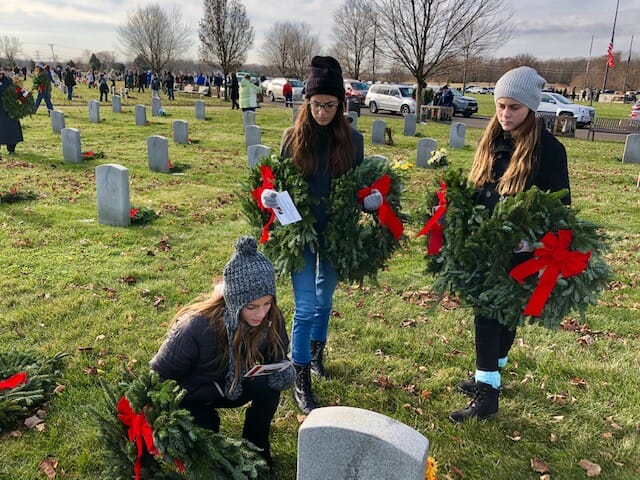 They're not old enough to drive yet, and they can be found in class Monday through Friday during school hours. But when the DiFabio sisters have free time, they channel their energy for good, performing acts of kindness large and small for their greater community.
According to their mother, Alicia DiFabio, the Mullica Hill, New Jersey family started volunteering regularly together in 2013, when their three young girls began participating in service events through what is now The Angels Community Outreach, which offered volunteering opportunities for teens and younger who wanted to help. They started giving back to a range of those in need, from volunteering with seniors, to helping the hungry and impoverished, to providing resources for children like themselves. "That's when we started realizing that, wow, kids can make a difference," Alicia said, "and there are so many opportunities in our community to do things." The girls, Sophia, age 14, Madelena, age 12, and Ariella, age 11, now engage in some formal volunteerism at least once a month often bringing friends and neighbors to join in on the fun, but say there are opportunities every day to pitch in and make someone's day better.
Giving back to thousands in their community, Sophia, Madalena and Ariella are inspiring their peers to commit to service, and are today's Daily Point of Light award honorees. Points of Light spoke to the DiFabio girls to learn more about their volunteerism.
What inspires you to volunteer?
Madalena: We've been doing it for such a long time and our parents have exposed us to the idea that we're extremely fortunate and other people aren't, so it's natural to help.
Ariella: During the holiday months, we do small acts of kindness just because everyone wants to feel special around the holidays. For example, around Easter or Christmas in my neighborhood, whenever someone's trash can would get knocked down, I'd go outside and pick it up.
What word do you think of when you volunteer?
Sophia: Happy
Madalena: Joyful
Ariella: Joy
How do you share your acts of kindness with each other?
Ariella: Sophia made a box and when we did something nice, we'd write what we did down, and put it in the box. And then we'd get together and read all the pieces of paper together to share our acts of kindness.
Let's talk numbers. There are three of you, which has multiplied your impact. Tell me more.
How does volunteering together as sisters change your impact?
Alicia: I feel like together, they're just a force. What makes it interesting is that they're so incredibly humble about their service. They're embarrassed when I brag about them. They really inspire their peer group to get involved as they lead by example. The girls are demonstrating that you don't have to start a nonprofit or come up with this big project, you can just find the opportunities all around you, show up with a smile on your face and be willing to work.
Sophia: It's a bonding experience. It brings us closer together, we're not distracted by reading or a screen, but we're all just there together, catching up see how each other are doing and doing something amazing for someone else.
How has volunteering changed your family?
Alicia: My husband and I thought we'd be inspiring our children to do good in this world through service, but in turn, we're inspired…they're laughing at me now because they know I cry when I talk about their volunteerism. I'm really guided by their kindness and willingness to help people. Sure, I drive them places, I share ideas with them about how to give back, but they're always looking for new ways to help.
Tell me about your favorite volunteer memory.
Sophia: There's just so many fond memories. I did the Challenged Champs Kids Triathlon with my friend Claire who has Down Syndrome, the triathlon is for kids with disabilities. Along the race, we'd encourage each other, high-fiving all the time. When she finished the race, she looked like she had accomplished so much. It made me feel good to cheer her on.
Why do you think it's important for others to give back?
Ariella: It's important to give back so others can feel happiness just like you can feel happiness.
Madalena: It's important for people to give back because people don't realize how lucky they are and how many people aren't lucky. It makes me feel happy to give to others and it can still be so fun.
What might you want to be when you grow up, and how will giving back be a part of that?
Ariella: I'll probably always volunteer, but I currently want to become an engineer and somehow help people in that way.
Sophia: I want to go into the medical field, maybe something to do with psychology. I love that environment because you can always help people.
Madelena: I'm definitely going to continue doing volunteering. I'm thinking about being a therapist or guidance counselor, or teacher, to help people as they go through their problems.
Are you happy that your parents have helped to facilitate your volunteerism?
Sophia: It's so nice, I'm so glad to have volunteering in my life. I'm appreciative, because if it weren't for them, I probably wouldn't be doing as much helping as I am.
What future events do you have coming up that you're excited about?
We help to fill over 1,000 Easter baskets for kids and teens in need through The Angels Community Outreach. Please check their website for more information on how you can help:
https://angelsofgod.org/our-programs/.
Do you want to make a difference in your community Sophia, Madalena and Ariella DiFabio? Visit All For Good for local volunteer opportunities.
Post written by Marlena Militana.
Share this post