Storied Life of Social Justice Advocate Serves as Inspiration for Younger Generation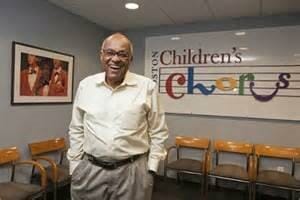 Few people have made their mark on a place as indelibly as Hubie Jones has.
He is responsible for helping start more than two dozen nonprofits that have done amazing work for Boston's residents.
His broad efforts to blend people from all socioeconomic levels, races, ethnicities, religions and backgrounds to work toward social justice and common goals to improve their city have earned Hubie a reputation as a tireless doer, as well as numerous accolades, honorary degrees, and awards.
Hubie, who grew up in South Bronx, N.Y., says he knew from an early age the direction he'd be heading in life.
"By the time I was a junior at City College [of New York], I had made the decision to be a professional social worker," he explained. "I was very much taken by working with young people in groups, and I was good at it. And I wanted to provide some leadership to change some things, too."
He credits strong role models, starting with his parents, with instilling in him the importance of making a difference in the world. While working as a Pullman porter for 40 years, his father also volunteered for his union, advocating for coworkers' rights. Jones's mother went to college, became a teacher, and earned a master's degree while raising a family. The Joneses brought their five daughters and son up in the Pentecostal faith, which Hubie recalled being "warm and supportive."
Hubie also had the honor of being taught in college by noted psychologist, scholar, and civil rights activist Kenneth Clark, and of hearing The Rev. Martin Luther King Jr. speak in person.
He remembered that life-changing talk – Oct. 28, 1956 in Boston – because he was so taken with King's "oratory, philosophy and intelligence that when I left Jordan Hall, I felt like I was levitating – like my feet weren't touching the ground! That's the night that sealed my decision to work toward social justice. I was already on that path, but then it was like, 'Oh! Here we go!'"
By that point, he was earning a master's degree from Boston University's School of Social Work (where he later was a professor and dean) and wanted instant improvements for his adopted city. Over six decades, he said he came to accept the concept of "revolutionary patience."
Patience paid off. When asked about his far-ranging accomplishments, Hubie said he is most proud of helping to erase the racist reputation Boston earned because of ugly riots during school-bus desegregation in the 1970s, and for the work he's done to ensure that all children are educated fairly.
And he made note of City to City, an ongoing program that sends diverse groups of Boston leaders to a different city or country each year to learn best practices that could help Boston. Delegates pay their own way, and Hubie raises scholarship money to cover those who can't afford the trips.
The first venture in 1997 was to Atlanta, to help learn more about solving racial issues. In subsequent years, groups went to Northern Ireland in 1998 when the peace accord was signed; to Barcelona, which had turned around its seaport; to China; to Silicon Valley; to San Francisco – each time learning more ways to help Boston.
"This was important because Boston was pretty parochial, with people always feeling like others should learn from us, not the other way around, when the fact was we had a lot to learn," said Hubie.
The group's 2001 trip made a particular impact on Hubie. He had been hoping to start an organization that could provide "authentic social integration" for kids and found it when listening to a Chicago Children's Choir performance.
By 2003, after a lot of persuasion, he had secured enough support to start the Boston Children's Chorus with 30 diverse students. Today, the elite, high-level chorus has more than 500 members, and it still draws all types of students – from struggling inner-city to wealthy suburban neighborhoods.
Through their travels all around the globe – "these students serve as ambassadors of the city and also get to know that they are global citizens with a responsibility to help others," Hubie said. "I'm extremely proud of this chorus. Its members are committed to singing at a high level and doing work in the community. It's joyous."
Not surprisingly, the BCC sparked other ventures for Hubie, including a program to help create a new generation of leaders.
Isabel Koyama, a Bates College junior, had warm memories of her time in the chorus – and of Hubie Jones.
"The BCC was such an integral part of my growing up, and he was there a lot in the first couple of years that it started," said Isabel, a member from ages 10 to 18. "He was an authority figure that I always wanted to be my best self around. He has such integrity."
She recalled having little awareness – especially early on – of the differences between chorus members' backgrounds and circumstances.
"We didn't think about any of that stuff. We were there to sing together."
And when she did start to recognize the diversity, friendships and respect for one another had been solidified, and any differences were immaterial.
Isabel said her longtime involvement and traveling with the chorus sparked her interest in anthropology, her major, and in Buddhist studies and music, her minors – and taught her to embrace differences.
That's been Hubie's goal all along.
"When you're willing to be collaborative, anything is possible," he said.
Share this post