Where Technology Meets Education, She Connects Underserved Youth with Inspiring Leadership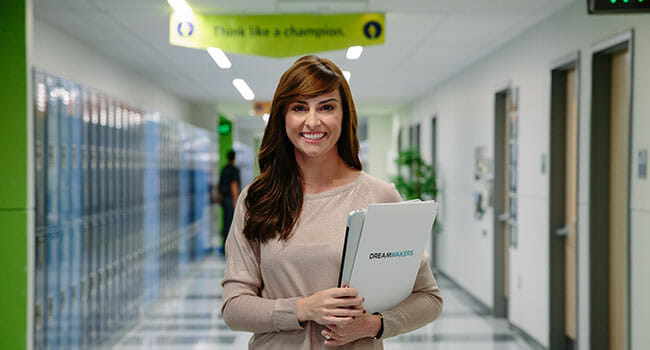 Each year, L'Oréal Paris and Points of Light recognize, celebrate and support Women of Worth who make a beautiful difference in their communities. For exceptional commitment to service, 10 honorees each receive a $10,000 grant to support their most cherished cause. One honoree, selected during the open online vote, receives an additional $25,000 grant.
Retired four-star general and former U.S. Secretary of State Colin Powell once said, "A dream doesn't become reality through magic; it takes sweat, determination, and hard work."
Monica Gray epitomizes Powell's message of resolve and willpower.
Gray put into action her dream to improve the lives of underprivileged children by co-founding DreamWakers, a nonprofit volunteer organization that uses video chatting to virtually connect diverse, dynamic professional leaders with public school children.
"We saw an opportunity to use free and existing video technology in a new and innovative way," says Monica Gray. "We've taken something that already exists and elevated it for public service, democratizing volunteerism in America. The idea is simple, but the impact we've seen on students is real, far-reaching, and significant."
More than two-thirds of employers have little or no interaction with children in public schools. In turn, children from low-income communities have fewer opportunities than their peers to engage with professionals from various career occupations.
DreamWakers bridges this chasm of disparity. Working with fourth- to 12th-grade teachers in schools that have at least 50 percent of their students on free or reduced lunch programs, DreamWakers virtually connects successful role models from a broad array of public- and private-sector organizations directly into the classroom to engage with students in a 45-minute interactive conversation or "flashchat." DreamWakers' ultimate goal is to expose students to the range of career paths so that they can better prepare for their future.
"We're bringing the 'real world' into classrooms and allowing students to explore their professional passions early. In essence, flashchats serve as a launching pad for career dreams," says Gray.
Since its founding in 2014, DreamWakers has connected thousands of children across 30 states and the District of Columbia with exceptional professional role models. Some of the more notable participants are television journalist Soledad O'Brien and White House political director David Simas. Examples of the organizations represented by DreamWakers' speakers include Apple, Facebook, and the U.S. Department of State.
According to the U.S. Department of Education, more than a million students drop out of high school each year. Only 9 percent of students from low income brackets graduate from college, compared to 77 percent of students from higher-income families. DreamWakers is working to change these statistics by providing students with direct exposure to successful lawyers, chefs, writers, athletes, diplomats, and more who can tell their young audience, "You can do it, because I did!"
A staggering 84 percent of the classrooms DreamWakers works with have never hosted a speaker outside of their city limits. Following a virtual visit from an international business executive who grew up in his community, one ninth-grade student from the Bronx said, "He knows the struggles I face every day with peer pressure, violence, and issues at home. I became inspired to not follow the crowd, because they can be the reason why I might let my dreams go by."
A DreamWakers virtual visit with a classroom in Newark, New Jersey, led to the trip of a lifetime for a group of seventh-grade students from Dr. E. Alma Flagg School. White House political director David Simas had a flashchat with the students and was so impressed by the interaction that he invited them to the White House.
"DreamWakers allows my students to virtually interface with mentors who encourage them to follow their passion. Consequently, DreamWakers re-ignites an aura of possibilities amidst my young scholars, and their renewed commitment to strive toward accomplishing their dreams is priceless," said Principal Ganiat Rufai, who attended the Washington trip with students.
"Students can't be what they can't see; they need to engage with positive role models with whom they can relate," says Gray, reflecting on her innovative model. DreamWakers vets speakers to ensure that they are exceptional in their field, come from all walks of life, and have a message that will resonate with young people.
Students aren't the only beneficiaries of DreamWakers. In the amount of time it takes to have a lunch break, a speaker can have a positive, meaningful public service experience without ever leaving his or her desk. "DreamWakers empowers busy professionals to give back to schools that need them the most," says Gray.
Gray has received numerous recognitions for DreamWakers, including the Toyota Mother of Invention Award, which celebrates women who actively contribute to their community and the world; the Founding Cville Award, which highlights leaders whose groundbreaking work inspires the next generation in Charlottesville, Virginia, and beyond; and the Grand Prize Award in the Media Rise Pitch Competition, sponsored by Newsweek, which supports making the world a better place through media, art, storytelling, design, or technology.
She has also been recognized with a Daily Point of Light Award.
Gray hopes to use the funds from L'Oreal Paris to create a new DreamWakers website with a self-service school-to-speaker matching system. This will allow teachers to directly select from the pool of vetted speakers, instead of DreamWakers making the match for them. "This would dramatically enhance our efficiency, allowing DreamWakers to serve far more students nationwide," she says.
Show your support for Monica Gray by voting for her, and learn more about the other extraordinary L'Oréal Women of Worth honorees.
Share this post