Student's Service Helps Teens Prioritize Mental Health and Well-Being
Meet Daily Point of Light Award honoree Laney Brackett. Read her story and nominate an outstanding volunteer or family as a Daily Point of Light. 
Content Warning: Points of Light is proud to share the following uplifting and inspiring story. However, we acknowledge that a small portion below may be difficult for some readers. We encourage you to please care for your own wellbeing above all.  
Eighteen-year-old Laney Brackett lost two family members to suicide and says she's faced her own issues with severe anxiety, calling it a struggle to find help. In response to this personal experience, Laney has dedicated her volunteerism to encouraging well-being for other teens.  
Founding Caressential in 2020 during the COVID-19 pandemic, Laney, a resident of Kirkland, Washington, says her service was prompted by teen mental health hitting what seemed like an all-time low. First implementing the Caressential club at her own high school, there are now clubs across King County where hundreds of teens are able to prioritize mental health and share support and resources with others. Through Caressential, Laney has built communities where students can come together in a safe peer-to-peer space and support individual well-being. 
What inspires you to volunteer?
Knowing that you might not help everyone, but even if you could potentially help someone or save someone's life, it's very fulfilling. As cheesy as it sounds, I really enjoy being able to help others.  
Describe your volunteerism with Caressential.
I started the Caressential club at my school during sophomore year, and then decided I wanted to scale throughout the community, so I established Caressential as a nonprofit. As founder and CEO, I work with school counselors, principals and staff to implement clubs throughout our greater community. I also apply for grants and funding. I've designed the clubs so that other schools can easily start and run their own clubs using the Caressentials Club in-a-box.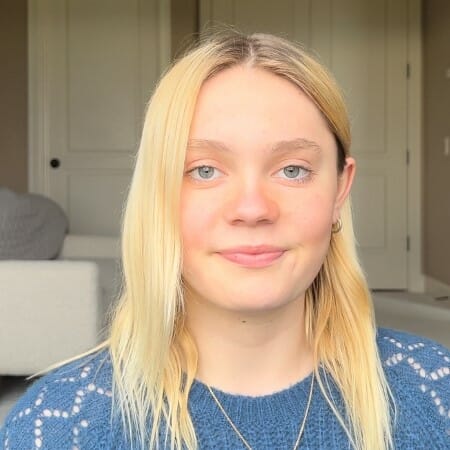 In addition to my volunteerism with Caressential, I serve elsewhere throughout the community and am a volunteer with Teen Link, an organization run by teenagers that answer incoming calls and chats from teens anonymously seeking help. 
Share one personal story with me from your volunteerism. 
I was volunteering an Easter evening shift at Teen Link with other high school students. Easter is usually when I have dinner with my family, so I was sad that I couldn't be with them, but everyone was laughing and supporting one another during the shift. I took a call from a teen in a high acuity, stressful situation. I talked them through it and the teen thanked me, telling me they weren't sure they were going to get through the day before our call.  
I was really emotional getting off that call, and my Teen Link volunteers supported me. This is why I love volunteering so much. It's very fulfilling for me personally to know you could have helped someone, and it also feels like I'm giving back to my family and gives me a better understanding of why my two family members did what they did.  
Why do you think it's important for others to get involved with causes they care about?
There are different reasons, but at some point in our lives, everyone has been helped or someone has helped us. Volunteering is one of the best ways you can anonymously give help to someone. You're doing no harm while volunteering, only doing good for the community. Hopefully you can find volunteering that aligns with your passions because that makes it even more worthwhile.  
What's been the most rewarding part of your service? 
It's rewarding to see how much I've grown throughout my service and how I've been able to scale different projects. I started volunteering in 8th grade and didn't know as much about mental health, but now I'm a senior, I've founded a nonprofit and feel like I could walk anyone through a stressful situation,  as well as handle one myself.  
How have you continued to volunteer throughout the pandemic?
I'm heading off to college next year and my goal is to continue my work in college. I ideally would love to keep the nonprofit running and scale the clubs even further, or get involved in other mental health work and continue teaching my peers the importance of self-care. 
In one word, what does volunteering mean to you?
Happiness. 
When you're not busy with school or volunteering, what do you do for fun?
I'm a big swimmer, and I love any body of water. I have two cats and six chickens that I take care of. Other than that, the usual – hanging out with my friends and enjoying senior year.  
How can readers help?
We rely on donations to support our programming. Please visit our website for more information about how you can get involved.  
Do you want to make a difference in your community like Laney Brackett? Find local volunteer opportunities. 
If you or someone you know may be considering suicide, contact the National Suicide Prevention Lifeline at 1-800-273-8255, or text HOME to 741741 to talk to a trained crisis counselor through Crisis Text Line. Both resources are anonymous, free and available 24/7. 
Share this post