Volunteer Sees Human Connection as the Foundation for Her Advocacy Work
Meet Daily Point of Light Award honoree Suma Govindacharyula. Read her story and nominate an outstanding volunteer or family as a Daily Point of Light.  
For Suma Govindacharyula, volunteerism has always been in her blood. Having immigrated from India, Suma found it heartbreaking that in an affluent community like Dallas/Fort Worth, Texas, significant portions of the population lack basic needs like food, water and shelter.  
So she decided to serve as a volunteer leader with Bank of America Community Volunteers Team North Texas and with that, took the platform to pursue her passion for food and health-based drives. Suma leads teams of volunteers in a variety of initiatives, from food drives to blood drives to building houses.  
Partnering with local nonprofits like Meals on Wheels, The Salvation Army, Habitat for Humanity, and more, Suma and her volunteer teams have made a sizable impact on their community. For Suma, it's seeing the individuals impacted that drives her passion for volunteering.
"When you go and knock on the door of a 95-year-old lady who is so eager to talk, who really needs that one-on-one connection time, it's humbling," Suma says. "These seniors are so delighted, especially during this time of COVID, and especially within this age bracket." 
During the COVID-19 lockdowns, on behalf of Meals on Wheels, Suma and her team made phone calls to check on the seniors they were used to serving with food delivery. A 5- to 10-minute phone call could help these individuals get a little bit of human interaction and forge a new connection with a volunteer.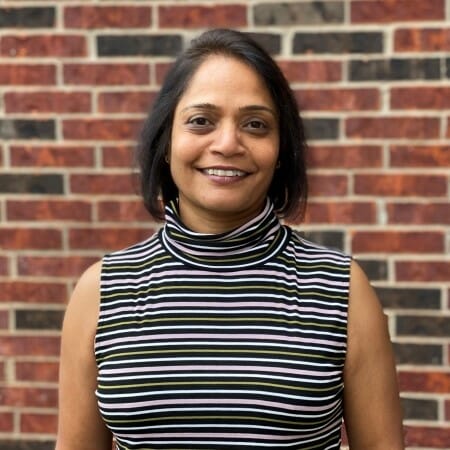 Suma enjoys how volunteering serves multiple purposes: serving the community and team-building among volunteers. In fact, she first started volunteering in order to show her children what getting involved in the community looked like, and to instill the value of volunteering in them from a young age. 
"When my kids were very young, I wanted to teach them about getting involved. But kids don't understand what volunteering means. So I used to 'drag them along,' even if they were crying or throwing fits," Suma recalls. "But slowly, they got used to the idea. At some point in time, it clicks! And once it clicks, it becomes your own. It becomes second nature to do the same." 
While her children now volunteer independently, Suma still brings her husband and her friends along on her volunteer activities, as well as her work family at Bank of America. "It's fun to volunteer as a group!" she says.  
Besides her volunteer work with Bank of America, Suma personally volunteers, has been the co-chair of BACCV Collin County since 2017 and has made significant contributions to more than 40 non-profit organizations. But she is thrilled about the culture and strong emphasis on community involvement at Bank of America, and is excited to see the new heights her volunteer team will reach in the future.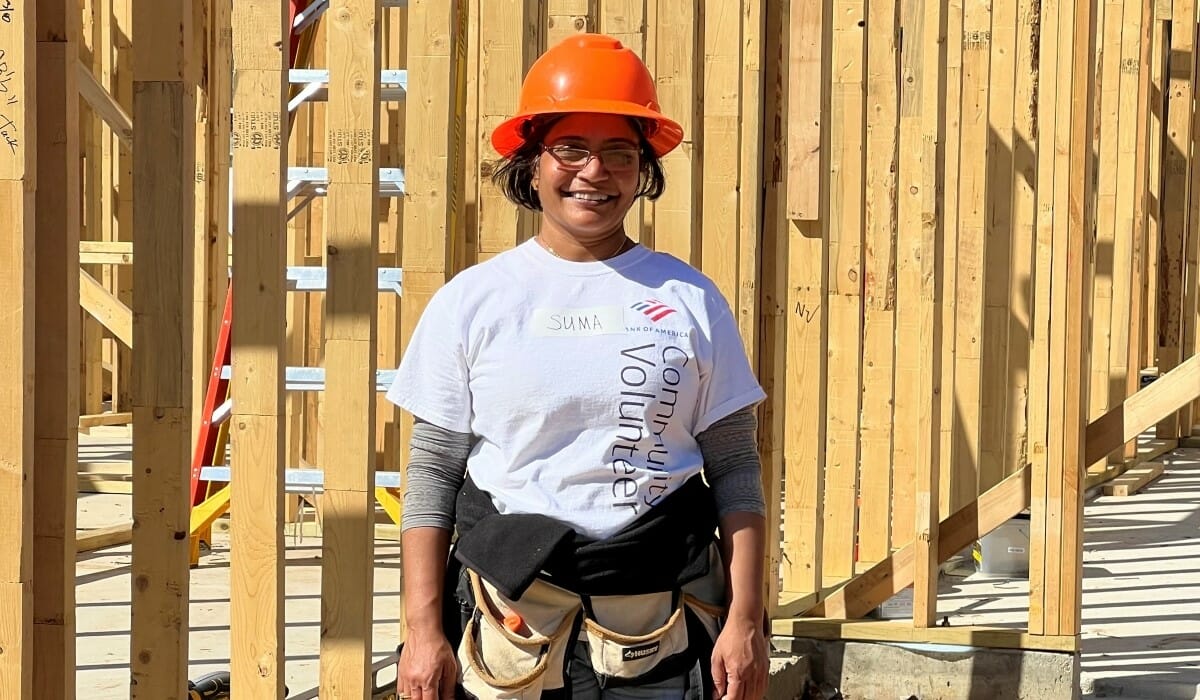 Bank of America's employee engagement program has allowed Suma and thousands of other employees to spread their wings in volunteerism. The organization's employees volunteer 2 million hours annually to strengthen communities and provide generous financial donations to more than 25,000 nonprofits around the world. Other supports include things like paid time off to volunteer and grants up to $1,000 for organizations where employees volunteer their time and effort. 
"The greatest blessing I have been given through working for Bank of America is the platform to organize large-scale community service projects with my peers, who share my passion," Suma says. 
She encourages anyone considering volunteering to simply reach out to local organizations. "People always need help. You'd be surprised. Look for options, because they're always there," she says. "You might even find your passion while you're looking for opportunities." 
For Suma, it's clear that her passion has been kindled and rekindled through volunteerism and connection in her community.  
Do you want to make a difference in your community like Suma? Find local volunteer opportunities.  
Share this post