Student's Volunteerism Inspires Global Youth Activism and Supports Underserved Amid Pandemic
Meet Daily Point of Light Award honoree Maneesh Vallurupalli. Read his story and nominate an outstanding volunteer or family as a Daily Point of Light.
18-year-old Maneesh Vallurupalli lives in Aldie, Virginia, a quiet suburb about an hour's drive from the nation's capital, but his volunteerism is powering youth-led global service to contribute towards a better, healthier future for the world.
What started as an idea and an Instagram account when Maneesh was in middle school, Combine Together and Create Action Foundation (CTCA) officially launched in 2018, its mission to solve global problems through youth-led service. Supporting issues like the environment, healthcare and education, Maneesh has connected with hundreds through service and is helping student volunteers in the United States, Italy, India, Kenya and more strengthen their communities and invest in the future. In addition, Maneesh is helping the elderly and immunocompromised stay healthy during the COVID-19 pandemic through Project Support Initiative, a project that has delivered groceries and essentials to more than 1,300 people thus far around the U.S. and internationally.
What inspires you to volunteer?
My family is from India, and during a trip there, I noticed crops dying on a local farm. When I spoke to the farmer, he told me that the crops were dying because of climate change. I did more research into the issue and discovered the work others had done in the field. I'm inspired by the people who have volunteered before me, their work pushes me to volunteer and expand into other initiatives.
Describe your volunteerism with CTCA.
As founder and president, I work to expand the organization and its support, coordinate the service being done with our leaders across 18 global chapters, and manage the partnerships we have to facilitate service. We fundraise through donations and events, those profits go directly to organizations we work with for specific causes, including climate change and healthcare activism and developing education for underdeveloped countries.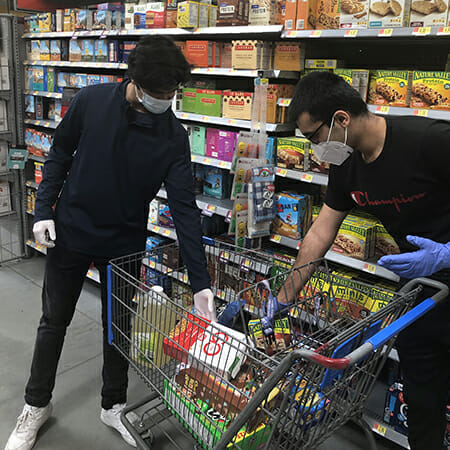 You're supporting many causes, but some of your service is personal. Explain.
Several months ago, we worked with politicians in India to help farmers with plans to develop a web tool that supports crop management and sales. There's currently a huge protest going on right now over farmer's rights, so I thought our help was important. I come from a farming background in India, so this service was personal for me.
Share one personal story with me from your volunteerism.
During the pandemic, we were delivering groceries through Project Support Initiative, and we delivered to an elderly woman's home. Because of social distancing, she was not interacting with many people and was so thankful to receive our visit, even from a distance. Every time we delivered, she'd wave to us from inside the house. We started sending different volunteers for each delivery so she could see different faces. It's not everyday where you get to help someone. During times of crisis you get to help people and also meet new people.
Why do you think it's important for others to give back?
We do a lot of things in society, but there's always someone who maybe needs help or doesn't ask for help. If we can identify a problem and act on it, even a small difference helps.
What's been the most rewarding part of your service?
The satisfaction we get from helping others has been the most rewarding.
How have you continued to volunteer throughout the pandemic?
Though Project Support Initiative, which I co-founded with a friend in response to the pandemic, we've delivered groceries worth more than $100,000. We first started delivering to at-risk people in Northern Virginia, and have since expanded to 22 chapters around the world. We plan to continue Project Support even after the pandemic is over as there will still be elderly people that need help.
We've continued CTCA projects since the pandemic, and will continue to do so.
In one word, what does volunteering mean to you?
Generosity.
When you're not busy with school or volunteering, what do you do for fun?
I do research. I also like to read about business and motivational books.
How can readers help?
Please visit Project Support Initiative and Combine Together and Create Action Foundation's websites for more information about how you can help.
Do you want to make a difference in your community like Maneesh Vallurupalli? Find local volunteer opportunities.
Share this post