Survivor's Mom Raises $1M for Family Camp Designed for Kids with Life-Threatening Illnesses
Meet Daily Point of Light Award honoree Gail Toth. Read her story and nominate an outstanding volunteer or family as a Daily Point of Light.
Over 27 years ago, Gail Toth's world came apart. She was a former executive secretary and at-home mom with a 2 ½-year-old toddler excitedly envisioning the years of dance recitals, PTA meetings and softball practices ahead. Then, in October 1995, her daughter Jennifer was diagnosed with a rare liver cancer.
Six months of chemotherapy and two major surgeries later, Jennifer was —and continues to be— cancer-free. What remains of that dark time are the memories of going to Camp Sunshine as a family, a Maine resort that offers a place for families with children who are dealing with life-threatening illnesses to spend time simply having fun. It gives kids a break from hospitals, siblings some extra attention and parents a moment to breathe and talk to other parents dealing with similar things.
Today, Gail has two daughters: Jennifer, now 30, and Julianna, 20. Not only has she brought her family back to Camp Sunshine every year since to volunteer, but she created the Virginia Polar Dip in 2008 to raise money for the program. In just 15 years, she's officially hit the $1 million mark in donations, paying for more than 300 families to attend a retreat free of charge.
Gail is an advocate, a fundraiser and a volunteer. She represents Camp Sunshine in Washington, D.C., spreading the word to other families in situations like the one she was in and takes trips to Capitol Hill each year as part of Childhood Action Days. And she continues to work with her daughters to fight against childhood cancer.
What inspires you to volunteer? 
To be able to make a difference in someone else's life is incredibly rewarding and humbling. There's nothing more meaningful than helping someone else in a time of need. I've volunteered with many different organizations, and each experience made a lasting impact on my life.  
How is your daughter doing now? 
We had an incredible nurse practitioner during her treatment at Children's Hospital of Philadelphia. Jennifer decided to become a pediatric oncology nurse practitioner and work with other kids going through cancer, and that's exactly what she's done. She went to University of Pennsylvania Nursing School. Her dream was to work where she was treated, and she did that, too. She worked on the very unit that saved her life.  
She went back to school and got her master's nurse practitioner license, and around November 2019, she was offered a job at Georgetown Hospital in D.C. where she is now the nurse practitioner in their outpatient clinic for kids with cancer.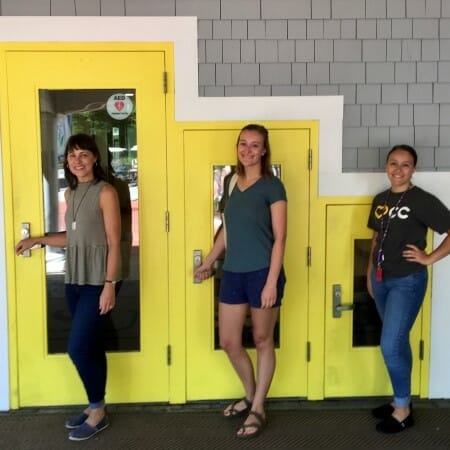 How long did it take for things to get back to some form of normalcy after she was in remission?
There becomes a new normal. Once you've gone through something like that, your perspective changes. Different things are important to you. Jennifer was only two and a half to three years old through her illness and treatment, so she only remembers bits and pieces. She remembers the playroom at the hospital. I don't think she remembers her surgeries. When there's a serious illness, the entire family is affected, not just the sick child.  
Describe your volunteer roles with Camp Sunshine, Virginia Polar Dip and beyond.
I'm a head counselor in the Tot Lot at Camp Sunshine with kids from birth to five years old. It's like babysitting. We've got arts and crafts, and we'll do story time or go to the playground. We have snacks. I oversee things. And if there's a kid off by themself, I'll go over and engage them. 
I'm also the Washington, D.C. representative and visit treatment centers, hospitals and social workers to talk about the camp. I attend Parent Resource nights for newly diagnosed families to let them know what resources are available. 
In 2007, my survivor daughter attended a Camp Sunshine Polar Dip in another state, and when we got home, she wanted to start one in Virginia. I've been responsible for securing corporate sponsorships, recruiting participants to jump in a freezing lake every winter – I jump too! – and managing every logistical detail of planning and running the event, including our social media page.  
I also volunteer for the following organizations:  
CureFest organizing committee

Repairing houses is Appalachia with my church

 
What's been the most rewarding part of your work? 
It's knowing you're making a difference in somebody's life that's going through a hard time. Whether that's volunteering at camp or raising money to send families there.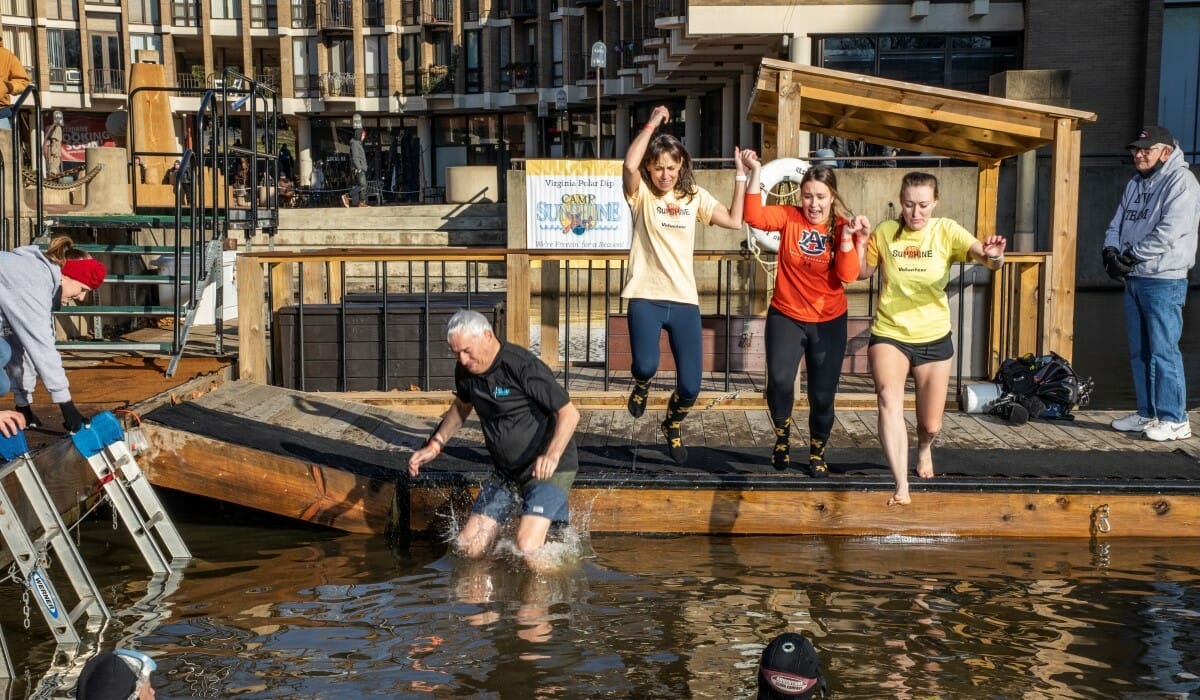 What have you learned through your experiences as a volunteer? 
There are a lot of people out there hurting for different reasons and need help. One summer at Camp Sunshine, it was a retinal blastoma week. Many times, when children are diagnosed with an eye cancer, they remove the eye before it can spread to the brain. So, a lot of these children have prosthetics. One little girl felt different and asked her mom, "When am I going to be normal like other kids?" The mom asked, "Does anybody else here have a prosthetic eye?" And all the kids said, "I do! I do!"  
Her mom told me that moment was worth more to her daughter than any amount of therapy she would ever go through in her life. And that's what Camp Sunshine does for these families. It gives them something they can't find anywhere else. A lot of these diagnoses are so rare that even at their treatment centers, they never meet another family that's going through what they are. But they do at camp, and it helps them to know they're not alone and to share stories and bond with somebody else.  
Is there anything people should know about supporting families with a loved one going through treatments?
Just be there for them. Offer support and help. Don't say, "I know how you feel," unless you really have gone through it. Offer to take care of the other kids or go to the grocery store for them. Anything that can help make their life easier. Make meals. When Jennifer was going through it, I was in a mom's group that cooked meals for me. That was invaluable. 
Why is it important for others to get involved in causes they care about? 
On top of helping people in need, it will enrich your own life beyond your wildest dreams. Everyone can find a cause that means something to them whether it's an illness that your family has been affected by or just something you're interested in. Don't be afraid to go outside your comfort zone and get involved.  
I can't imagine my life now without all the things that I've done as a result of Jennifer's illness. It's one of the worst things you could imagine going through, but so many blessings came out of it. I'm proud that I have always involved my two daughters in all these activities to show them the importance of giving back, and they are now both strong advocates for children with cancer. 
What do you want people to learn from your story?
Anybody can volunteer. You don't have to have a special talent or skill. You can learn it. People will teach you. I didn't know anything about planning and running an event, and I raised $1 million. You can you can do way more than you think you can. 
Camp Sunshine is the happiest place you can imagine. I cannot say enough about what it has done for my family, and what I've seen it do for others.  And I will continue volunteering with them for as long as I am able. 
Do you want to make a difference in your community like Gail? Find local volunteer opportunities. 
Share this post