Teacher Helps At-risk Students Identify, Reach Educational and Career Dreams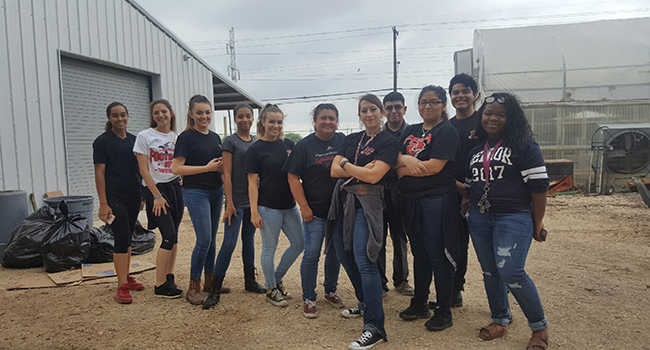 Meet Daily Point of Light Award honoree Rebecca Ayala. Read her story and nominate an outstanding volunteer, family or organization as a Point of Light.
The normal high school day lasts from 8 a.m. to 3 p.m. But, for teacher Rebecca Ayala, the work day doesn't end until well past 5. And, that's the way she likes it.
"I've always been involved with helping students outside the 8 a.m. to 5 p.m. job," Rebecca said. "It's all about reaching the future generations and helping them now."
It's that mission and mindset that led Rebecca, who teaches at San Antonio's Karen Wagner High School, to take over Leadership: Access Granted, a program designed to help underprivileged, at-risk students identify and reach their educational and career dreams.
In a school district known for being rough around the edges, LAG gives students the opportunity to not only give back to the community in a positive way, but also to prepare themselves for life after high school. Interested students undergo a rigorous selection process, including a 20-page application and an in-person interview with school administrators and previous LAG participants.
Currently, Rebecca meets with 23 students during a 22-minute daily advisory class period, offering guidance about college applications, financial aid, resume building, and other career-oriented topics. Many students entered the program with no post-graduation aspirations, but now have plans to attend college.
Students also craft community-engagement projects, for which Rebecca fundraises to cover transportation expenses. Some include volunteering in nursing homes, animal shelters, and food banks. One of the most effective projects involved her students mentoring second graders at Paschall Elementary School. The high schoolers felt like rock stars, she said, and experienced a significant self-esteem boost from being able to positively contribute to the community.
"Some of these students are not considered the most intelligent or well-rounded, but they have grown so much socially from being part of LAG," she said. "It's hard to reach them all, but I want to be able to teach more."
Share this post