Teen Brings Smiles to Hospitalized Children Through Personally Hand-drawn Sticker Packs
Meet Daily Point of Light Award honoree Arushi Gupta. Read her story and nominate an outstanding volunteer or family as a Point of Light. 
Arushi Gupta has always been especially sympathetic toward hospitalized children, ever since she suffered from an eye disease as a child that forced her to deal with frequent doctor visits and medications. So when she found herself with free time while quarantining at the beginning of the COVID-19 pandemic, she decided to start a business to raise funds for a cause she is passionate about — children's hospitals. 
During the spring of 2020, Arushi began First Ray Designs, an artisanal sticker company that donates all of its proceeds to over 20 different children's hospitals around the country. The Saratoga, California-based teenager picked up digital design so she could create 11 different sticker packs, over 157,000 of which she has donated to children staying in the hospitals. She also sells custom-made stickers designed off of images submitted by customers. 
Describe your volunteer role with First Ray Designs.
First Ray Designs is an artisanal sticker design company. It's a company I created over quarantine while I was bored and I wanted to do something more artistic, because I've always been interested in art. I picked up digital design and began doing more digital art. I started making small, trendy designs that were more relevant in today's world, like boba, coffee, sneakers, things teenagers like. I decided to cut them out into stickers. 
Why did you want to start donating them to children's hospitals?
I've always been very into children at hospitals, because it's really terrible they have to live their childhood locked up in their room. They're missing out on a lot of the childhood experiences I think they deserve. The more I thought about it, I was like, why do I care so much about it? I think I realized it was because when I was smaller, I had an eye disease where basically one of the nerves in my brain was paralyzed. It wasn't as big of a deal as it sounds, but it meant I had to go to the doctor's office a lot. It became very hectic and tiring to get so much medication and so many injections. As I had to do it more, it became more and more of a pain, and it became such a big burden on me. I think that's why now I dislike going to the doctor so much. It made me feel even more empathetic to the kids who actually have to stay in hospitals.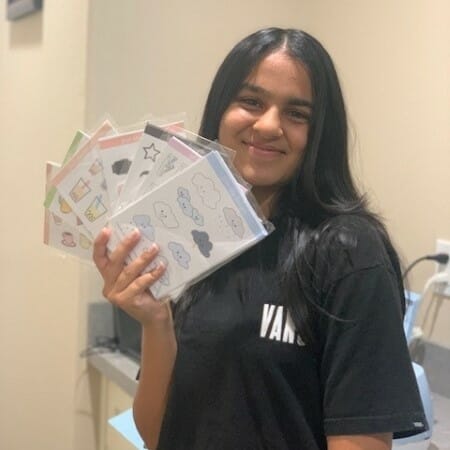 Is there a message you hope your stickers are sending the kids?
One of my sticker packs is the cloud pack. On the bottom, it says something along the lines of, 'Not everyday needs to be a good day. As long as you're trying your best, you're doing amazing.' I think that's what I was going for. Not everyday is going to be great, but there's small, little things that can make your day better. It's always great to see those positive things. 
Do you have any goals you want to achieve with First Ray Designs?
One of the biggest things I want to do, which I haven't been able to do because of COVID, is I want to go visit the hospitals and donate the stickers by my own hand. I hope I am able to do that whenever the times are better. Another thing I want to do is connect more with the children who are receiving the stickers, whether that be online or over Zoom, so I can see how the stickers are impacting them. 
What's been the most rewarding part of your work? 
Definitely the letters and the pictures I get back. I get back a lot of pictures of children smiling with their stickers, or letters saying I truly made an impact. I get so many letters that say these stickers are genuinely bringing a smile to the kids' faces, because they were tired of the same Disney and princess stickers, and they enjoy seeing different designs every month. 
Why do you think stickers especially resonate with the kids?
When I was a child and had to go to the hospital a lot, I remember at that time, the only thing that used to get me through all those visits was the lollipop and sticker I would get at the end. It really brought a smile to my face and was the reason I wouldn't cry every time I had to go, so I really wanted to extenuate that fact of hospital visits. 
What have you learned through your experiences as a volunteer? 
At the beginning, I really wanted this business to thrive as a business and I wanted to be able to sell stickers. I realized as time went on that the most important thing was the donation aspect of it, how rewarding donating is, and how rewarding it is to see your work actually make an impact. I think my vision changed throughout the process. 
Why do you think it's important for others to give back?  
I think my community has given me so much and I'm so grateful for everything I have. It feels morally correct to do the same. Also, the more the rewarding feeling comes back to you and the more you feel like you're actually making a change, the more you want to continue doing it. In the beginning, my incentive was to give back for what I have. I think it later on became that I just want to see other people happy because of me. 
What do you want people to learn from your story?
The biggest thing is to not be scared. If you have an idea, just go for it. I think that's been my mentality all of high school — that whenever I had something I thought I wanted to turn into reality, I just did it. After that, you have no regrets. If anyone wants to start a business or wants to do anything to help your community, just do it, because there's no harm. 
Do you want to make a difference in your community like Arushi? Find local volunteer opportunities. 
Share this post