Teen Farmer Volunteers to Feed Hungry Mouths in Her Community
Meet Daily Point of Light Award honoree Addy Battel. Read her story and nominate an outstanding volunteer or family as a Daily Point of Light.
Growing up on a farm, Addy Battel had access to plentiful sources of animal protein: chicken, beef, pork. After the only grocery store in her city shut down, the 17-year-old Cass City, Michigan teen realized that the local food pantry wasn't able to offer the types of high-quality sources of protein she'd been raised on. Alongside her friends, the teen decided to take action against food insecurity across low-income residents in their community.
Co-founding Meating the Need for Our Village in 2014, Addy helps to "meat" needs of the hungry by raising livestock and poultry and donating milk and eggs. As part of her mission to provide high-quality protein, Addy, who is a member of the Cass City Future Farmers of America (FFA) chapter, is a part of the solution to local food insecurity, helping to donate more than $60,000 worth of food thus far including 10,000 pounds of youth-raised meat, 2,000 gallons of milk, 250 dozen eggs and 280 pounds of cheese.
What inspires you to volunteer?
At the beginning, seeing the injustice of what these low-income residents faced inspired me to volunteer. My family and friends had these freezers full of meat, and we saw these families eating canned tuna, beans and peanut butter for their sources of meat from the food pantry. I knew I had a skill and could use that skill to supplement nutrition for these families, and I'm very driven to do so. I enjoy having a farm full of animals and having a place for them to go to make a difference in my community.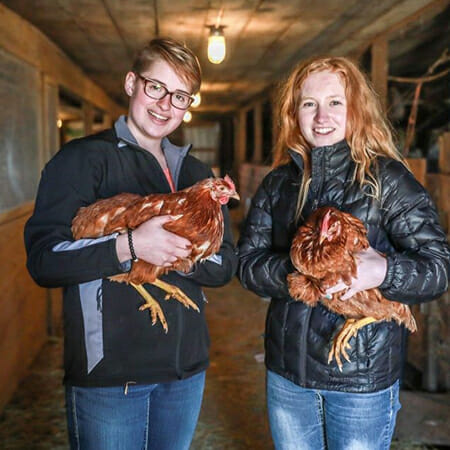 Describe your role with Meating the Need for Our Village.
Along with our other volunteers, I am regularly raising animals on my family farm, volunteering at the food pantry or making food pickups or deliveries. I am out in the barn every day taking care of the animals I am raising to donate. We have animals processed at licensed facilities and then the frozen meat is picked up for distribution and delivery to established food pantries in surrounding communities. Additionally – there's always some sort of call I have to make to stores that provide us milk and cheese at market price, or writing grants for additional funding, or developing presentations along with my co-founder to raise awareness about our organization across the community.
Share one personal story with me from your volunteerism.
I occasionally see a father I know from our community at the food pantry. I know him because his child has autism and attends the same therapy school as my two younger brothers. He's always really happy to see us, and occasionally I'll help him load chickens into the back of their truck. I have a personal connection to him and his family, and I know that the high quality source of protein they are receiving from us is making a difference for his family.
How many animals do you personally raise for Meating the Need for Our Village annually?
I raise about 50 – 100 chickens every calendar year for the project, which equals a couple hundred dollars in market value. Depending on the year, I'll raise some market goats or steers that are raised in our barn by me or my three younger siblings.
What's one way you hope to inspire others in your service?
As soon as I realized what I was doing was impactful beyond our community, my goal has consistently been to inspire anyone through simply doing what I can personally to make a difference. Hopefully, when others see a need, my efforts and trying my very hardest inspires them to do the same.
What's been the most rewarding part of your service?
We're providing the youth in our community who volunteer through Meating the Need for Our Village with a whole different perspective. They are able to see how their hard work is impacting families who visit the food pantry.
What have you learned through your experiences as a volunteer?
I was pretty young when I started volunteering, but I've always been service-minded and grew up in a very service-minded family. Stumbling on to such a thing that made such a big difference has absolutely shaped who I am as a person and how I'm able to help others.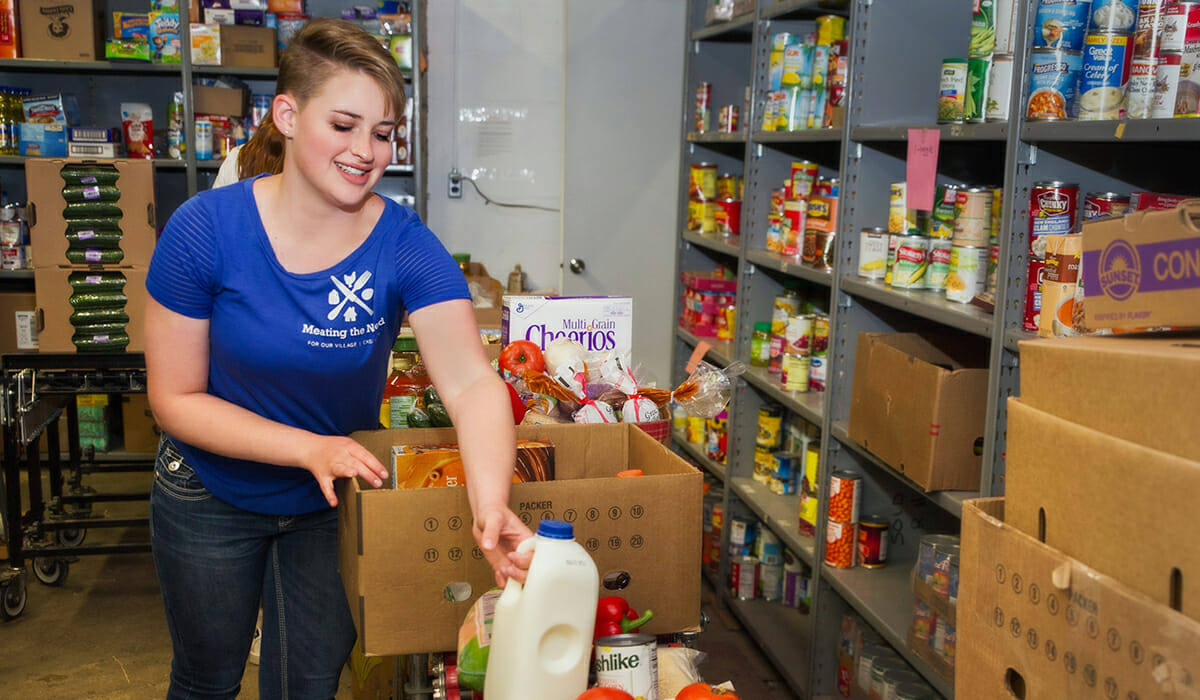 What do you do for fun when you're not volunteering or doing school work?
(Laughs.) I'm very deeply involved in 4-H and the Cass City FFA chapter, where I focus on agricultural-based leadership and personal development. Through 4-H, I enjoy raising and showing animals in the county fair, participating in leadership events and facilitating workshops for other members. I also enjoy competitive swimming, rowing and community theater.
How will service and farming fit into your future?
I just applied to Michigan State University and I'm anxiously awaiting a reply. I hope to study animal science at MSU. I've been thinking more and more about policy work, and I've always told people that whether I end up in development assisting farmers or in Washington D.C. creating policy, as long as I'm getting food to people who need it, that's what I'll be doing.
How can readers help?
Please visit the Meating the Need for Our Village website for more information about how you can help.
Do you want to make a difference in your community like Addy Battel? Find local volunteer opportunities.
Share this post