Teen Helps Run Lacrosse Program for Kids with Developmental Disabilities
Meet Daily Point of Light Award honoree Anthony DeMarco. Read his story and nominate an outstanding volunteer or family as a Point of Light.
Seventeen-year-old Anthony DeMarco, an avid lacrosse player for the past decade, is bringing his passion for lacrosse to members of his community who may not have had the opportunity to play the sport otherwise. For the past four years, he has helped coach kids with developmental disabilities in his Olmsted Falls, Ohio neighborhood through the Olmsted Falls Adaptive Lacrosse program.
The program was started by Anthony's mother, who was inspired by a family friend's disabled son who loved watching games at the local schools. There are currently nine kids who attend the weekly clinic, which is coached by Anthony along with his family, friends, and fellow members of his lacrosse team. The program provides all equipment for their clinic, which is open to anyone who is interested in playing.
Describe your volunteer role with the Olmsted Falls Adaptive Lacrosse program.
I like to say we give kids a chance to learn something new that they may not have gotten the chance to learn had we not started the program. I have played for a long time and the sport has been really good to me, so I want to give back to them. I think going out and helping and coaching these kids to learn the basic skills of lacrosse gives back to them. … We had a lot of the high school players and the middle school players come in, and we get people to come in from around who know the sport [to help out]. That's what my role is, being that expert on the sport and helping them to learn how you pass, how you scoop, practicing with them, being patient, and being that sort of coach figure in that scenario.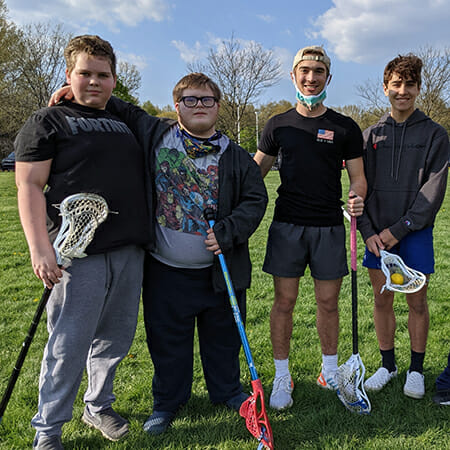 What inspired you to start this program?
It was really my mom's idea. We had a friend of ours whose son was disabled and he always loved coming out and watching our middle school games and some of our high school games. My mom said, what if we could find a way to get him to play, get him a stick, get him gloves, and have him play with you guys and learn the sport? We said, that's a fantastic idea, let's make it work. After having a couple of sessions with the one friend, we started reaching out to other families in Olmsted Falls. We put it out there and said we're doing this, contact us if you think your child would be interested or you're interested in having your child try something new. We started getting families coming in and asking us if we would help them out and we said of course, absolutely.
What kind of feedback have you received from the kids in the program?
We've gotten a lot of positive feedback, because we're teaching these kids something new and we are giving them opportunities they might not have had. I think both the parents and the kids appreciate the fact that we're making an effort and that effort translates into giving these kids an hour out of their day to go have some fun on the lacrosse field.
How did you adapt the program during the COVID-19 pandemic?
Before the pandemic hit, we were doing hour sessions around once or twice a week, regularly scheduled. After the pandemic hit, we took a hit in terms of being able to do the sessions because people are nervous and are unsure of what the regulations are and wearing masks and all that. We at one point weren't doing any sessions because we really couldn't go up to the field to have the kids out there. Some of their parents didn't want them to go, and that's OK. We made it known that we were very willing to do the sessions if everybody was comfortable with it and some weren't, so we had to adapt in that sense. We had one family that contacted us and said, we have a goal in our backyard, would you be willing to come play lacrosse with our child in the backyard? I said, absolutely, we'll make the time. Or, there's a field at the school near our house, would you be willing to go play lacrosse with our child over there? So we said of course. Instead of setting it at the school, we made it more of mobile-type practices.
What's been the most rewarding part of your work?
The most rewarding part is seeing how much joy it brings these kids to play lacrosse. I can't even name the amount of times I've watched a kid score a goal and he comes up and gives me a big fist bump. You really can't put a price on that. It's incredible. It's so special to see these kids doing something that maybe they wouldn't have gotten to do. That's really the best part.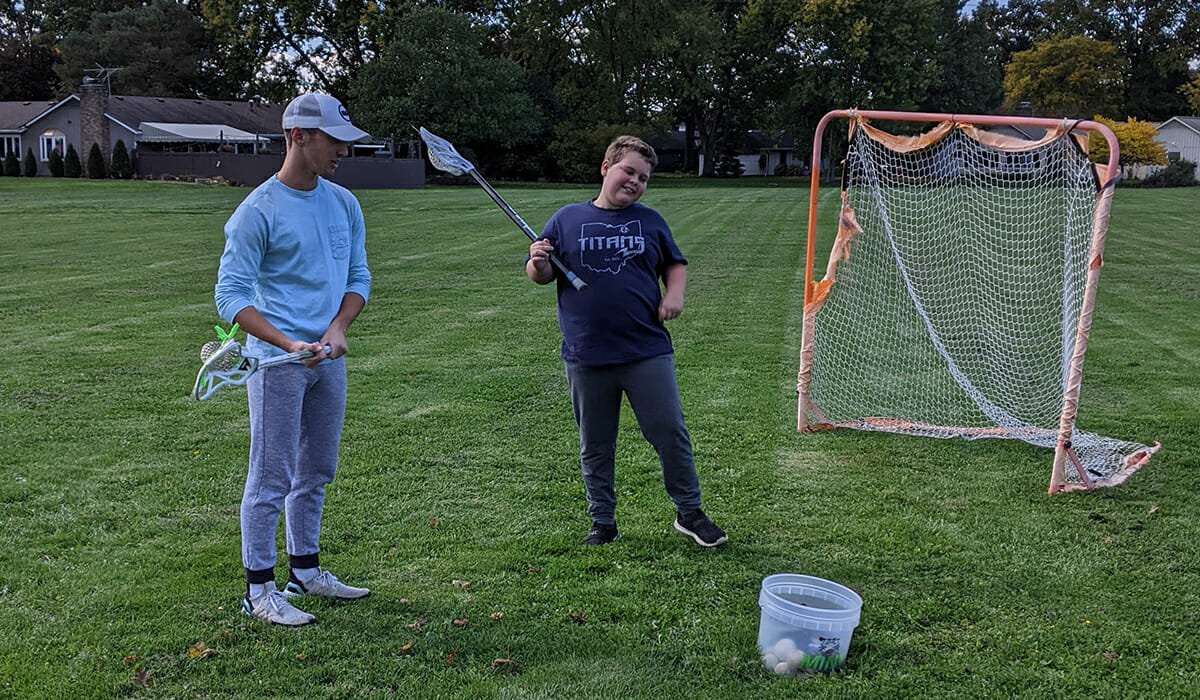 Why do you think it's important for others to give back?
I feel like not only is it rewarding to the community and not only does it help everyone in the community, but it makes a huge difference in the lives of others, and even your own life. Helping these kids makes me feel good. Every session we do, I walk away from it feeling fantastic because I know that I let another person experience that feeling of joy they might not have felt otherwise if I hadn't been there. Giving back is a rewarding experience for everyone involved.
What do you want people to learn from your story?
We wanted to do this. We wanted to say let's give these kids a chance to play lacrosse, and we went for it. We went full go, really just put 100 percent into it to make it happen. If you're on the fence about doing something, if you're looking for future goals or anything like that, just give 100 percent, because you can do it. You just have to give 100 percent to everything you're doing.
Do you want to make a difference in your community like Anthony? Find local volunteer opportunities.
Share this post