Teen Leads Efforts to Educate Community and End Anti-Asian Hate Through Her Nonprofit
Meet Daily Point of Light Award honoree Kristie To. Read her story and nominate an outstanding volunteer or family as a Daily Point of Light.  
Kristie To of Irvine, California, was a freshman in high school when she started her own nonprofit organization, Hearts Against Hate, now one of the leading forces in the Asian American racial justice-related space due to its unique mission and youth-led structure. The group collaborated with other programs to coordinate volunteers to create care packages for the anti-Asian hate campaign. She led volunteers in assembling 500 care packages with face masks, flashlights, granola bars, a heartfelt note, and more.  
Kristie has inspired others to join the fight against Asian-American hate and empowered teens in her community. Having led the organization for two years, she has built the team to 600+ members, and partnered with 10 other organizations. She has garnered 10,000+ podcast interactions, and to date, Hearts Against Hate has created and distributed 1,500+ care packages nationwide.  
In addition to leading her national chapter network, Kristie has also conducted her AAPI Kids project. This project is a community initiative committed to exposing Asian history and AAPI civic rights to young children. The organization has distributed care packages to fifth and sixth graders that contain engaging racial justice-related games and items such as Stop Asian Hate stickers, pins, buttons and more. Additionally, AAPI KIDS has promoted respect among elementary school students by building tolerance for cultural sensitivity and exposure, most prominently within upper-grade students in primary school and their communities. Read more about what inspires Kristie to carry forward this important mission.
What inspires you to volunteer?
In regards to my nonprofit, I would say I'm a strong believer in student voice and student advocacy, and that's a world I really never explored prior to my freshman year in high school. But during the COVID-19 pandemic, I really started to spend more time watching more videos about what was happening in my community and realizing that anti-Asian hate was occurring close to my home. So for example, I reached out to my local city council to determine what efforts were being taken to combat this issue, and found that not much direct work was being done, but rather performative activism.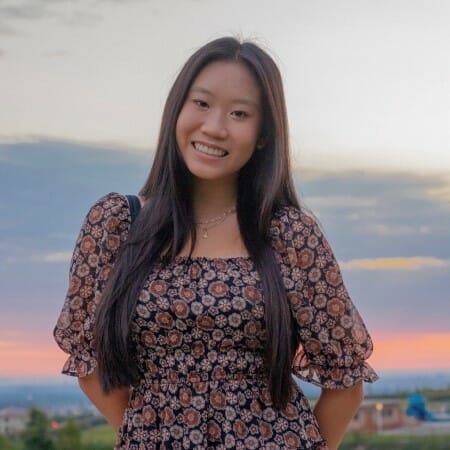 That's when I took a deep dive into what performative activism is, and explored how I could play a part as a 14-year-old at the time to address these issues. I became a proponent of student voice, and reached out to my city's vice mayor and expressed my concerns about anti-Asian hate, as well as other issues like socioeconomic equity, post-high school preparedness and environmental sustainability. She was really moved by my passion and invited me to speak at a Stop Asian Hate press conference in my city. At that conference, I gained a lot of traction and news coverage and was contacted by organizations to provide quotes for blogs or go on new appearances.  
That's the moment I realized how strong student voice can be and how that can translate into volunteer and community service work. So I think my love for student voice is what drove me to become so passionate about volunteering, not only in my local community but now on the statewide and national levels since my nonprofit now has chapter nationwide. 
What's an example of performative activism vs. direct activism?
A really good example of performative activism in this day and age is seeing a lot of celebrities on social media posting about attending protests, going to those movements and purposely posting with signs or posters, having paparazzi come take photos for them to then put on their social media platforms, addressing social issues from that. 
I think direct activism promotes tangible and feasible change, and that can be anything from creating a petition in your school to getting involved in creating education policy on the statewide level. 
Why is cultural sensitivity training so important today?
Growing up in a predominantly Asian-American community, I expected to see people like myself represented in the curriculum and history that I was learning about. But frankly, I didn't see much representation and much learning material that I could relate to. And I really wanted to change this for future generations. Even though there may be a small age gap between myself and elementary schoolers, I do believe I have expertise and knowledge to spread to them. And I believe that cultural sensitivity starts from a young age. 
If you have to learn how to be sensitive to other people's cultures and traditions later on in life, it can be really hard to adapt and grow a very understanding character. So a really big aspect of Hearts Against Hate's mission is to promote cultural sensitivity. For example, we did this through a recent project we created called AAPI Kids. This is a community initiative committed to distributing easily digestible curriculum pertaining to Asian history and AAPI civil rights to children at a young age. Specifically, we've created 200 care packages that we distributed to fifth and sixth-grade students containing information about Japanese internment, the Chinese Exclusion Act, AAPI civil rights, and more. This was really meaningful because it worked to promote equity by teaching younger generations about these topics. They don't have to have such in-depth learning, but cultural sensitivity starts at least with exposure, and that's what we're trying to do with these elementary schoolers.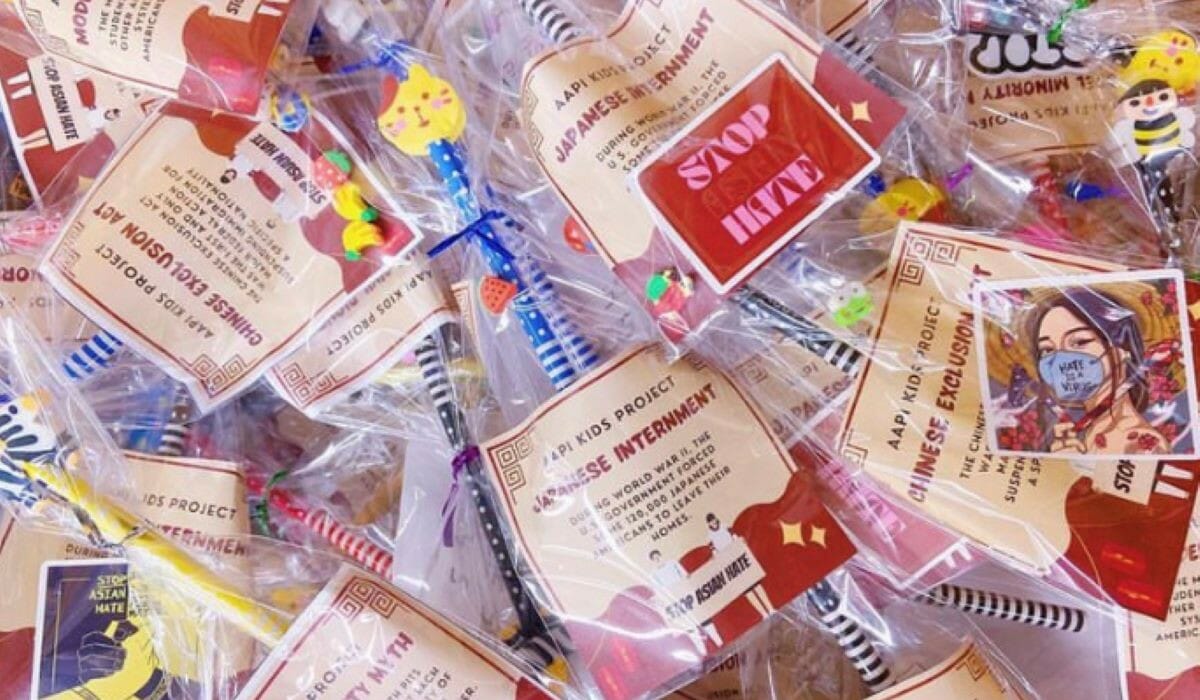 What has been your favorite part of your work with this cause?
Two things come to mind. The first is, it's important to recognize that our target audience is Asian American elderly. And this population is often overlooked due to various racial stereotypes that have been fostered in Western society. During these care package distributions, I'm the one physically driving to these senior centers and apartment homes, knocking on the doors and creating one on one interactions with members of this population. So being able to connect with people I can relate to, people who can give me life advice that I can then promote to my members and volunteers has been super meaningful. You realize that you are making a direct difference and you are changing a person's life. 
The second thing that comes to mind is being able to inspire other youth. For example, this weekend, I've been invited to speak at an Asian American youth conference about an hour from my home. It's hosted by the California Association of Student Councils and I was invited to host a few workshops about how to start a unique and sustainable nonprofit organization. This is one of many conferences I've spoken at where I've been able to provide presentations spreading my organization's mission while also inspiring other youth to create their own community initiatives and realize that they're stakeholders in their education and local policy.  
Again, personal connections are really meaningful to me. After these conferences and workshops, I've had a lot of peers email or text me, reaching out saying I am the person who inspired them to begin their local nonprofit organization or community initiative, and that's just been the most rewarding and fulfilling part about being the founder and executive director of Hearts Against Hate. 
Why is it important for people, especially youth, to get involved with the causes they care about?
As youth, we're responsible to pave the way for our own futures, and sometimes you can't rely on adults to make informed decisions that affect youth. After all, we understand ourselves the best and we're the most aware of our issues. Sometimes it's important to step up and sometimes you may face backlash working in a predominantly adult space in order to fight for the issues you care about, especially if they're relatable to you.  
In my case, working in AAPI advocacy and public policy has meant there are some instances where I'm the only minor working in a space, and I'm accompanied by colleagues 30 or 40 years older than me. Frankly, you're not always taken very seriously, but with enough hard work and persistence, you are able to observe tangible change being produced from your passion and drive. I hope other youth recognize that their voice matters and that they're actually able to create a feasible change in their community, if they're willing to work hard enough and use their passion as a driving force behind the work that they pursue. 
What's your advice for people who want to start their nonprofit or initiative?
The number one piece of advice who want to start their own organization or initiative is to make sure that it's unique. Oftentimes, especially in my community, a lot of teenagers may create a social media account or engage in performative activism by creating graphics instead of direct advocacy. So it's important to do research before you begin conducting and executing your idea. You may find already existing organizations that perfectly address your issue that you can reach out to secure an internship or some sort of fellowship.  
But if you're able to identify an issue that hasn't been addressed before and you're passionate enough about it, then that uniqueness will bring your organization success because it hasn't been brought to this space before. Hearts Against Hate is unique, because while there are many AAPI advocacy organizations and many racial justice organizations, but very few actually address anti-Asian hate and the Stop Asian Hate Movement created by youth. So I think identifying a unique mission will generate success.  
And then, promote a sustainable approach to it. Make sure your mission statement is long-lasting and that you can form personal connections, whether it be through partnerships, grants or handing out care packages. My organization isn't just something for college or a resume builder. I genuinely want to direct this until the day I die. So make sure you're sustainable with your initiative and have a team that cares about the topic you do in order to create success with your mission. 
Do you want to make a difference in your community like Kristie? Find local volunteer opportunities.  
Share this post