New Jersey Teen Helps Keep Batteries Out of Landfills
Meet Daily Point of Light Award honoree Jashmitha Sappa. Read her story and nominate an outstanding volunteer or family as a Daily Point of Light. 
Jashmitha Sappa is a high school sophomore from Edison, New Jersey. She first started to realize just how bad the human-caused damage to our Earth was around 2019. One major environmental hazard is something present in nearly every household: batteries.  
With so many electronics now running on disposable batteries, many people don't know that batteries shouldn't be tossed in the trash because they are environmental hazards. Nearly 4 billion batteries are used every year in the United States, and most end up in landfills. Over time, as the batteries degrade, they leach heavy metals and other toxins. 
This sparked Jashmitha's interest in environmental issues. She quickly became involved in volunteering and joined with Recycle My Battery (RMB).  
Jashmitha raises awareness and provides access to battery recycling. She has used her voice to spread awareness about battery recycling through different platforms, including in schools, communities and through social media. She's held battery drives and placed multiple battery bins in various public areas such as schools, educational centers and communities to facilitate recycling batteries for the public. She has spread awareness to 4,000+ people and has recycled 1,000+ batteries. Jashmitha was selected by T-Mobile as one of the top 15 innovative changemakers teams out of hundreds and invited to the 2022 T-Mobile Changemaker lab at T-Mobile Headquarters. 
Being the Director of the PR & Media team of Recycle My Battery is a significant part of who Jashmitha is today. Outside of RMB, she has many other interests. She is a passionate dancer who has been dancing for 11 or 12 years now (she also has a dance YouTube channel). She is part of her school dance team, and she enjoys baking, teaching arts and crafts to kids and tutoring kids.  
What inspires you to volunteer?
I think it's just the idea that I can help others or help combat an issue in some way. If I have the privilege and the ability to be able to take time out of my day to help the world in one way or another, then why not do so? Being able to spread the word on issues that I care about is also inspirational and keeps me motivated to volunteer.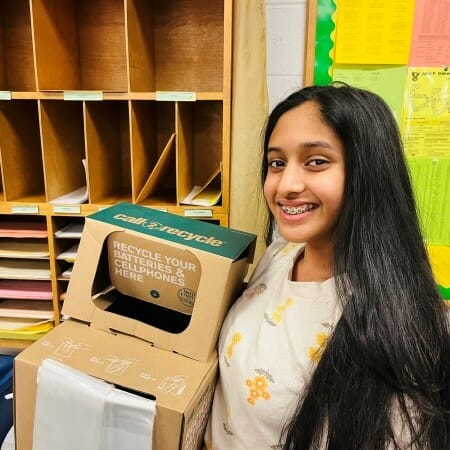 Describe your volunteer role with Recycle My Battery.
I'm the Director of the PR & Media team of Recycle My Battery. As the director of the PR & Media team, I work to spread the word about our organization, what we do and why we do it. We use various social media platforms – including Twitter, Instagram, Facebook and LinkedIn – to share updates about our organization, such as upcoming events or recognition that any RMB members have gotten for the work they do.
What's been the most rewarding part of your work?
Seeing how the organization has grown over the years has been the most rewarding. I've been part of this organization from the very beginning, and it's amazing to see how much we've grown and how many more people know the importance of battery recycling now, thanks to us. Also seeing how my efforts have been able to bring attention to these kids from the organization who are working hard to promote an environmental campaign is a really nice aspect of what I do in this organization.  
What have you learned through your experiences as a volunteer?
I've learned how to do things without expecting something back. I find that many times as humans, when we do something for others, the majority of people expect something back, like a materialistic reward. But volunteering shows you that not all "rewards" are materialistic, and you don't even need a reward. When you volunteer, you're volunteering because you chose to help others without any expectations. So through my experiences in volunteering, I've learned to let go of the "do something to get something back" mentality, and move onto the "do things without expectations" mentality. 
Are there any future partnerships, programs, or events that you are excited about?
I'm excited to expand Recycle My Battery's social media presence. We're seeing how to use our platforms more impactfully so that more people hear about us! We're also looking to start releasing monthly newsletters showcasing any important environmental-related news of the month and highlighting things our organization has done. These are a work in progress and I can't wait to release them! 
Why is it important for others to get involved with causes they care about?
It's important to get involved in the causes you care about, simply because you care about them. If there's a change you want to happen, or you want to see more people learn about a certain issue or cause, looking at it won't do anything. Getting involved will help you make this change, and also will help you learn more and go deeper into the cause. Also, finding something that you're passionate about is amazing and keeps you motivated. 
What do you want people to learn from your story?
I just want people to see how great volunteering is! I know a lot of people my age only do it for volunteer hours, to get recognized by colleges or to receive scholarships. In the midst of all this, some people forget the real meaning behind volunteering, and how you need to find something you're genuinely passionate about to get involved.  
Do you want to make a difference in your community like Jashmitha? Find local volunteer opportunities. 
Share this post