Teen Starts Nonprofit to Educate Georgia Community in Technology and Computer Science
Meet Daily Point of Light Award honoree Ameya Jadhav. Read his story and nominate an outstanding volunteer or family as a Point of Light.
Thanks to Ameya Jadhav, residents of Alpharetta, Ga. have the opportunity to brush up on their technology skills and even learn computer programming, all for free. Since helping to found the nonprofit Teach-Technology Organization, Inc. with his sister Daksha in 2016, Ameya has helped teach over 795 students of all ages in over 125 computer science-related classes. As the nonprofit's current executive director, Ameya leads 27 volunteers in not only teaching the classes, but also hosting webinars, organizing Hackathons, and maintaining a technology blog.
Ameya and his sister were originally inspired to start Teach-Technology Organization in order to help bridge the 'digital divide,' referring to the gap between those who are able to benefit from the internet and those who are not, which locally affected many senior citizens who had access to iPhones and computers but couldn't keep up with their ever-expanding technological innovations. The organization went to senior living centers in order to teach computer classes, with Ameya serving as Teach-Technology Organization's very first teacher. When he took over running the nonprofit after his sister went to college, Ameya decided to expand classes to teach people of all ages programming skills and other computer science courses as well.
Describe your volunteer role with Teach-Technology Organization, Inc.
We work to teach programming skills and other technology skills to children, adults and even seniors, and we do this though our various activities. We teach a lot of classes such as Python programming, Java programming, and machine learning. We host webinars on cyber security and other topics. We host community get-togethers like Hackathon. We also have blogs on our website on technology topics. We do all these classes and all these activities to help our community learn more about technology and more about programming, and hopefully spark interest in young children where they'll grow up and enter the CS [Computer Science] field. I am currently the executive director and I was the cofounder along with my sister. We started the organization back in September 2016. My sister left for college in 2018 and since then I've taken over as executive director. I manage all the day-to-day activities for the organization, so I mange our volunteer teams, I communicate with our locations and our virtual platforms, I make sure all the classes are going smoothly, and I also teach a couple classes that we host.
What inspired you to start this organization?
I've been interested in technology and programming for a very long time and even from a young age. Years ago when I was helping my grandparents use their iPhone and helping set up their computer, I realized there was a generational gap in terms of technology usage. A lot of times individuals have access to technology but they can't enjoy it effectively because the pace of innovation in technology is moving faster than the older generation can fully grasp. I did some research and I realized this was a common phenomenon known as the digital divide, where for example, every year there's a new iPhone and a new IOS and all these new features, and older generations can't keep up with that. I wanted to help other people like my grandparents learn technology skills and improve their quality of life. That was the original inspiration to start Teach-Technology Organization and that's how we got into our sessions for seniors, which was our very first class we started back in 2016. That's when we went to senior living facilities and we helped those seniors learn technology and improve their quality of life. Since then, I started offering other classes.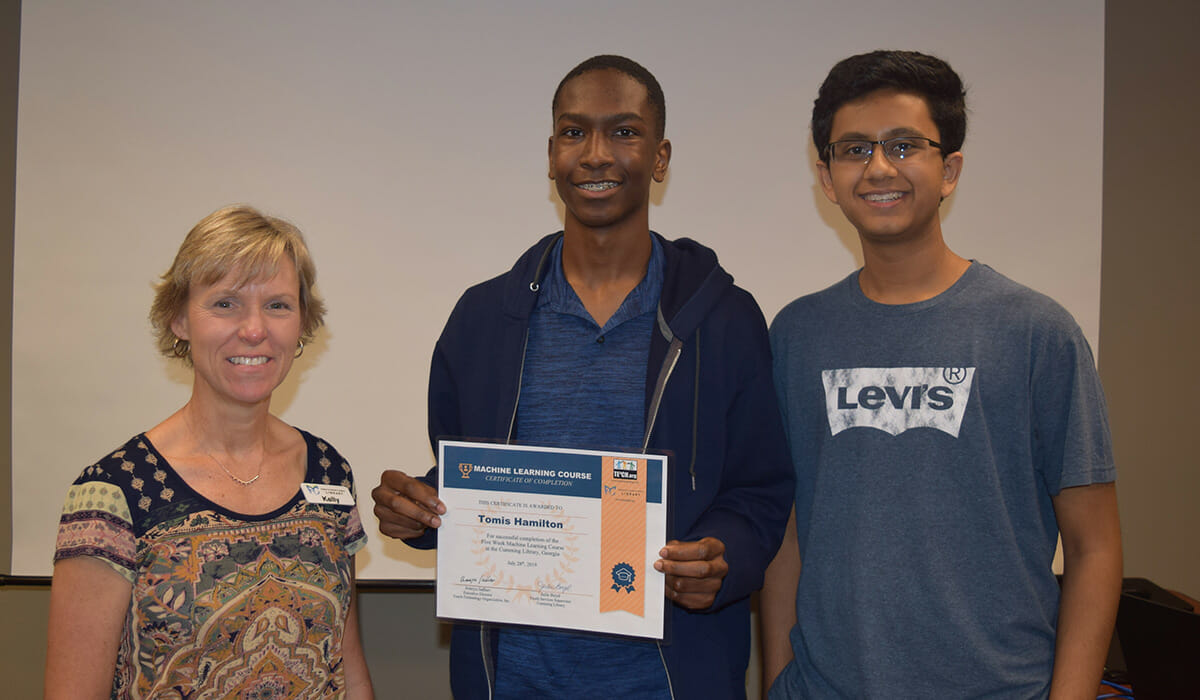 What made you want to expand to teaching all ages?
I did the expansion to other classes after my sister went to college in 2018. I realized I have an interest in technology and artificial intelligence and machinery, and I realized our world is becoming more technology-focused and more computer science-focused. In the next five to ten years, the demand for computer science and technology skills will be far greater than it is now or was in the past. I realized this is going to be a problem for my generation for knowing these technology skills and being able to apply them. That's how I really got into using the technology skills I already knew and helping my community, peers, and students to also learn these skills. That's why we expanded the classes.
How has it felt for you to see your organization grow so much?
It's definitely been exciting and rewarding. When I started this I just had a dream to help all these people learn technology and it's amazing to see how many of our volunteers, and even how many of our students, are so invested in learning these technology skills and even volunteering with us. Many of our volunteers are actually previous students. We have many of our students who first learn in our classes, and then they reach out to me or reach out to our volunteer team and they ask out to help with our organization and help other students as well. It's really amazing to see how much we've grown over the last couple of years and how many students really want to get involved.
What's been the most rewarding part of your work?
The most rewarding part is definitely being able to help students learn these different skills, and also meeting all these different students. Many of them have different knowledge areas. Some of them know more things about certain topics than even I do. The most rewarding part is being able to see how much of a difference I'm making in students' lives and how much they're learning from these classes. After each class, some of the students come up to me and say "Thank you for teaching me," and that's truly what the most rewarding part is.
What have you learned through your experiences as a volunteer?
I have definitely grown as a person with this nonprofit since I started this in seventh grade. I used to be a very shy person. I started doing these classes and I was the first instructor, so I had to go up and put on a class and teach these different skills to around 20 students my age or even adults. That really helped me get out of my comfort zone and be more extraverted and talk to more people and really get out of my shy area.
What do you want people to learn from your story?
I think the biggest thing I want people to learn or to be inspired to do is not be afraid to start their own thing or reach out to their community and help in any way. My passion was technology and computer science, so I went out into my community and I helped them in some way related to my passion. I want to encourage people to use whatever knowledge they have and use whatever passion they have and get out into these communities and help their communities whatever way they can.
Do you want to make a difference in your community like Ameya? Find local volunteer opportunities.
Share this post
---