Teen Violinist Brings 'Joy of Music' to Community Members of All Ages
Meet Daily Point of Light Award honoree Joseph Zhong. Read his story and nominate an outstanding volunteer or family as a Daily Point of Light.
Music has been an integral part of sixteen-year-old Joseph Zhong's life since he began performing violin in third grade at the urging of his grandmother. As a token of gratitude to her, as well as a way to help spread the therapeutic effects Joseph himself felt from playing music, he decided to start performing for residents at senior living centers. When the elderly at the centers responded positively and more of his friends and fellow musicians began to join him, his organization Joy of Music was born.
Joy of Music brings monthly live concerts to the elderly community around Joseph's hometown of Omaha, Neb. The concerts are performed by students ranging from second grade to college. The organization also serves as a mentoring program to the younger students, teaching them both musical skills as well as building their confidence through performing. Right now, the group consists of mainly violinists and pianists, but is also expanding into other instruments such as cello and saxophone. Joseph hopes Joy of Music will grow in the coming years to not only have more instruments, but also have performances in more senior living communities — so even more people, young and old, can experience the happiness brought by music.
Describe your volunteer role with Joy of Music.
Joy of Music is a volunteer program that helps bring live music and live concerts to the elderly in the community, as well as provide music education for the young musicians in our community. When we visit these senior living communities, we also typically bring gifts and we do cookie deliveries … We try to visit them once a month for concerts, but then we also try to visit them every other week, [doing] cookie deliveries and just dropping off notes telling them that we're thankful for them. On the other side, our mentoring program, we try to provide lessons for the youth in the Omaha community for right now violin and piano, and we're trying to expand that a little bit.
What made you want to start Joy of Music?
Initially, what led me to create this was my grandmother raised me until I was in about sixth grade, so I always felt indebted to the elderly because of what my grandmother has done. So the summer heading into my eighth-grade year, I started playing at retirement homes by myself. Then a few of my friends wanted to join me, so we formed a quartet. Then I had more friends who wanted to join me so I formed another group, the Joy Group, which consisted of people of all ages, from second grade to college, and we started performing. What I found out when we started performing is that the younger people in our group sometimes didn't know the music well enough, so we stared the mentoring program because of that. It just kind of grew from that.
When did you first get involved with music, and why is it important to you?
I started getting involved in music in third grade. I stared playing music because my grandmother had a violin around in her house and she gave it to me and asked me to start playing it. Ever since, violin and music have been an integral part of my life. For me, violin has a lot of therapeutic effects, whether it's as a performer or seeing the therapeutic effects on the audience members. Especially during middle school, it was a way for me to destress and for me to let go of my feelings, that type of thing. That's why it's always been important to me, and being able to see how the same affect is had on the audience when I go out to perform is also really meaningful for me.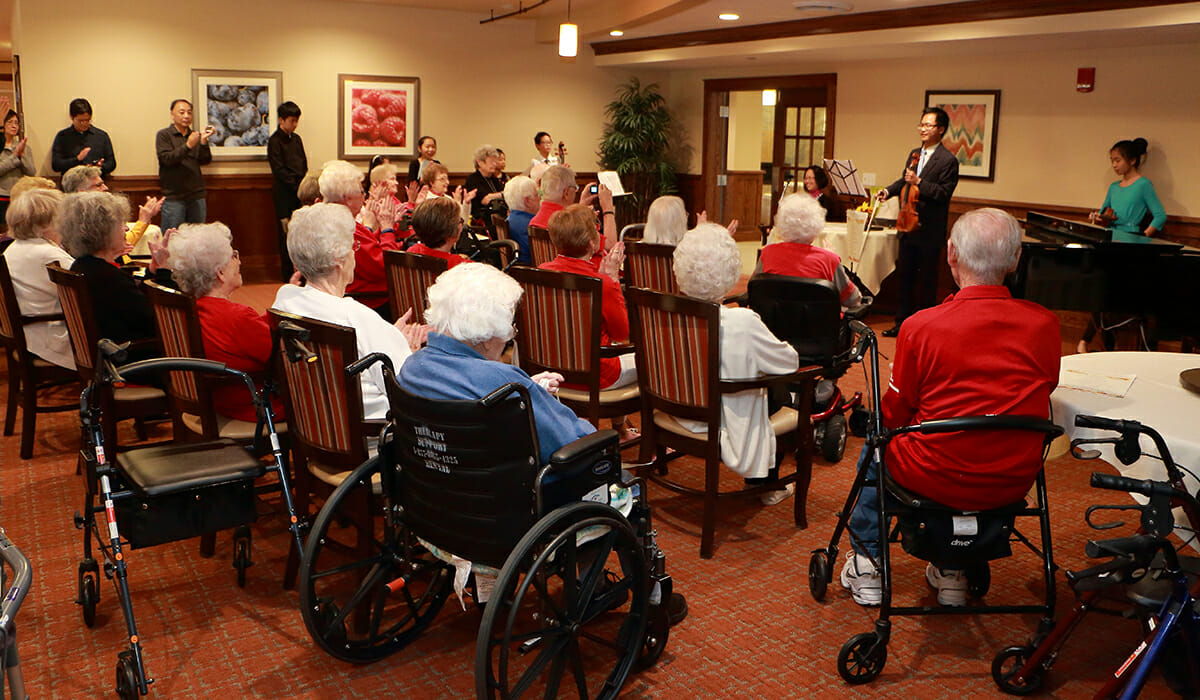 How does Joy of Music benefit the students as well as the elderly communities?
The elderly in our community typically don't have people who either visit them or bring them entertainment. Usually sometimes they don't have both. By having a group of students that go and visit the elderly to show them they are still appreciated in the community, and that we want to bring them entertainment, is very important because oftentimes I feel like they also feel left out. Based off the feedback forms I usually give that I get back form these elderly people, they're really happy that we come and they're a lot more joyful when we come. I actually had a personal experience with this. When we first started performing at the senior living community, you could really tell that the elderly in that community were very down. The atmosphere is really, really heavy. In fact, when I first started playing, it was really hard for me to create a positive vibe with music, but by the time that we got to the end of the show, a lot of the elderly were actually standing up and singing along and were really happy. The therapeutic effects of the music really brought them joy and also made them a part of the community. The therapeutics of music can also help people live a longer life. That's how we try to help the elderly.
The youth music community in Omaha, Neb. is slowly dying. It's shown in our area's local youth orchestra. They're slowly getting less and less students as well as getting less and less funding because they don't have many students. By us promoting music to the community and helping mentor these young musicians, we're hoping it can continue to sustain the Omaha musical community going forward.
What kind of feedback have you gotten from students being mentored?
They really enjoy the experience. They're hoping that the program continues even after I graduate for college, so a lot of them are gearing up for that. I had a student who struggled with performing on stage. He had very little confidence in his playing abilities but he was a really good player. I was slowly able to build up his confidence by first having him perform in bigger groups. Then slowly the group size got smaller until we were doing duets, and now he's performing solo. He is really thankful for me helping him overcome that natural shyness he had, and that helped him gain confidence.
What's been the most rewarding part of your work?
I think the most rewarding part is really twofold. The first fold is seeing the mentees grow in their abilities to both play instruments, as well as their confidence. Seeing them enjoy music so much really drives what I do. I also love spending time with the elderly after the performance because talking with them during that time is super nice. They're really happy that you came, and we can also get honest feedback from them during those times as well. It's really great to spend the time to get to know them and know their story and how they contribute to making our community a better place.
Why do you think it's important for others to give back?
I think it's important because oftentimes we as young people, and also as students, are being taken care of, whether by our parents or by people in our community. We are the ones being taught and we are the ones receiving all the benefits of living in a community without really contributing very much back to it. I feel like giving back even when you're young helps to create a spirit of making sure the community is always at the forefront of what you think, and always giving back to the community regardless of what stage you're in in your life. The habits that we develop when we are younger stay with us even when we're older. Ensuring students volunteer and help out when they're younger will create a habit that they will also maintain when they are older.
What do you want people to learn from your story?
What I really want them to learn is that the changes that we make can start off really small. The organization that I built really started off as a small thing of me wanting to perform for the elderly and wanting to bring music to them. It slowly grew bigger and bigger and bigger. I feel like the changes we need to make this world a better place can start really small. Surround yourself with like-minded people, because it helps you make those changes bigger and bigger and bigger, creating a giant ripple effect.
Do you want to make a difference in your community like Joseph? Find local volunteer opportunities.
Share this post