Teen Serves as Next-Gen Voice of Wildlife Conservation
Meet Daily Point of Light Award honoree Taegen Yardley. Read her story and nominate an outstanding volunteer or family as a Daily Point of Light.
Taegen Yardley says as a 6th grader she learned about the horrifics of wildlife trafficking, and discovered that trafficking was even taking place in her home state of Vermont. Committing to promoting wildlife conservation, Taegan decided to use her voice to protect animals and raise awareness about trafficking.
Initially focusing on elephant conservation with her initiative, A World with Elephants, the now 16-year-old Stowe, Vermont resident quickly expanded her efforts, discovering that the issue was widespread, with thousands of wildlife species threatened by illegal and unsustainable wildlife trade. Estimated to be a multibillion-dollar business, trafficking involves the unlawful harvest of and trade in live animals and plants or parts and products derived from them.
Connecting with thousands of people through her educational conservation movies, Taegen is one of the next-generation of leaders raising awareness about the planet's most critically endangered species and the impact of decreasing biodiversity.
What inspires you to volunteer?
This was my first real introduction into advocacy. Seeing that my voice had power was an "aha moment" for me, because I realized that young voices can make a difference. A lot of youth today think their voices are too small, but I've discovered through my volunteerism that I can get other kids to raise their voices about unique issues they are passionate about.
Describe your role with A World with Elephants.
As the founder of A World with Elephants, I am educating the world about our rapidly decreasing biodiversity and the plight of our planet's most critically endangered species. As the leader of this initiative, I post on our Facebook page to raise awareness, and I speak to students to educate them about these issues. Additionally, I produce and promote movies about wildlife and conservation issues. My former social students teacher, Mark Cline Lucey, who is also a filmmaker, handles all of the filming and editing for my movies.
Why have you decided to help endangered animals?
I've always loved animals, and the altruism and compassion elephants have for others is astounding to me, and are qualities that drew me to them. By volunteering to help endangered species, I am giving future generations the chance to witness these amazing animals on this amazing planet.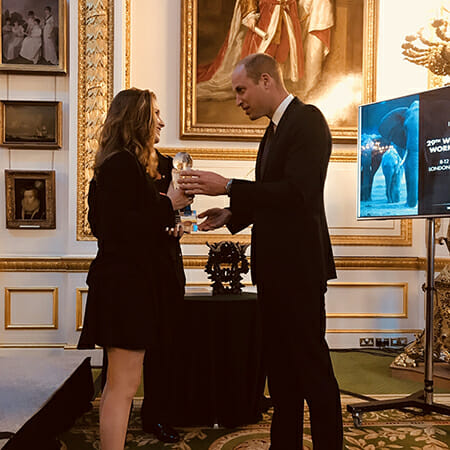 As part of your volunteerism, you produce conservation movies. Explain.
I've produced five movies thus far, and these mini-documentaries have been shown around the world. I've been invited to speak at the National Geographic Society, the Department of the Interior, and the United Nations. The U.S. Fish and Wildlife Service uses some of my movies in courses being taught in San Salvador, Budapest and Vietnam.
Share one personal story with me from your volunteerism.
I was speaking to 3rd graders at a local school and showed them one of my movies. Trafficking is a difficult topic to teach young kids because it's heartbreaking to watch the animals being slaughtered. One of the kids started crying. All the students came up to me after the movie asking what they could do to stop the killing of animals. It was validation for me that I am making a difference across my generation.
When you're not at school or volunteering, what do you do for fun?
I am a ski racer and ski coach. I enjoy teaching younger kids how to race. I also started a girls boxing group, and I'm really into theater and singing. I also spend my spare time hiking and hanging out with my family.
What's been the most rewarding part of your service?
Seeing the impact I am making on others and the ripple effect my voice has. When I inspire someone to want to learn more and dive deeper into an issue they are passionate about, that's extremely rewarding.
How can readers help?
Please check out A World with Elephant's Facebook page for more information.
Do you want to make a difference in your community like Taegen Yardley? Find local volunteer opportunities.
Share this post