Young Girl with Alopecia Volunteers to Help Other Bald Children Feel Confident
Meet Daily Point of Light Award honoree Rosie Quinn. Read her story and nominate an outstanding volunteer or family as a Daily Point of Light.
She's a bubbly third-grader who talks a mile a minute. A self-described "confident" young girl who really likes to read, play softball and piano. She says one day that she'll be a Supreme Court justice, and her younger sister will be president. 8-year-old Rosie Quinn also has Alopecia universalis, an autoimmune disease she was diagnosed with as a toddler that causes sudden and complete hair loss.
When Rosie's parents realized the power an artistic outlet such as painting carried for their young child, her mother, Paula, decided to transfer her most-prized paintings to a head scarf for Rosie, so that the attention on Rosie's head would focus on her beautiful art and natural ability, instead of her hair loss.
Striving to help other bald children who may receive unwanted attention as a result of their hair loss, the Chicago, Illinois child founded Coming Up Rosies along with her parents. Creating head and neck scarves and superhero capes out of original artwork, the organization is dedicated to providing art therapy and the chance for children to wear their masterpieces with pride. Donating more than 1,300 Smile Kits full of art supplies and a customizable scarf to over 20 children's hospitals and treatment centers around the country thus far, Rosie is helping to empower other children to love themselves unconditionally, hair or no hair.
What inspires you to volunteer?
Rosie: When I was little, I used to get bullied a lot. My mom suggested we use one of my paintings on a headscarf, and after five minutes of looking in the mirror, I decided I wanted to give a scarf to all the bald kids in the world. We want to help other kids, and it makes me smile and feel really accomplished when we get a picture, video or letter from someone telling us how they have used our Smile Kits.
Explain the name behind "Coming Up Rosies".
Paula: Rosie has shown me how to make lemonade out of lemons, and now I know, after all, that everything is Coming Up Rosies. Our mission is to restore confidence, happiness and pride to anyone struggling with low self-esteem during their medical journey, especially bald children.
Describe your role with Coming Up Rosies.
Rosie: We raise awareness about Coming Up Rosies and attend events at the Ronald McDonald House. We tell people everywhere about our organization – even people at Starbucks that we run into. I sign my name using a Sharpie on our business cards so that people have information about us. We rely on donations to help us buy Smile Kit materials for children. We also host an annual race called 3 Miles for Smiles to fundraise and support our mission.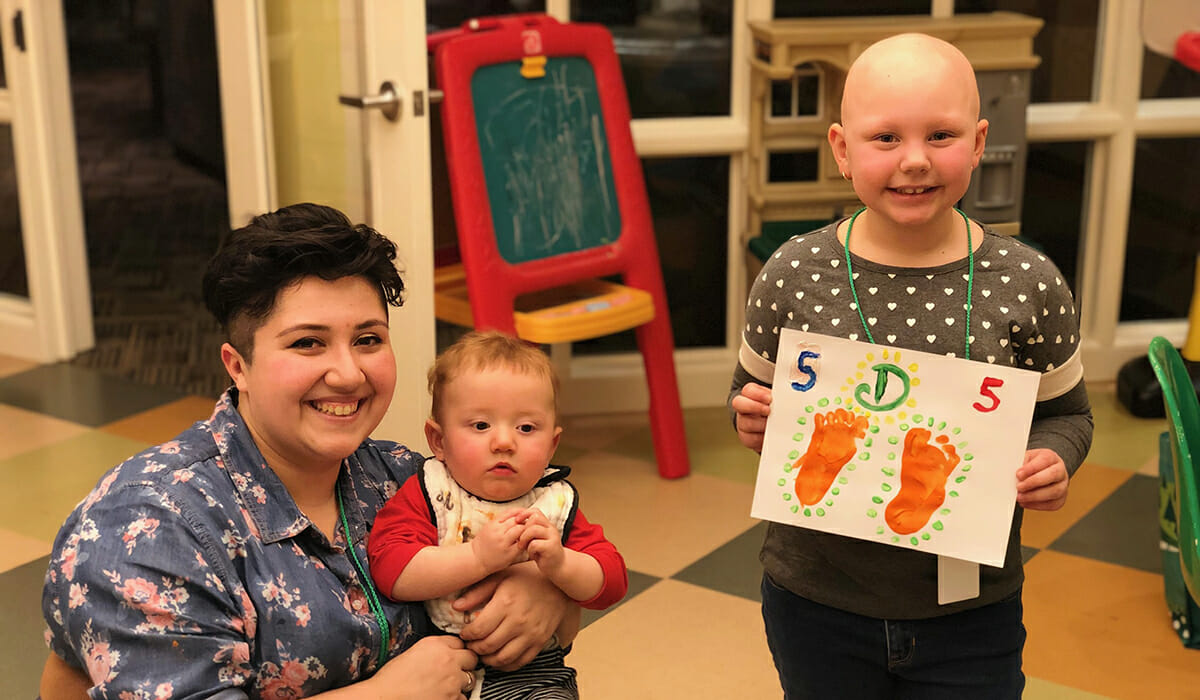 Share one personal story with me from your volunteerism.
Rosie: A girl named Riley has cancer and she sent us a video of her opening her scarf. She really liked it. We like to make other kids smile and by sending them kits and telling us how much they like the scarves, they make us smile back. I'm used to not having hair now, and I'm already confident when I step outside, so I don't want to hide my head, but other kids might want to. That's what our scarves are for.
What's one way you hope to inspire others in your service?
Rosie: If everyone just tried to make each other happy and smile, no one would be sad. I want people to find someone left out at school, or having a hard time, and try to make them smile and happy. Even helping your community by picking up trash, you might help connect with someone else.
What's in the future for Coming Up Rosies?
Rosie: We've sent scarves to people with alopecia as far away as Ireland and Australia. We want to help many people so that our organization grows and grows.
Paula: Her long-term goal is to provide Smile Kits to each of the 300 children's hospitals across the U.S. We've sent kits to children's hospitals and treatment centers all over the country, including to the Ronald McDonald House, and hospitals in Massachusetts, Florida, Indiana, Texas and Missouri.
What have you learned through your experiences as a volunteer?
Everyone is different and everyone has lots of love and we love going and being there for them.
How can readers help?
Please check out our website for more information about how you can help.
Do you want to make a difference in your community like Rosie Quinn? Find local volunteer opportunities.
Share this post