Turning a Disability into His Purpose, Texas Teen Provides Hearing Aids to Those in Need 
Meet Daily Point of Light Award honoree Braden Baker. Read his story and nominate an outstanding volunteer or family as a Daily Point of Light.
13-year-old Braden Baker's dog Chewy might have taken his name a bit too literally when he not once, but twice chewed up Braden's hearing aids. The Texas teen was born with bilateral sensorineural hearing loss, so his hearing aids are essential to his everyday life.
Braden's parents sat him down and told him the importance of taking good care of his hearing aids because they were expensive, and some families couldn't afford them. But in this moment, something clicked inside Braden, and instead of just putting away his hearing aids in a safer place, he took the lesson a step further and started a GoFundMe to provide hearing aids for those in need.
"I think one of the biggest things in life is communication and being able to hear the sounds outside, being able to talk to your family. It's just so important to me. I just want everyone in the world to be able to experience it," Braden said.
Donations started rolling in from family and friends. $100, $500, thousands… But after Braden was featured on The Ellen Show in 2017, awareness of his cause spread like wildfire and donations poured in. Braden's initial goal was to raise $1,000, but his GoFundMe has now raised more than $112,000.
"People kept donating and it just kept blowing up," Braden said. "I never expected anything like that, and it was just mind-blowing how all these people could actually help me. It inspired me to keep going and it made me realize that I have a voice."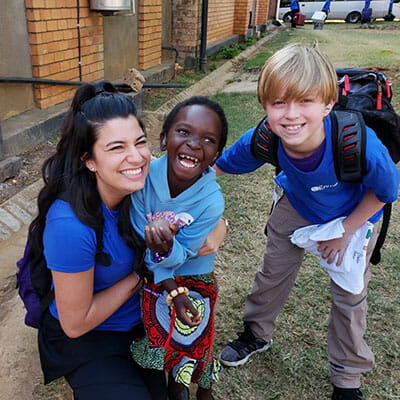 When trying to decide where to donate the money he had raised, Braden simply looked at his own hearing aids, which were made by the company Oticon. The hearing aid manufacturer has their own humanitarian organization that provides refurbished hearing aids to underserved populations around the world.
Through Oticon, Braden was able to meet audiologist Dr. Kamal Elliot who told Braden that he needed to see his funds in action. So she and Braden, along with Entheos Audiology Cooperative, set out to the Panajachel area of Guatemala for five days in 2017. There, Braden was able to see his first "hearing smile."
"A hearing smile is when someone is just so joyed that they're finally able to hear for the very first time in their lives," Braden explained. "They laugh or they cry, or they just have this big smile on their face… Just being able to be there to witness all this was probably the biggest moment of my life."
Since then, Braden has become an official ambassador for Oticon and Entheos' Hearing the Call and has visited multiple countries including Ecuador and Zambia to help provide hundreds of hearing aids. But some of his favorite "hearing smiles" were from people in his own hometown of Fort Worth.
"Our local public school has three audiologists and they give hearing aids to hearing impaired kids who can't afford them," Braden said. "But they give them the hearing aids in the morning and then they have to turn them in at the end of the day so they won't be able to hear very well on the weekends and on breaks. So I was able to raise enough money to give all of these kids their own hearing aids and it was such a good time."
Braden travels often around the U.S. to speak at conferences and other events about his cause. He even presented his own TED Talk titled "You're Never Too Young to Make an Impact" last year. His mother, Ashley, says it amazes her each time this young teenager is able to speak in front of a crowd of hundreds.
"His disability has become his greatest ability," Ashley said. "He's taken that disability and said, 'Look what I was able to do with it. Look at how I was able to play it forward.'"
Braden's passion for helping others has caught a lot of media attention. He's even featured on "The Marvel Hero Project" on Disney+, which celebrates a number of young heroes making a difference in their communities. But Ashley says even if all this media and attention disappears tomorrow, she and Braden will forever be changed by this experience and the audiologists who showed them the power of giving hearing to somebody.
"I just want to let people know that if they truly believe in something, they can make it happen," Braden said.
Learn more about Braden's mission.
Do you want to make a difference like Braden? Find local volunteer opportunities.  
Share this post