Teen Volunteer Helps Frontline Workers Mask Up Amid COVID-19
Meet Daily Point of Light Award honoree Avni Garg. Read her story and nominate an outstanding volunteer or family as a Daily Point of Light.
A middle school student at the time, Avni Garg says it was former First Lady Michelle Obama who inspired her service dedicated to creating a healthier world. "Growing up, I'd hear about the importance of staying healthy. I knew the issue was important but I didn't know what I could do as an individual to make an impact."
Launching Change Will Happen in 2018, the now 16-year-old New York City, New York resident is making the world a healthier place by supporting thousands across the globe through events, education and medical missions. Most recently, when there was a dire need for PPE amid the COVID-19 pandemic, Avni stepped up to support first responders by producing reusable masks.
What inspires you to volunteer?
It inspires me to know that I have the power to do something good. The more I volunteered, the more I found I genuinely liked (service), and I knew it was making me and other people happy.
Describe your volunteerism with Change Will Happen.
As founder and president of Change Will Happen, I fundraise, recruit volunteers, coordinate educational presentations and also participate in international medical missions. We've made more than 4,000 N95-grade reusable face masks thus far for frontline workers, including at hospitals, nursing homes and locally across my community. We also design and sew surgical caps and protective gowns. Lastly, in line with our mission to build a healthier world, we formed a partnership with the American Heart Association several years ago to introduce healthier habits to students at a younger age.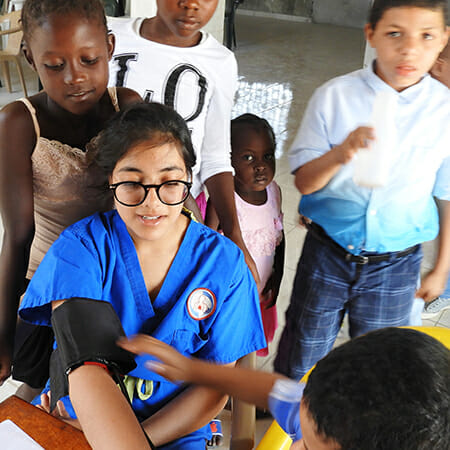 Share one personal story with me from your volunteerism.
When we started making the masks, there was a shortage of PPE in NYC and the tri-state area. I handed some masks off to a nearby office, and the look of relief in this one woman's eyes made me feel really grateful. She said, "I can never thank you enough." It sounds like something out of a story, and not real. She was genuinely worried, but the weight was lifted off of her shoulders (with those masks.) Giving up my time and receiving this gratitude in return makes me feel really grateful and happier to volunteer.
Why do you think it's important for others to give back?
Why do you put nutrients into the soil? The crops will come out a lot fresher and greener. There's this aspect of, "what you reap is what you sow" when it comes to volunteering. It's also good for the soul in general. You earn a lot more than just happiness from volunteering, you learn about your community and what they are lacking.
What's your volunteering motto?
I formed a team of seamstresses who are also healthcare workers, and our motto is "superheroes helping each other." We have all of this power to help others, and that makes the bond between us and the service we are providing a lot stronger.
What's in the future for your volunteerism?
I'm still making masks and in addition, I'm making hats for medical professionals to use in surgical wards. I'm hoping to restart my other volunteerism when it's safer to travel.
In one word, what does volunteering mean to you?
Panacea.
When you're not busy with school or volunteering, what do you do for fun?
I like to dance. I like to sing. I produce a lot of school plays, my favorite was "Legally Blonde."
How can readers help?
We rely on donations to continue helping others. Please visit our website for more information about how you can help.
Do you want to make a difference in your community like Avni Garg? Find local volunteer opportunities.
Share this post