Teen's "STEM Mindset" Service Increases Global Access to Education for Underrepresented Youth
Meet Daily Point of Light Award honoree Allison Eisenberg. Read her story and nominate an outstanding volunteer or family as a Daily Point of Light.
As a young female student interested in STEM, Allison Eisenberg says opportunities and resources to learn more were few and far between. When kids were sent home for remote learning because of the COVID-19 pandemic, the 16-year-old Glen Rock, New Jersey student started teaching STEM workshops to children of healthcare and frontline workers. That effort has blossomed into a global organization, as Allison serves up a STEM community to kids in need.
Launching STEM Mindset in June 2020, the rising high school senior and STEM Mindset student volunteers have virtually connected with a couple hundred students through workshops, events, mentoring and more. Reaching students in her community and beyond, Allison is making STEM education more accessible and helping to secure a brighter future for underrepresented youth.
What inspires you to volunteer?
As a girl in STEM, I've had limited opportunities. I love giving back and giving other underrepresented youth opportunities I may not have had when I was a younger student. All the smiling faces in our virtual workshops make me happy and inspire me to volunteer.
Describe your volunteerism with STEM Mindset.
As founder, I hold weekly meetings with our board, meet and schedule our student volunteers for workshops and mentorship program, plan curriculum and organize events, facilitate our partnerships and manage a variety of initiatives including our app design competition and more. Through service, we are connecting with students in the United States and internationally in places like Saudi Arabia and India to spark interest in science, coding and technology.
Share one personal story with me from your volunteerism.
During one of our first workshops, I taught intro to coding. After the hour-long virtual workshop, I told students they could stay on if they had more questions. It was so nice to see how many stayed, and how self-motivated they were. I look forward to putting in the time to volunteer because hopefully, these students really enjoy what they learn about such a unique field, and we introduce them at such a young age that they're able to enjoy the subject and pursue it in the future.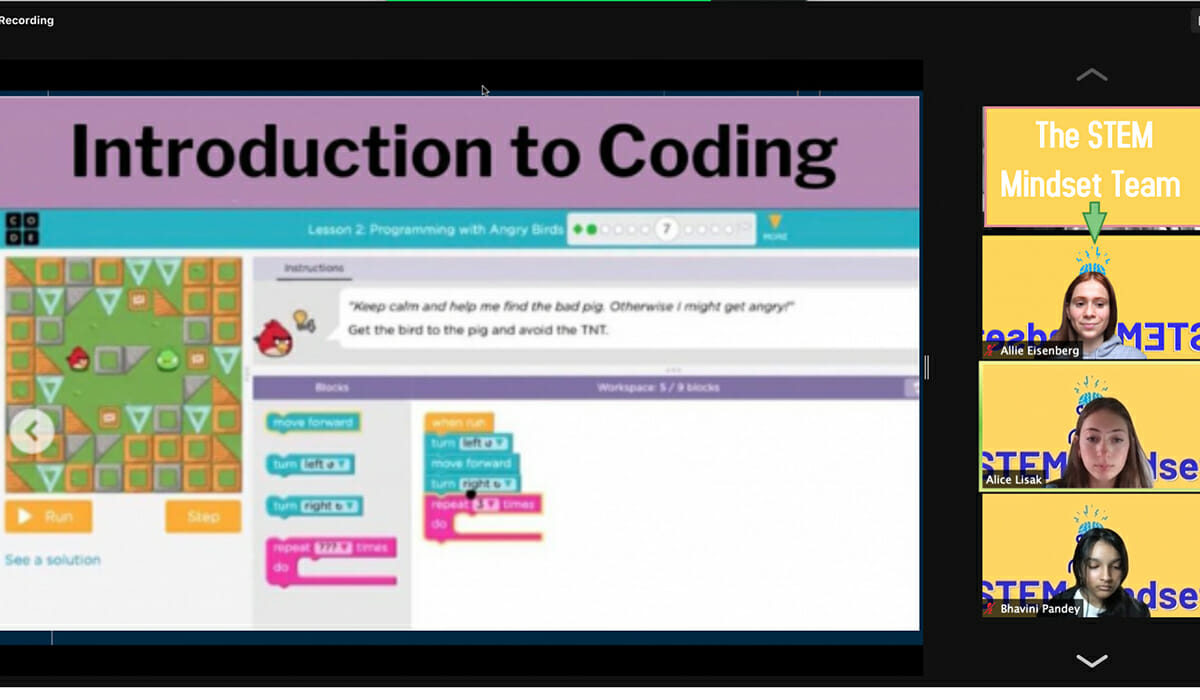 Why do you think it's important for others to give back?
In my case, with STEM, it's important to volunteer because there are limited opportunities for some of these students, and subsequently, limited career opportunities. Hopefully our introduction means these children will be more successful in the future, and this education opens doors for them in college and their career.
What's in the future for your volunteerism?
We have grown virtually so we're able to offer opportunities all across the world. One day, I hope to provide in-person support locally to my community, like laptops for students to participate in our workshops, in addition to continuing our virtual efforts.
What do you want people to learn from your story?
It's important to pursue whatever you're interested in. For me, it's computer science. At first, it was overwhelming to start this service because of the logistics, but now I look forward to it every single day. If you're passionate about a topic and want to give back, work hard, take on challenges and it'll come more naturally.
In one word, what does volunteering mean to you?
Happiness. Seeing happy faces on our students.
When you're not busy with school or volunteering, what do you do for fun?
I love playing tennis. I play competitively on my school's team. Naomi Osaka is my favorite professional tennis player. I also love traveling with my family.
How can readers help?
We're always looking for more volunteers to teach and for more participants to join our workshops. Please visit our website for more information.
Do you want to make a difference in your community like Allison Eisenberg? Find local volunteer opportunities.
Share this post