Teen Volunteer Keeps Students Safe and Healthy with "Blessings in a Backpack"
Meet Daily Point of Light Award honoree Calliope Speredakos. Read her story and nominate an outstanding volunteer or family as a Daily Point of Light.
17-year-old Calliope Speredakos has lived in New York City her entire life, but after witnessing the great need amongst kids just like her, she decided she needed to take action to keep students safe and healthy.
As a volunteer student ambassador with Blessings in a Backpack, Calliope, a high school senior, is helping to feed students every weekend. First providing meals for more than 350 underprivileged students aged 3-11, Calliope found even more ways to help during the COVID-19 pandemic, securing donations to provide kids with backpacks and masks. Helping to reduce food insecurity in her community, Calliope is making a difference through service.
What inspires you to volunteer?
There's just such a huge disparity of wealth in New York City, and it's so obvious regardless of where you are. I've lived in the city my whole life, and growing up, witnessing kids my age in need, inspired me to volunteer. That need is hard to ignore.
Describe your volunteerism with Blessings in a Backpack.
I'm a volunteer and currently one of two inaugural student ambassadors for Blessings in a Backpack. Through the Poptivisim initiative, my service partner and I designed and marketed phone pop grips, the proceeds from our sales significantly contributing to the more than $25,000 I've raised to feed children. As an ambassador, we're helping to launch the national student ambassador program, and have created videos and online material which details our fundraising process and will help others to do the same in their communities. I also create social media for the program. To improve the safety of our students during the COVID-19 pandemic, we received around 500 backpack donations and 1,000 masks.
In addition to my volunteerism with Blessings in a Backpack, I've volunteered for Women in Need, Romero Center and Siena House.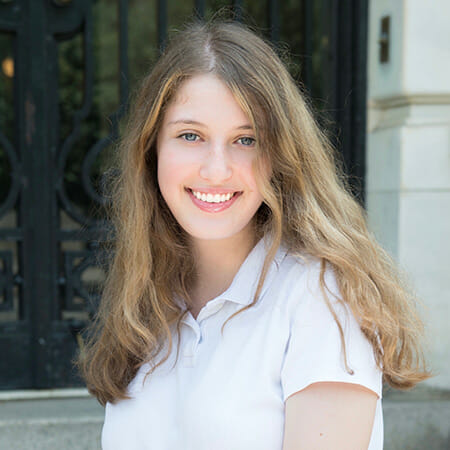 Share one personal story with me from your volunteerism.
My mom cooks our Thanksgiving meal, but in 2019, she'd forgotten some dish we usually make for dinner. I went to the grocery store to buy what she needed, and a man outside the store was trying to raise money to buy his family a turkey. I didn't have any cash but asked him if I could get him anything inside the store. I bought him a soda and chocolate, and I could tell it made his night. Thanksgiving is thought of as a time of plenty, where everyone has everything they need. It was jarring to see this man in need, and that's when I started to think about food insecurity in the city and how to help.
Why do you think it's important for others to give back?
If you have any form of privilege, regardless of what kind of privilege, it's important to share that with others and realize you could be in their position in the future. (These people), they're essentially you, but with different circumstances. Helping someone else in a bad situation is the basic idea of compassion.
What does the future of your volunteerism look like?
I hope to raise more money for Blessings in a Backpack to continue to feed the students, and I hope to continue volunteering even when I go to college. There are so many amazing causes out there that need help. I want to do everything I can.
What do you want people to learn from your story?
Nothing is too little. Regardless of what you do, it's always going to be impactful. It could be as simple as buying someone a soda at a store, but to them, it's so impactful.
In one word, what does volunteering mean to you?
Inspiring. You hear stories from people who have been on the brink of poverty, and can bounce back because of your help. It's inspiring to see the impact others have had through volunteering, and also, your personal impact.
When you're not busy in school or volunteering, what do you do for fun?
I love paleontology. I go to digs in places like New Jersey, Florida and Canada and have found a lot of cool things. I found this awesome megalodon tooth in Florida.
How can readers help?
We rely on donations to feed underprivileged students. For more information about how you can help, visit Blessings in a Backpack.
Do you want to make a difference in your community like Calliope Speredakos? Find local volunteer opportunities.
Share this post