Teen's Global Volunteerism Increases Access to Climate Movement
Meet Daily Point of Light Award honoree Joe Hobbs. Read his story and nominate an outstanding volunteer or family as a Daily Point of Light.
18-year-old Joe Hobbs is a recent high school graduate who starts college classes in the fall. He is also the face of global change as he volunteers to represent the underserved across climate issues, homelessness, political action and food security.
As a co-founder of Climate Cardinals, the Columbia, Maryland teenager is advocating for others in more than 45 countries. Joe's service with Climate Cardinals makes information about the climate movement more accessible to those who don't speak English, thousands of volunteers around the world translating information into an astounding 100+ languages, reaching hundreds of thousands thus far.
What inspires you to volunteer?
Misinformation. A lot of what I've seen of misinformation is people not understanding the issues. I'm inspired to volunteer to help educate people around the world.
Describe your volunteerism with Climate Cardinals.
As co-founder, I ensure that climate information is translated into more than 100 languages. I also manage our more than 10,000 student volunteers. In addition to my climate activism, I volunteer to reduce food insecurity, prevent homelessness and facilitate political action. People are scared to share their views. There's not one right or wrong view. Through volunteerism, we are encouraging people to share their opinions and talking to them about how they feel.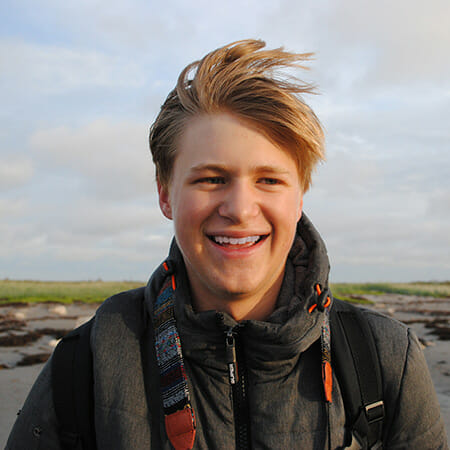 Share one personal story with me from your volunteerism.
I attended a climate rally in Washington D.C., and I was speaking to people about what we do. Someone came up to me and thanked me for (my service). That was the greatest moment. It's not often you receive thanks, people will say that we're wrong, or they just won't talk to you. In that one moment, the woman said I was doing a great job, and to keep it up. That was two months into my climate activism, and her support motivated me to talk to more people.
Why do you think it's important for others to give back?
Not everything in this world means you have to give something in order to receive something. I believe people should use their time to do something that helps everyone.
What's been the most rewarding part of your service?
It's rewarding seeing the effect volunteering has on people. We see people's minds change, and become so motivated by what I am doing, that they go do something on their own.
What's in the future for your volunteerism?
I want to keep an open mind and college will be a different and new chapter in my life. My goal is to continue growing as a person and keep volunteering.
In one word, what does volunteering mean to you?
Commitment.
When you're not busy with volunteering or school, what do you do for fun?
I love playing soccer. I play the striker or center defense positions. I root for the Chelsea Football Club.
How can readers help?
Please visit the Climate Cardinals website for more information about how you can help.
Do you want to make a difference in your community like Joe Hobbs? Find local volunteer opportunities.
Share this post