Volunteer Helps Promote Financial Literacy in Asian American Communities
Meet Daily Point of Light Award honoree Amanda Tseng Jaskiewicz. Read her story and nominate an outstanding volunteer or family as a Point of Light.
Amanda Tseng Jaskiewicz has always been passionate about promoting financial literacy and equality, particularly for disadvantaged groups. When her employer, Bank of America, started its Better Money Habits Volunteer Champions program about a decade ago, she knew she wanted to join right away. The program enlists its employees from around the country in delivering financial education, resources and and advice to their communities. Amanda, who was born and raised in Taiwan, particularly focuses on the Asian American immigrant communities in her San Jose, Calif. area.
A dedicated volunteer, Amanda additionally serves as a Goodwill Ambassador for the STUF United Fund. Through the program, she is helping to bring a free online coding education program currently utilized in Taiwan to the U.S. The program will launch in October, and Amanda hopes to encourage her Bank of America coworkers to assist with the program. She also volunteers with Dress for Success and the Girl Scouts of America.
Describe your volunteer role with Better Money Habits.
We have a weekly call and we reach out to local schools and community nonprofits to bring our Better Money Habits resources and programs to them. Our Better Money Habits resources make it so much easier because you can find a topic and use those teaching materials, whether it's for local high schools, elementary schools, adults or immigrants. Because I speak languages other than English, I reach out to the local Asian American community and help teach those immigrants. Our credit system in the U.S. is different from some Asian countries. A lot of people immigrate here and can't believe why they can't get a credit card or car loan. It's not because they don't have money, it's because they don't have credit. It's very essential to teach them how to build their credit and establish their financial life here. That's part of my involvement. I connect the bank's Better Money Habits to the community.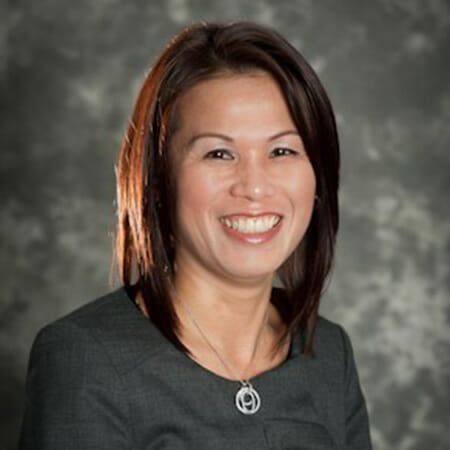 Why did you want to volunteer with Better Money Habits?
I had been very passionate about teaching the community and different disadvantaged groups of people about money, banking and money management. I was born and raised in Taiwan, and the Asian mentality is about savings and managing money. When I met my husband and immigrated here and began living in the U.S., I felt there was a big disconnect with people making money but not saving money. People suffer from financial insecurity or have trouble with a stable financial life. It's not necessarily linked to their inability to make money; it's more linked to their inability to manage money. I consider myself lucky enough that growing up, my parents and culture taught me about saving money and always tried to manage money more than make money. I have been very passionate about helping people and going out to volunteer. When the bank introduced this Better Money Habits program, I joined it right away. The bank needed a champion from different markets and different communities.
What kind of feedback do you get from Better Money Habits participants?
People are very thankful and appreciative. The feedback is all positive. Sometimes people have more questions. Sometimes they feel like it opened up their minds and gave them a different perspective. Some of the participants have probably never thought about managing money and looking at their budget and how to change their mindset about savings. You never save money if you think you're going to spend whatever is left. You always have to save and set aside money. I think it all depends on their background, but with our Asian American communities, they definitely find it super resourceful and helpful regarding how they're going to be able to purchase a house and establish their financial footprint here in a new country as an immigrant.
Why was it important for you to reach out to Asian American communities specifically?
I was born and raised in Taiwan. I'm Taiwanese American, so it's part of my roots. There are so many people who are doing financial literacy training nowadays. I'm super happy to see trainings on Youtube and everything. It's attainable, but it's English. There are a lot of immigrants who, although they do understand and speak English, English is their second language. If somebody like me who is fluent in Mandarin and Taiwanese can reach out to the community that is Taiwanese American or Asian American, they can feel super comfortable with somebody who can actually speak their mother tongue and can help answer questions. It does touch an additional group and provides more help on that front.
Are there any future partnerships, programs, or events that you are excited about?
I am currently very involved with a nonprofit organization called World Taiwan Foundation United Fund [or STUF United Fund]. We are rolling out a program to provide a free online coding program for disadvantaged communities, adults, or kids, where coding is not available for them. Financial literacy training is something I'm passionate about, but we are living in an era where technology dominates everything. So as I am so passionate about helping minimize the inequality gap of income on the socioeconomic front, I think bringing the technology education for the low-income and disadvantaged communities will help change that. … In the disadvantaged or low-income community, that coding knowledge or interest can be unavailable or inaccessible for kids. This program is actually available in Taiwan and it's a very good program by a group of professors in Taiwan and from MIT. The nonprofit I have been helping with is making this available in the U.S. We are launching it next month and I wanted to bring this to the low-income community in the U.S. wherever it's needed. We can go with different nonprofits in the community as well, because the program will be provided by this nonprofit and training will be provided by this nonprofit.
What's been the most rewarding part of your work?
It's all totally rewarding, being able to touch so many people and share what I know. Sometimes I learn, too. Life for me is a journey of continuously improving myself everyday. Giving is really not giving. A lot of times, I am getting more than I give. It's definitely essential. I'm very fortunate. I think I have a good life. Not everybody is as lucky, and I want to see what I can do to help the world to be a better place. This sounds like a cliche, but everyday I can wake up to do things I think are meaningful for people. I need to give so I can get.
What have you learned through your experiences as a volunteer?
I've learned to be humble. I've learned to not judge anything. I've learned to know so much is unknown. I really don't know what I don't know. I learned to always be openminded and positive. Always look at the positive and know that there's a destination. You can't control things. It always depends on how you look at it. If you choose to look at it positively, then there's no negative things, really, on this planet. It will all work out.
Why do you think it's important for others to give back?
It's important because there are seven billion humans on this planet and there's only one earth, and there's so many different communities and people who need to get connected. People are social animals. To be able to volunteer and connect and feel true belonging to your community is the fundamental force to stabilize a society, so it's really important for people to volunteer. … Connecting people through their beliefs and volunteering will make society better, and a better place for everybody.
Do you want to make a difference in your community like Amanda? Find local volunteer opportunities.
Share this post