Teen Volunteer Makes Art Spaces More Diverse, Inclusive and Vibrant
Meet Daily Point of Light Award honoree Chelsea Hu. Read her story and nominate an outstanding volunteer or family as a Daily Point of Light. 
During summer break in 7th grade, Chelsea Hu volunteered at an orphanage in Beijing, China. The Vienna, Virginia resident hosted drawing classes for the children, saying that in that moment, they were all equal, "makers" bound by the beautiful art they were creating.  
The now 16-year-old Chelsea founded Teen Mobile Arts (TMA) in 2019, inspired by the children she met that summer in Beijing, who faced great challenges but could still experience the joy of art. To date, TMA has connected with more than 51,000 kids, including underserved youth, from the U.S. to China, India to Uganda. Through her volunteerism, Chelsea is bringing young artists from around the world together, making art spaces more diverse, inclusive and vibrant. 
Describe your volunteerism with Teen Mobile Arts.
As founder, I created the Teen Mobile Arts Online International Exhibition, which showcases talented teen artists from around the world and supports charities through the artists' choices. In 2022, we presented an international arts exhibition at the CCACC Art Gallery in Maryland named "Teen Mobile Arts United" where we represented seven countries: China, India, Liberia, Nigeria, Senegal, Uganda and the United States — and more than 10 states. All proceeds from this exhibition have been donated to the National Foundation of Cancer Research (NFCR). We've worked with organizations including NFCR, FAR (Fight against Rape), the Fola David Care Foundation and Rehab Africa.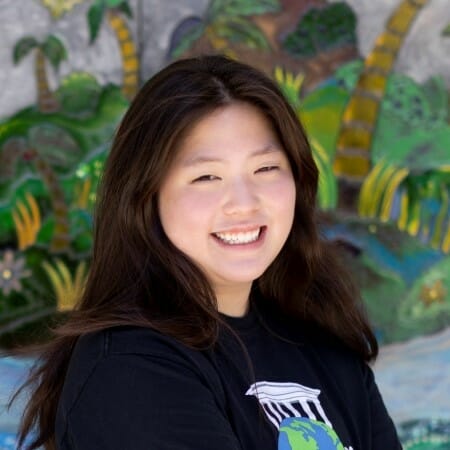 Share one personal story with me from your volunteerism. 
While volunteering in the Beijing orphanage, which was called Sun Village, the area received torrential rain and all of the leadership students raced to move the children's valuables to a storage room. Even losing something as small as a piece of cloth from an old, favorite coat would have been upsetting to children who had so little.  
After settling in for the storm, I led drawing classes. Watching the children's eyes glisten as I showed them how to create animals with simple geometric shapes was one of the sweetest experiences of my life. A remarkable moment came when they noticed that they could be vehicles of creation—artists, voices, individualists. To pay homage to my experience at Sun Village, after founding TMA, I began working with the U.S Embassy in Sierra Leone to help support an orphanage called Variety Center by collecting needed items, donations, and, of course, artwork with loving messages from students around the world. No child should ever feel alone. 
What inspires you to volunteer?
Making art with the children (at the camp in Beijing) bound us. They had lived through far greater challenges than I, but in that moment, we were all "makers." Perhaps, through the right platform and mentorship, one of my little "makers" would be featured on museum walls someday.  
Why do you think it's important for others to get involved with causes they care about?
Winston Churchill once said, "We make a living by what we get, but we make a life by what we give." It's fulfilling to see stronger bonds being built among human beings regardless of race and social status, and that lives are bettered because we get involved.  
What's been the most rewarding part of your service? 
We teach young artists to make an impact with their art by building an ensemble of creators through rotating shows in local communities. Communities are now seeing talented middle and high school artists' work everywhere in town. It always brings me such joy envisioning the inspiration that TMA might bring to young "imaginers."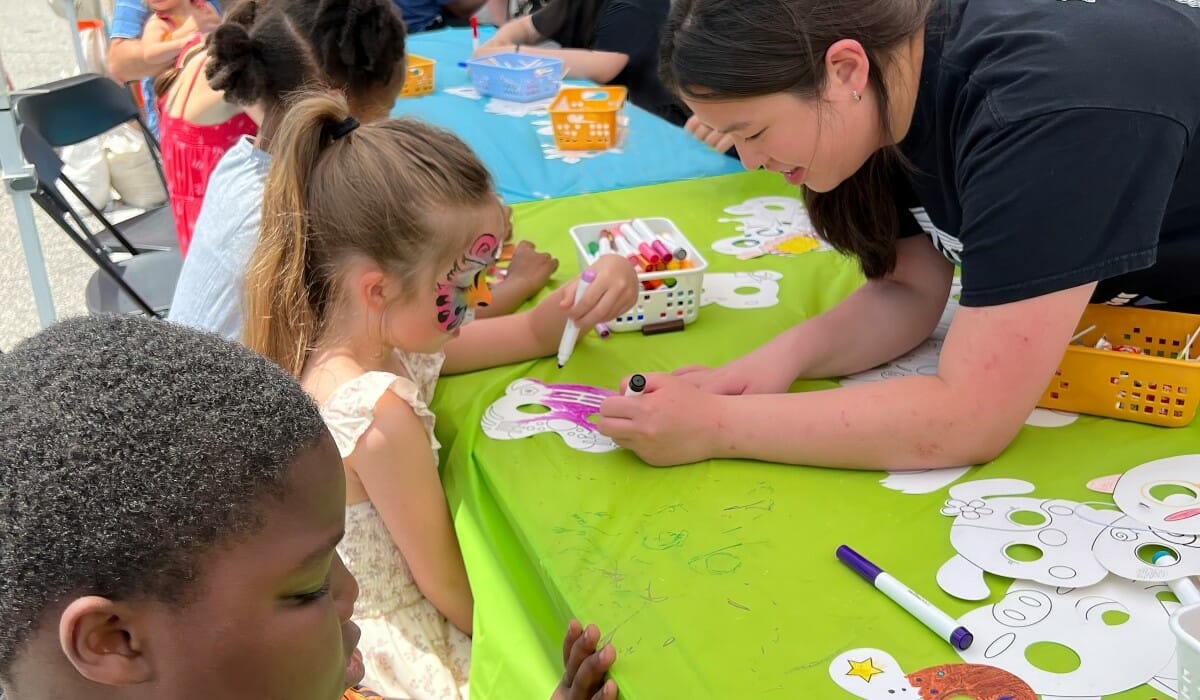 What have you learned through your experiences as a volunteer?
Starting small can make daunting tasks manageable. TMA started small: exhibiting teen's artwork in shops, coffee houses and businesses locally to raise funds and visibility for young artists while bringing new and larger patronage to local "partnering" businesses. Only with the momentum of local endeavors can we burgeon globally.  
How have you continued to volunteer throughout the pandemic?
During the pandemic, I led my team of artists in a global pandemic mask initiative by auctioning our paintings to purchase 5,000 surgical face masks for senior homes in metro D.C. When businesses started to re-open, we assembled local, young artists to do chalk art to bring love, encouragement, hope and support to the community. In addition, we created an international online arts exhibition that connects artists globally to make art spaces more diverse and funding charitable causes through sales. 
What do you want people to learn from your story?
To turn the ideas that are swimming in our minds into tangible results, we start by believing in the things that inspire us. Thinking will not do anything until we take action, one task at a time. 
In one word, what does volunteering mean to you?
Joy. 
How can readers help?
We want to impact more artists in other countries and more at-risk communities. Please visit our website for more information about how you can help.  
Do you want to make a difference in your community like Chelsea Hu? Find local volunteer opportunities. 
Share this post