Teenager Sends Care Packages and Letters to Service Members Abroad
Meet Daily Point of Light Award honoree Corinne Kelly. Read her story and nominate an outstanding volunteer or family as a Daily Point of Light.  
Corinne Kelly knows the power behind simple acts of kindness. The 16-year-old Pelham, New Hampshire high schooler dedicates her time to sending that kindness to American troops around the world who are in need of extra care and pieces of home.  As the teen representative for Operation Care for Troops, Kelly has spent over five years volunteering, and that service only grew during the COVID-19 pandemic and ensured that more than 15,000 letters of light were sent to U.S. service members in a dark season.   
Describe how you first got involved with Operation Care for Troops.
A few years ago, a family friend was deployed to Poland. His mom told us that he was extremely homesick, so my mom and I decided to go shopping for items to put in a care package. We got a pack of drink mixes, protein bars, socks, candy and a great blanket.  
We put these items together in a box, and then we shipped it off to him. A few months later, we got a letter and a photo back from him, and he was so grateful and happy. I knew that I could do more, so I did research and I found Operation Care for Troops, and I've been with them now for the past five years. 
Can you explain how your volunteer activities have grown, especially during the pandemic?
I'm the teen representative of Operation Care for Troops. I do a lot of supply drives, card drives and I collect socks, protein bars, drink mixes, and hydration packs. We need between 4,000 to 15,000 letters and cards per packing event, so I spend a lot of time getting cards signed and collected. I actually have set up a nationwide network between Stampin' Up! card makers and Operation Care for Troops. Card makers from all over the country make and send cards and it's my job to get them signed.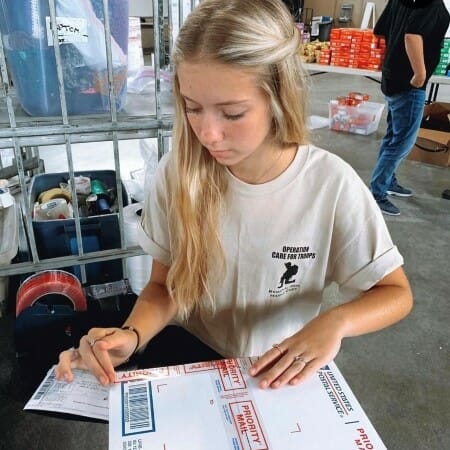 All of the volunteers in the organization help out, but over the pandemic, it went from 100 volunteers down to the board members and myself. So we had to do different jobs individually. My job was to sort 2,500 drink mixes into baggies. I was watching the Hallmark Channel Christmas movies putting together these packages. It's just a lot of finding supplies, organizing them and making sure everything goes in [the care packages]. 
During the pandemic, it was really hard to get cards signed. We also had an urgent request from a unit in Africa. They said that they were forgotten at Christmas and all they wanted was mail because they were so homesick. They said you can give us other people's mail, we don't care. I put in an urgent request on social media and  was able to collect lots of cards for them. They also asked for Reese's Peanut Butter Cups, which I was able to include as well. Having social media as a tool to reach out when I couldn't go out into my community really was helpful.
What inspires you to volunteer? 
Honestly, it's the stories that I hear back from the service members. I just recently got photos and letters back from a unit in Iraq and the smiles on their faces just bring so much joy to my life that I know what I do means a lot. It's how I can thank them for what they're doing for our country. 
What have you learned through your experience as a volunteer?
I would say that giving back is so important. I've worked beside World War II veterans. One in particular, his name is Fran, is hard of hearing and [partially blind], but he's still there to help and give back to other service members. I think that's just so amazing. So that's what I want to do as well. I want to give back to those who have served our country. 
What would you want someone to learn from your service story?
It is so easy to make a service member feel appreciated for their work. My best friend's brother is in the military. He's actually in Poland right now. He's had a really, really rough time. With the help of Operation Care, I sent him cards, letters and 97 Christmas stockings filled with supplies to share with his unit. Just that simple act of kindness makes his day so much brighter and he knows that he's supported and people care back home.  
Why is it important for others to give back, especially to service members?
It's really hard to do things alone and to make change, but the little things count. And it takes a village to do something amazing — just [one person's] help alone makes all the difference. 
Are there any partnerships, programs, or events that you are excited about?
We just had our holiday packing event that was in November so that packages would get delivered in time for Christmas. We also have a packing event in March, so I'm currently trying to collect supplies for that — I have so many packages of peanuts in my living room right now. It takes a while to get all the supplies necessary to include, but anyone who donates is extremely appreciated. 
Do you want to make a difference in your community like Corinne? Find local volunteer opportunities. 
Share this post