Teen's Virtual Camps Help STEAM Education Become Accessible Around the World
Meet Daily Point of Light Award honoree Aadhav Prabu. Read his story and nominate an outstanding volunteer or family as a Daily Point of Light.  
For Aadhav Prabu, having mentors and opportunities to learn about technology at a young age was life changing. It sparked a curiosity of STEAM — science, technology, engineering, arts and mathematics — that began with 3D printing.  
Eventually, his interest in 3D printing grew into something bigger than a machine. The 16-year-old co-founded The STEAM Foundation in 2021 to lower the barriers to education for students. Prabu serves as the program director, and has grown his mission of accessibility to youth around the world.  
Describe your volunteer role with The Steam Foundation.
We're a nonprofit on a mission to make STEAM education accessible for all kindergarten through twelfth grade students through virtual and hands-on learning. My story really starts in fourth grade. I was first exposed to 3D printing out of all the STEAM concepts during an afterschool club as a part of a class of mine. While we were learning about 3D printing, we were also learning about the different software to make designs and print them out. I continued exploring 3D printing and graphics in fifth grade and I was fortunate enough to have access to a 3D printer in middle school to make gifts for family and friends.  
One day, I wondered why we had this super cool machine, but I was really the only one in the whole school using it. I asked my librarian, who is now one of our organization's board of directors, the same question. She told me that it wasn't necessarily because people weren't interested, but that not enough people knew about it or that they were scared to use it and break it.  
I thought that I could be the one to provide that opportunity to other students in the same way I had the opportunity in fourth grade. I teamed up with my friend Akshar Raikanti, who is now the co-founder of The Steam Foundation, to start a 3D printing club. Around 30 students came for twelve weeks. By the end, everyone had their own models that they could take home with them. In high school, we continued the club. We wanted to have a sort of summer camp, but the COVID-19 pandemic made that impossible, so instead, we created The Steam Foundation to be a virtual space for students to meet and learn in the fall of 2021. Close to 150 students participated across five camps. We continued to grow and even had sponsors and partners. I'm happy to say that we've achieved our goal of reaching so many students and growing our team of 425 volunteers. To date, we've taught about 1,900 students.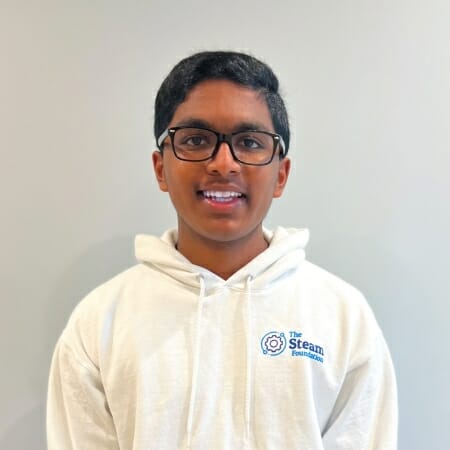 What are the barriers to STEAM education for K-12 students? 
There's always a lot of interest in STEAM in underserved communities, but the issue is that there often isn't accessibility to technology or someone to teach them. One of the things we wanted to achieve with The STEAM Foundation was to help underserved communities and give them access to technology that they wouldn't have access to otherwise. We have an outreach program where we reach out to schools or communities in underprivileged areas and support them with curriculum training for equipment or anything that they'd need to start a STEAM program in their community. We recently launched our 15th outreach chapter a couple of weeks ago, one of them being international.
Describe the virtual camps within The Steam Foundation. 
Now, we do virtual camps year round — three times a year. Our spring and fall camps are ten weeks long once a week throughout the year, and our summer campus are two weeks long every single day with multiple options to join from June to August. I help facilitate all of the camps, create curriculum and work with our directors. Now we have seven different areas: 3D printing, robotics, Python, Java, graphic design, iOS app development and video game development. I basically make sure each camp runs smoothly. I also sift through our feedback and make sure that we improve our campus based on that. I also help raise money through donations and sponsorships. 
What inspires you to volunteer?
I've been thinking about that question recently. One story that I think shows why I love doing this is when we did our first 3D printing club. One of the students really loved 3D printing and would spend extra time in the library with us trying to grasp the concepts better. He really developed a passion for it. When we did our first round of camps at The STEAM Foundation, we brought him on board as a co-instructor. He went on to become a lead instructor who led full camps of 30 students and now he's a program director for 3D printing, managing all of our city's printing programs.  
It just shows how you can go from not really knowing anything to be able to teach hundreds of students. The fact that I was able to help make that happen and spark that change was amazing. These students really can go on to do really amazing things with that knowledge. Knowing all of this continues my love of our organization.  
What have you learned through your experience as a volunteer?
When we first started looking for sponsors, everyone said no because at that point we hadn't really proved ourselves. We were just a bunch of high school students trying to teach camps with no proof that it actually worked yet. A few times I thought, why am I doing this? I kept going because we couldn't run these camps without funds. I learned to keep persevering in the midst of a lot of initial no's.  
Another lesson would be about recruiting a team. We realized that recruiting our instructors was not just about getting the smartest people on the team. In fact, they don't need to be the smartest in the room to be the best teachers. The best teachers are the ones who are motivated, driven and go above and beyond.  
Why is it important for others to get involved, especially young people and students? 
This whole thing started back in fourth grade when I had a room of parents who were willing to contribute. When you look at teaching and getting involved in the terms of knowledge that others can benefit from, we can create stories of change. When everybody starts pitching in, we can grow and reach the most students and spread STEAM to the biggest audience.  
Are there any partnerships, programs or events that you are excited about?
We're about to start our fourth term of STEAM camps this fall. I'm definitely excited about that because we have some new outreach chapters and more international growth to come. Beyond that, we're looking forward to starting some new programs like video game development. 
We also have an interest form on our website for anyone who is interested in signing up for camps for the fall.  
Do you want to make a difference in your community like Aadhav? Find local volunteer opportunities. 
Share this post