Retired Social Worker Volunteers to Ensure Families Who Emerged from Homelessness Can Achieve Long-term Success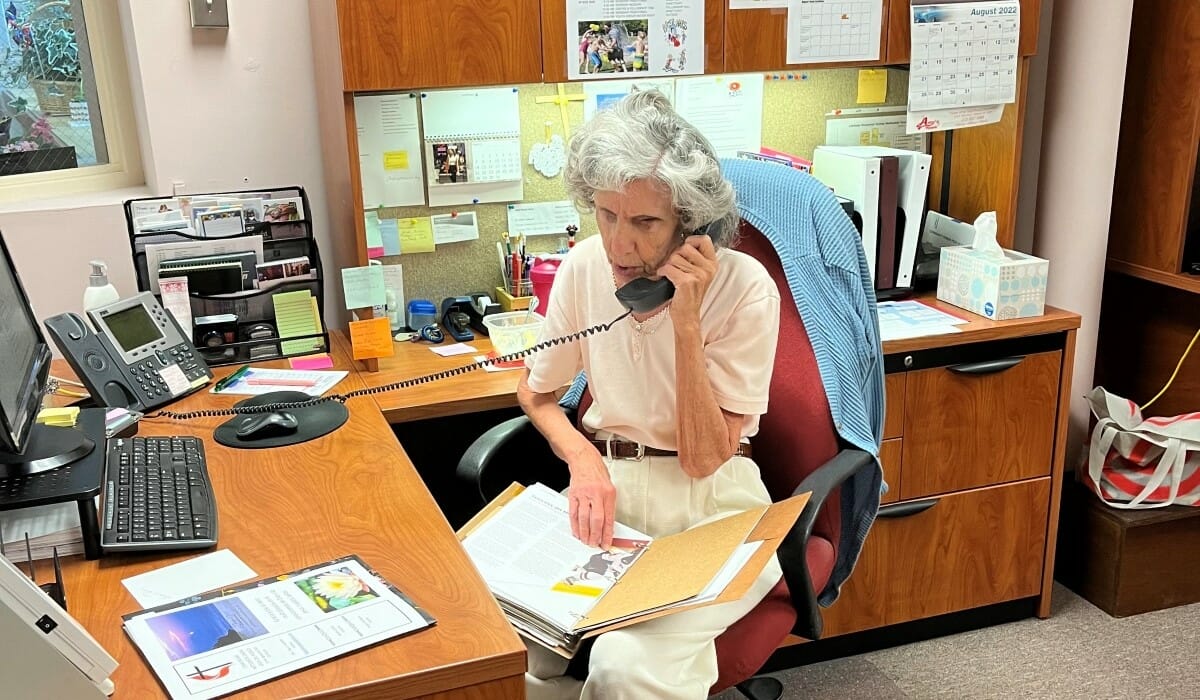 Meet Daily Point of Light Award honoree Jan Lattuca. Read her story and nominate an outstanding volunteer or family as a Daily Point of Light.
For families experiencing homelessness in Montgomery County, Pennsylvania, Family Promise Montco PA has been a haven for decades. Not only does the organization provide transitional housing and food, but it also offers various resources for parents to find employment and learn the skills needed to become more self-sufficient.  
Jan Lattuca, 73, has played a key role in making Family Promise's impact possible. After retiring from the workforce as a counselor for a vocational rehabilitation program, Jan has been volunteering at Family Promise Montco PA as the organization's aftercare specialist for the past six years. She has dedicated more than 1,200 hours to ensuring families maintain their housing and stay on the path to achieve long-term success.  
Describe your volunteer role with Family Promise Montco PA. 
My title is Volunteer Aftercare Counselor. I work with clients who have completed one of the programs at Family Promise, whether it's a shelter program, transitional housing or a long-term supportive housing program. If they are interested, I will offer them aftercare services. What I do is check in with them regularly to see how they're doing and help them deal with any crises that come up. I connect them to whatever services, programs and resources will meet their needs. During the pandemic, I provided a lot of emails about COVID-19 vaccines, where to get tested and how to live safely.  
What types of crises have you helped resolve and how? 
The two most frequently occurring crises are getting behind on rent (therefore facing eviction) or getting behind on utilities (therefore facing a shutoff of electricity.) Sometimes people will lose their vehicle and that can really cause serious problems in terms of employment, maintaining their jobs and getting their kids to and from appointments. There are a couple of ways that I generally respond to these crises. One is to refer them to government or other community programs that I know provide services to meet those needs. Another is, depending on where the client lives, to contact organizations such as nonprofits, churches or other charitable funds to help them raise money.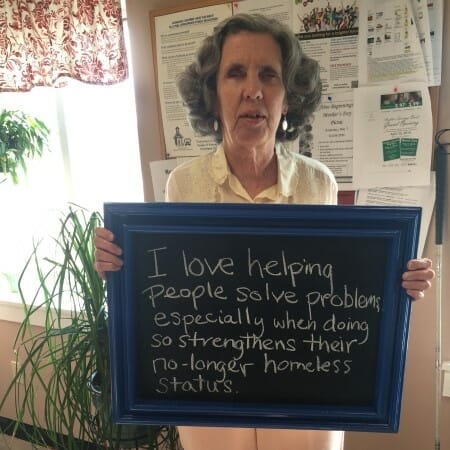 What has been your proudest moment while volunteering? 
It would be working with a landlord who was getting ready to throw my client's belongings out on the street. I was able to talk with the landlord and work out a compromise that would prevent the eviction from happening. Another moment that stands out in my mind was helping a client who had gotten pretty far behind on her utility bill. I helped her get that all paid up.  
What's a misconception people have about homelessness? 
That part of the problem is there is just truly not a level playing field out there for lots of people. To say, "They should be able to pull themselves up" doesn't take into account the systemic nature of poverty, discrimination and racism. So, I think for government, nonprofit and faith-based organizations to work together and provide support is the best way for unhoused people to get their needs met and get back on their feet again.  
What's been the most difficult part of your work? 
The lack of adequate housing and the lack of equitable wages, which make it really hard for clients to maintain stable housing and safety for their families. Family Promise provides budgeting services and educational programs. We help them with rehousing and finding employment, but if there aren't enough affordable rental units out there and our clients are having difficulty making a living wage, those services will sometimes stumble.  
Why do you think it's important for others to get involved?  
I can't speak for everyone, but for myself, I have been blessed and I like to share the abilities and gifts I have with others. When you support others, it takes you out of yourself and it helps you understand the broader world in which we live. Volunteering is an honor and a source of enjoyment.  
What do you want people to learn from your story?
I would like people to know about programs like Family Promise and I'd like more people to understand the desperate need for more affordable shelters, permanent housing and a more equitable wage structure.  
Do you want to make a difference in your community like Jan? Find local volunteer opportunities. 
Share this post