Teen's Virtual Service Promotes "Self-Care Support" for Students Amid COVID-19 Pandemic
Meet Daily Point of Light Award honoree Allene Yue. Read her story and nominate an outstanding volunteer or family as a Daily Point of Light.
When the COVID-19 pandemic forced schools to transition to distance learning, Allene Yue says she witnessed the negative effect on students. Losing the opportunity to see friends in person, the 17-year-old Santa Clara, California student says she worried about mental health for kids around the world as they adjusted to the "new normal."
Founding Self-Care Support in August 2020 to motivate and encourage students to improve their mental health, Allene has connected with thousands of youth as she offers free resources and inspires kindness and wellness amongst her peers. Virtually connecting with kids of all ages from the United States to Canada to India and beyond, Allene is helping students to thrive amid the pandemic.
What inspires you to volunteer?
Personally making an impact in a person's life is what inspires me. There is so much going on in the world, whether I get an email or direct message from a stranger I have helped, that is a driving factor that pushes me to do more volunteer work.
Describe your volunteerism with Self-Care Support.
As founder and executive director of Self-Care Support, I lead our leadership team, spearhead organization initiatives and lead our podcast, "Her Journey," which features interviews with female change-makers from around the world. We also offer the Mental Health Resource Initiative for students K-8. In addition to the programs offered by Self-Care Support, the organization has partnered with various educational non-profits in fields like STEM, business and medicine to support educational opportunities.
Share one personal story with me from your volunteerism.
I used to volunteer as a piano teacher, and taught a younger student who was really shy and closed off. She didn't have confidence in playing the piano, but I could see she had a lot of talent. By the last day, she'd gotten comfortable talking to me, and it was exciting to see that I was making a difference in this person's life. By devoting a couple hours to someone, whether it's a student or a stranger, you can make a really significant change in that person's life.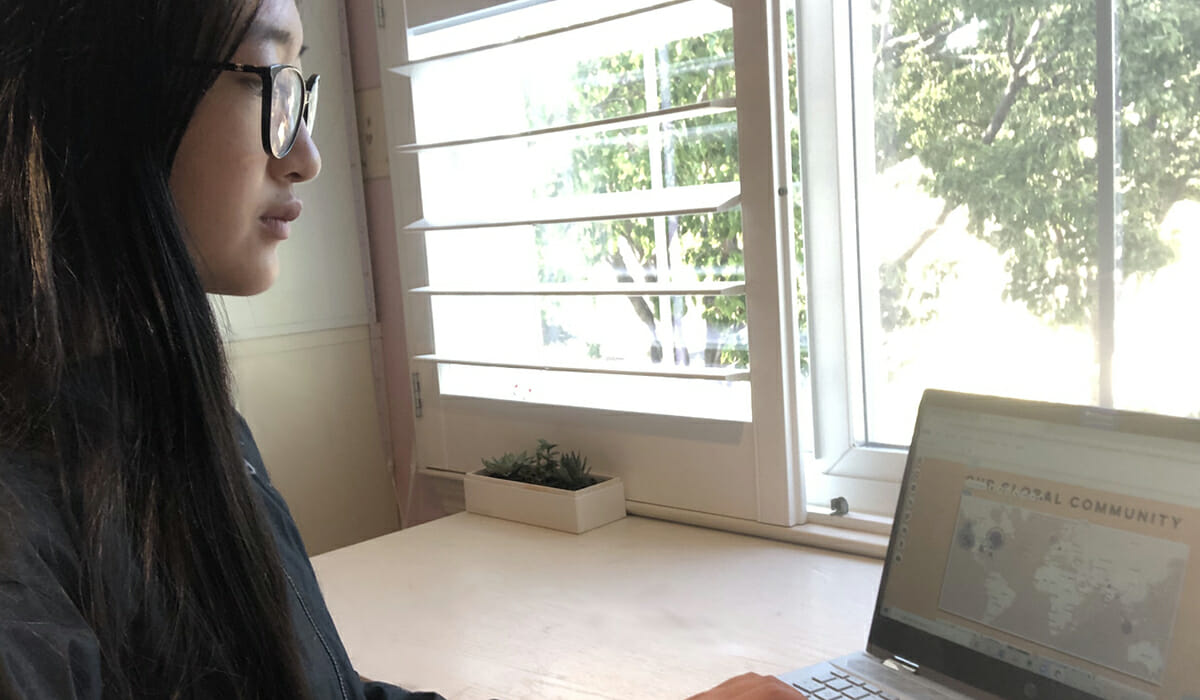 Why do you think it's important for others to give back?
The world is pretty complicated as it is. It becomes even more difficult and complex when we isolate ourselves, and when we don't work together. By helping each other out through volunteerism, particularly if you've privileged to have opportunity, you can make society a little kinder and more inclusive.
How have you continued to volunteer throughout the pandemic?
Even though I started this organization as a result of the pandemic, mental health is a topic that needs to be covered even after the pandemic is over. It is important to spread more mental health awareness, and we will do more initiatives and projects to continue growing our organization.
What do you want people to learn from your story?
There are so many different ways to give back. You can even volunteer virtually like I do. People think it takes a lot of effort to find a place to volunteer, but you can do something small and still make a big difference.
In one word, what does volunteering mean to you?
Empathy.
When you're not busy with school or volunteering, what do you do for fun?
I like to take walks with my sister, learn a new song on the piano or play tennis for fun.
How can readers help?
Please visit the Self-Care Support website for more information about how you can help.
Do you want to make a difference in your community like Allene Yue? Find local volunteer opportunities.
Share this post