Texas Teen Brings Change to her Community, One Service Project at a Time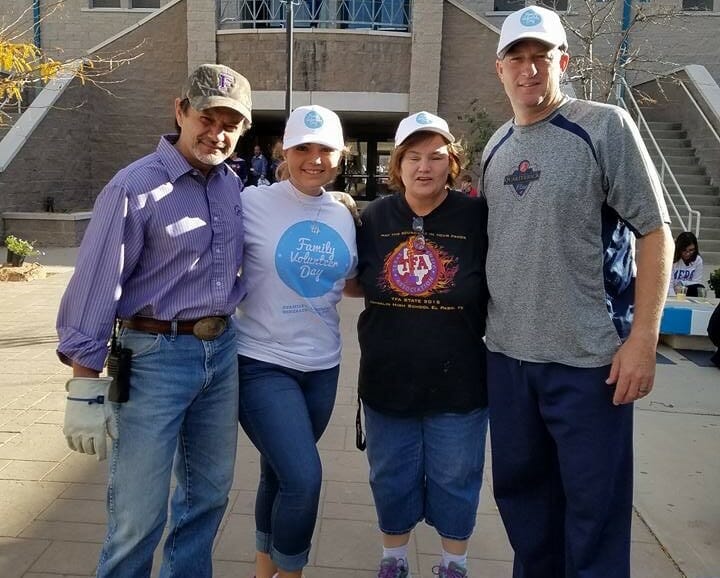 Homeless animals? Check. Child hunger? Check. Local veterans and first responders? Check. There doesn't seem to be a cause that Eleanor Schoenbrun of El Paso, Texas isn't passionate about. Since the young age of eight years old, Eleanor has been committed to being a change-maker in her community and her efforts have caught the eyes of many, including the White House who recognized her "Pennies FUR Pets" project as one of the top ten "Make a Difference Day" projects in 2012. She was awarded $10,000 which helped her save 2,500 animals from being killed.
Since then, Eleanor, now 15, has completed and continued multiple service projects that have made a big impact in her community. Whatever the cause, if Eleanor thinks it will better her community, she is willing to help and lead the way for change. She is today's Daily Point of Light Award honoree and we spoke with her to learn more about her love of helping others.
Describe your volunteer role.
I started volunteering since I could walk and talk. We've been fostering animals in my home since I was and two and when I was eight years old, I read in my local newspaper that 19,000 homeless animals would be killed in my community each year and I thought that was absolutely horrible. I really wanted to make a difference so at the age of eight I founded "Pennies FUR Pets," which benefits the Animal Rescue League of El Paso. In 2012, I was able to go to Washington D.C. and be nationally recognized as one of the top ten "Make a Difference Day" projects in the nation and I received a $10,000 check to go to my charity.
After that, I was able to connect with Youth Service America and I got to go to one of their conferences in Houston, Texas where I visited the Houston Food Bank. I felt a need in that area and the statistics were way too scary to see how many people didn't have food on their table. So I was wondering what happens in my community in El Paso. I found out that 1 in 4 children in my community are food insecure in El Paso. I knew immediately that this was my passion and that I really wanted to make a difference in my community even if it was one bowl at a time. I have been able to continue both of these projects. Kans for Kids is still successful and it benefits the El Pasoans Fighting Hunger Food Bank and we have been able to raise so many goods for the community. We were even able to start a Kans for Kids sustainable food pantry at Zavala Elementary in El Paso where the community in that area is so poverty-stricken that there's always a problem of putting food on the table. That shouldn't be happening with elementary students because they can't control their position.
Every year, we do a Make a Difference Day for Pennies FUR Pets and Youth Service Day with Kans for Kids to raise funds. Also, for Kans for Kids, we do an annual food drive that I was able to carry out in my elementary, middle and high school so it was really great to come together as a school to better our community.
Last year, for Family Volunteer Day 2017, I was able to receive a grant to beautify my school's courtyard. Our second home is our school so we have to make it something that we're proud of. I wanted a place where everyone could feel welcome and were not discriminated against because of their race, gender, economic background or sexuality.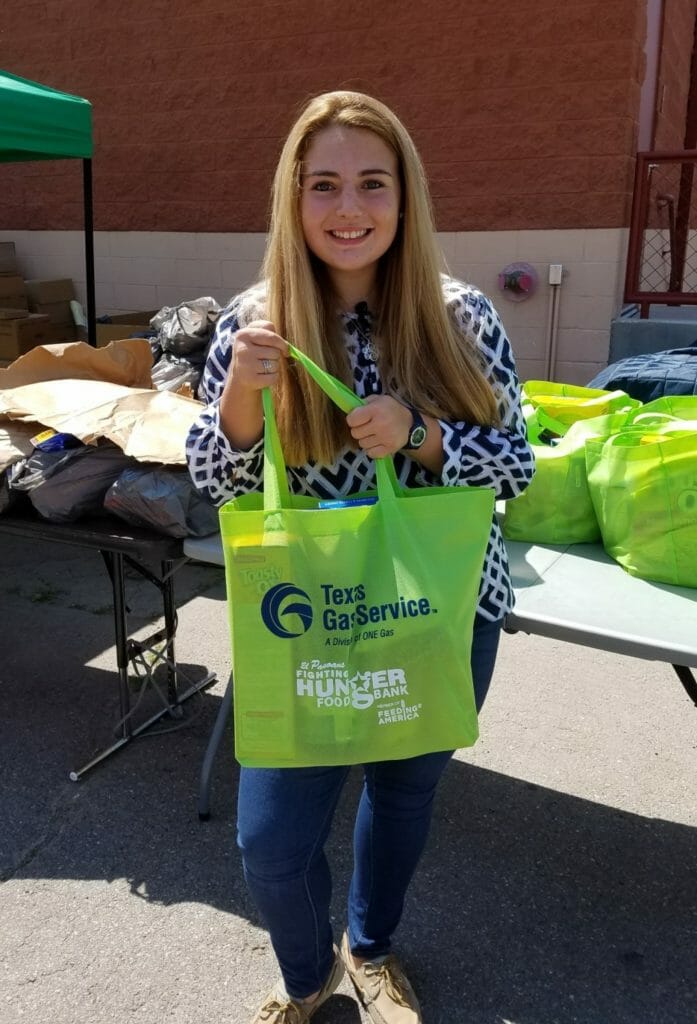 What inspires you to volunteer?
Two of my favorite quotes are "If you're not part of the solution, you're part of the problem" and the other one is "Do something that scares you every day." I try to live by both of these and try to be the catalyst for change and a positive person that is able to make a difference in their community. I'm so grateful that I've received such amazing feedback from my community to continue my efforts. It's such an amazing feeling handing out cans or being able to see another dog that was able to live. It's almost indescribable, the feeling you get after volunteering, making a difference. I just love getting that rush of energy and the feeling that you did something good and selfless for others. It's always deep in my heart to do that for my community and it will always be a part of my life.
What's been the most rewarding part of your work?
I think it's the stories that really make it for me at the end of the day. I have stories about a six-year-old giving me six pennies at one of my presentations to make sure it goes to a good cause. Six pennies is a big deal to a first grader and I just thought it was so amazing that we were able to teach that to the next generation and be change-makers and peacemakers together and spread the word. I love hearing stories about a person who was able to donate $20 when they had to live on the streets, when they had to go steal food from the grocery store. They tell me these stories as they're handing me money to help better our cause and make someone else's life better and it's amazing to be that middle person that gets to make that difference and gives that extra push to make sure that it happens.
What have you learned through your experiences as a volunteer?
One thing I've learned is that the worst someone can say is no so there's no reason not to ask anyone for help and no reason to not ask someone for their loose change as they're going through the Starbucks drive thru like I've done for Pennies FUR Pets. It's just so amazing because if you ask people to go buy a jar of peanut butter and bring it back, they will. It's just the matter of asking and being able to have your voice heard.
Are there any future partnerships, programs, or events that you are excited about?
This year, I am our student council's executive board community chair for the 2018-2019 school year so I will be able to bring more projects from the community into our school and better outreach from student volunteers at our school. We just finished up doing a 9/11 day of service where we were able to serve "Cookies for Courage" to local veterans and first responders. That was really moving because our school was able to come together on such a bittersweet day and be able to thank those who served and recognize those who had given their lives for the sake of our country. We'll also be participating in Family Volunteer Day again this year. We're also working on MLK Day of Service in January and Global Youth Service Day in April.
Do you plan to continue volunteering and helping others even after you graduate from high school?
I will continue my efforts as much as I can including in my studies. Hopefully, I will be going to medical school so that I can help more people in that sense, but also as a person in the community so that I'll be able to serve in multiple ways as I get older. I also hope that I can continue my projects or pass them down to the next generation so that we can have a lasting impact on our community as a whole.
Who's been your role model when it comes to volunteering?
I would have to say that my mom would have to be one of my biggest influences. She has always supported me. As a little eight-year-old standing outside a coffee shop, I was able to collect funds and she was right there with me. It's just amazing to see how I've grown as a person and how she's been able to mold me into the person that I am today.
Why do you think it's important for others to give back?  
As community members, it is so important to teach people at a young age and to get people involved so that we can make it a better community. It doesn't specifically have to be a physical object you have to donate, but you can donate your time, energy and efforts and that's more than enough and that's more than what they've had before. So it's always amazing to see people who are willing to give their time and energy on a Saturday or Sunday or a day where they could have been doing something else. It's just amazing to see how much people are able to do in their community.
What do you want people to learn from your story?
I think I'd like for people to learn the importance of giving back and the point of being grateful to have a family, to be grateful of having food on your table and a roof over your head. I was given that opportunity so now I'm able to give back and make the most of what I've been gifted.
Do you want to make a difference in your community like Eleanor? Visit All For Good for local volunteer opportunities.
Share this post