Texas Teen Commits to Civic Activism to Empower Youth
Meet Daily Point of Light Award honoree Sage Hirschfeld. Read their story and nominate an outstanding volunteer or family as a Daily Point of Light.
Spurred by the historic 2018 nationwide student gun violence walkouts, 18-year-old Sage Hirschfeld has committed to engaging in civic activism as they work to elevate student empowerment across their community.
Inspired to be more informed after the planned walkout, the Austin, Texas high school senior launched Westlake Activism Club as a part of their Girl Scout Gold Award Project to encourage young people to be politically aware and engaged. Working with the Student Empowerment Association (SEA), a student organization formed following the gun safety walkouts, Sage is empowering their peers to advocate for themselves within their community and beyond.
What inspires you to volunteer?
I've always cared about community issues, but I was super inspired by the walkouts for gun safety in 2018. Watching youth get involved, the energy felt like youth were saying, "we need this change", and if the adults weren't going to make the change, then these students were going to take the reins.
I am a member of the SEA, which is a 20-person organization that promotes student activism. As the founder of the Westlake Activism Club, I host club meetings and stay informed about local opportunities for club members to participate in. I also plan activities including teaching youth how to fact check a source, how to track down scripts to call their representative or how to find lobby days for their congressional offices.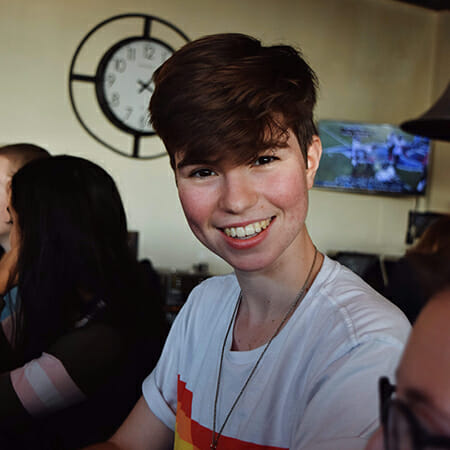 Share one personal story with me from your volunteerism.
We left school in the middle of the day to attend a recent climate strike at the state capitol. A member of Westlake Activism Club had been quiet and shy when she first joined the club, but at the event, she spoke about the issue and the crowd was so supportive. It was just a really great moment to witness and I felt so supported and empowered.
What's one way you hope to inspire others in your service?
Energy is contagious. By being a strong leader and empowering other youth, we can start a movement with youth feeling their power and continuing to be civically engaged citizens throughout their life.
Tell me about some of your recent civic activism events.
A few of our Westlake Activism Club members recently voted together for the first time, and some recently spoke at a climate strike. SEA holds workshops to help promote engagement, including topics such as sex ed and student rights in schools, protesting and free speech.
In one word, describe what volunteerism means to you.
Empowerment.
What's been the most rewarding part of your service?
The bonds that I've formed with other people and the network of really engaged youth that I've met throughout Austin. My service has definitely deepened my interest in human rights and various civic engagements.
What have you learned through your experiences as a volunteer?
People can make a difference in society and the government, we're not just stuck in how we are.
When you're not busy with school or volunteering, what do you do for fun?
I do taekwondo, I've been doing it for over a decade now. It's a good way to get exercise and have fun. I also write slam poetry.
How can readers help?
Please visit SEA's website for more information about how to get involved.
Do you want to make a difference in your community like Sage Hirschfeld? Find local volunteer opportunities.
To read more about listening and learning, download the latest issue of Civic Life Today.
Share this post