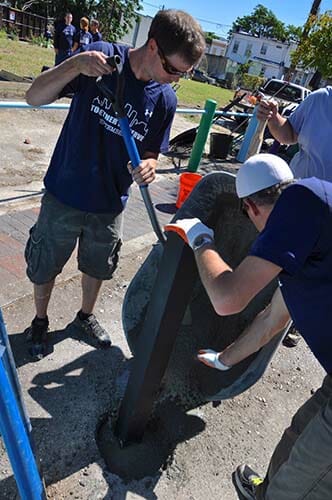 Meet the Daily Point of Light-winning 6th Branch. Read the story of the veterans behind the group and nominate a person or organization you know as a Point of Light.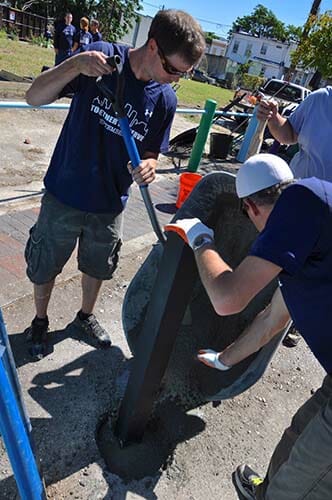 Volunteers from The 6th Branch renovate a green space in East Baltimore.
To the veterans of The 6th Branch, service is not a hobby – it's a duty.
"Others should get involved in order to be part of the problem solvers rather than part of the complainers," says Rich Blake, the organization's executive board co-chair.
In 2010, a group of returning Iraq and Afghanistan veterans in Baltimore started talking about how they could apply their military skills and experience to make a difference in their community. The next year, they founded The 6th Branch, or T6B, contributing to the revitalization effort in East Baltimore, part of the city struggling with urban blight.
The name, "The 6th Branch," is a nod to the five branches of the military, with T6B being an extension of military in spirit, drawing from the strengths of military service – sense of mission, dedication to duty, love of country – to address community problems.
Through large-scale service projects and ongoing programming, T6B focuses on repurposing vacant desolate plots of land into playgrounds and green spaces, renovating parks and supporting urban agriculture.
The veterans benefit from a renewed sense of purpose after leaving the service and the community benefits from the veterans' problem solving abilities and drive. T6B has become a valuable contributor to three neighborhoods in East Baltimore by providing safe places for kids and families and by increasing access to healthy foods in an area where such foods are scarce.
There are about 15,000 residents in the three neighborhoods where T6B operates. The group has established a 20,000-square-foot urban farm that provides fresh produce to families. Volunteers plant, maintain, harvest and distribute healthy produce to residents and maintain the site, creating a vibrant community space.
"The best thing about T6B is the diverse group of people who have joined our efforts. We collaborate with veterans groups, the naval academy, college groups, religious groups and the mostly African-American population in East Baltimore," says Blake. "It is a huge melting pot of active volunteer service."
Share this post
---