The Miracle League of Palm Beach County Inspires Kids with Disabilities to Swing for the Fences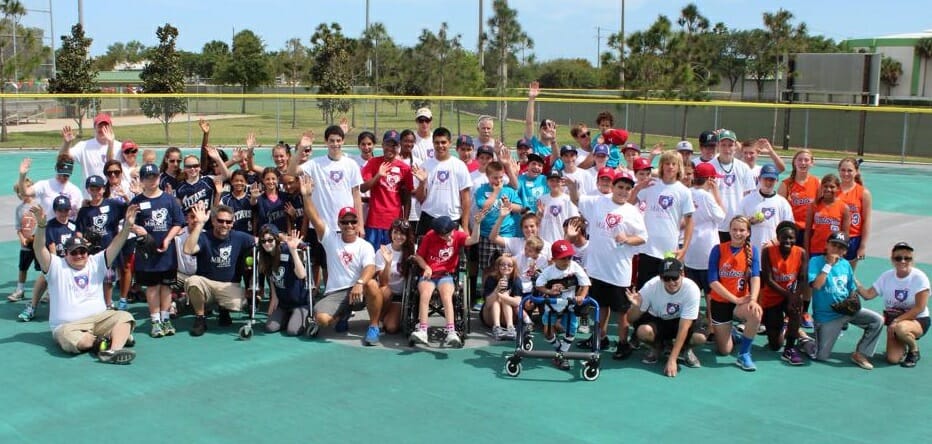 Ten years ago, Julia Kadel let her husband Jeff have control of the remote. He landed on "Real Sports with Bryant Gumbel." The show included a segment on The Miracle League, a nonprofit committed to providing opportunities for children with disabilities to play baseball. The Kadels instantly knew they wanted to start a team. But, there were a few hurdles. Like many families, they had very little extra time. Julia held down three jobs, and Jeff two, while they parented three young boys. And, neither had any experience working with kids with disabilities. What they did have, however, was a deep desire to be changemakers in their community.
"Our very first game, we had absolutely no clue," Julia recounted. Only ten people showed up, though 30 were expected. "We were like, did we screw this up? We thought, maybe, we're not part of this community."
What Julia soon discovered was that families may move a little slower because of challenges related to readying and transporting children with disabilities. Soon, word began to spread about The Miracle League of Palm Beach County and attendance grew. In the early years, the league played on the infield of a local baseball school. By 2010, the Kadels had successfully raised $500,000 to fund the construction of a new field through bake sales, t-shirt sales, homerun derbies – and assistance from the city of Delray Beach, Florida.
The games are a family affair. Julia serves as master of ceremonies and Jeff coaches, while their children have assisted players as able-bodied buddies over the years. Currently, there are 120 registered players, six teams and a cheerleading squad.
There are countless stories of how The Miracle League of Palm Beach County has positively affected the lives of players and their families. Julia recalls her husband, Jeff, practicing week after week with Michael, a severely handicapped boy who could barely hold a ball in his hand. At the end of the season, Jeff asked Michael to throw the ball to him while his father watched. After a few attempts, Michael was able throw it three feet. "His father was in tears. He never thought he would be able to play catch with his son," Julia said.
The players aren't the only ones reaping benefits from being involved in the league. Ava Goldstone, a high school student, became a volunteer after attending one of the games. "I was a fan in the bleachers," Ava said. "I wandered into the dugout to see if I could be helpful…. I saw a young boy in a wheelchair, and we made eye contact. When it was his turn at-bat, he rolled up to the plate, and I was able to join him." That player was able to stand with a walker for the first time, and hold the bat to hit the ball with Ava's help. Ava describes the moment as "life altering."
With every smile that lights up the faces of players as they roll, walk, or run over home plate – the Kadels and the volunteers of The Miracle League of Palm Beach County are reminded of why they answered the call to volunteer. "There is no greater joy than finding out what your God-given talent is, and being able to share it with others," Julia said.
To find opportunities to give back in your community, visit All For Good.
Share this post