The Volunteers of New York Says Thank You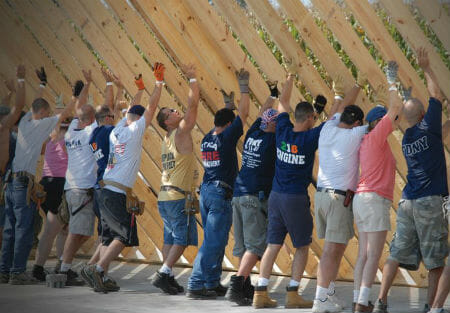 Today, the 9/11 Day of Service and Remembrance, we honor the volunteers of New York Says Thank You with a Daily Point of Light Award. Read their story and nominate an outstanding volunteer or organization as a Point of Light.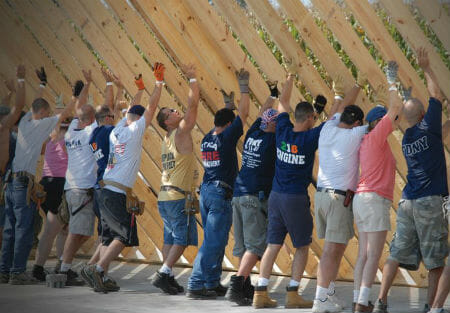 New York Says Thank You volunteers put up the first wall of Baker's Chapel in DeGonia Springs, Indiana, in 2006.
After losing his business partner, Hagay Shefi, during the terror attacks on the World Trade Center in 2001, Jeff Parness says he "wondered every single day how I could commemorate his life."
When Parness' son, Evan, then 5 years old, volunteered to send his toys to children living through the California wildfires of 2003, things clicked. Together, father and son mounted an effort to collect as many toys as they could from their neighbors.
"People would come up to us with tears in their eyes," Parness, 50, says. "They were thanking us for giving them the ability to help." The experience was revelatory for Parness: "I realized that altruism is fundamentally selfish, in a good way."
That year, Parness founded New York Says Thank You, to both recognize the lives lost on 9/11 and offer healing to those who had experienced personal loss as a result of the attacks.
The organization established a pay-it-forward model that was inspired by the fact that people from across the country – and the world – came to Ground Zero to help.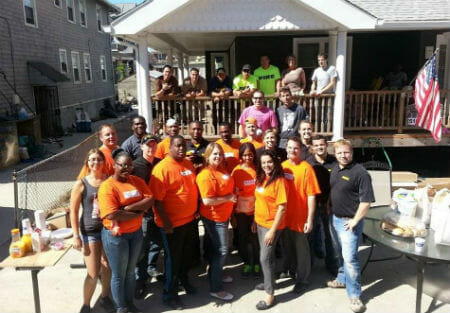 Volunteers from The Home Depot and the New York Fire Department gather during New York Says Thank You's 2013 Big Build Weekend in Long Beach, New York.
The nonprofit's original mission was to send volunteers from New York on rebuilding efforts throughout the nation every year on Sept. 11.
During the first official "barn raising," 14 volunteers, including several first responders who served at Ground Zero, helped rebuild a house in Harbison Canyon, California, that had been damaged during forest fires.
Since then, there have been 10 more annual barn raisings.
John Walis, who retired from the New York City Fire Department after hurting his back and suffering from repeated respiratory ailments as a consequence of his service at Ground Zero, has participated in rebuilding efforts in Mena, Arkansas, and Little Sioux, Iowa.
"This time of the year is always a difficult one for me," Walis, 50, says with a crack in his voice. "But there's something spiritual when you find yourself working with others to help rebuild lives."
Dawn Nelson, a New York Says Thank You volunteer from Stanley, North Dakota, agrees. The first project she worked on with the organization was building a ski lodge for disabled children in Bottineau, North Dakota.
Parness had read an article about what became known as "Annie's List." Ann Nicole Nelson had written the list – part motivational, part bucket – before she died in the World Trade Center attacks. Her mother found it on the young woman's laptop.
Seventh on the list: "Buy a home in North Dakota." So the volunteers built Annie's House.
"We're keeping the spirit of Annie alive," says Nelson, 49.
This year's New York Says Thank You build will bring a contingent to Nepal, where earthquakes killed more than 8,000 people and destroyed 52,000 classrooms this past spring.
All told, close to 40,000 volunteers have joined New York Says Thank You to help rebuild.
"Initially, I thought what we were doing was rebuilding stuff that was destroyed," Parness says. "But I came to see what it was really about was empowering survivors and transforming a day of tragedy into one of wonderful memories."
Share this post