This Teen is Volunteering to End Period Poverty, Providing Thousands of Menstrual Products to Those in Need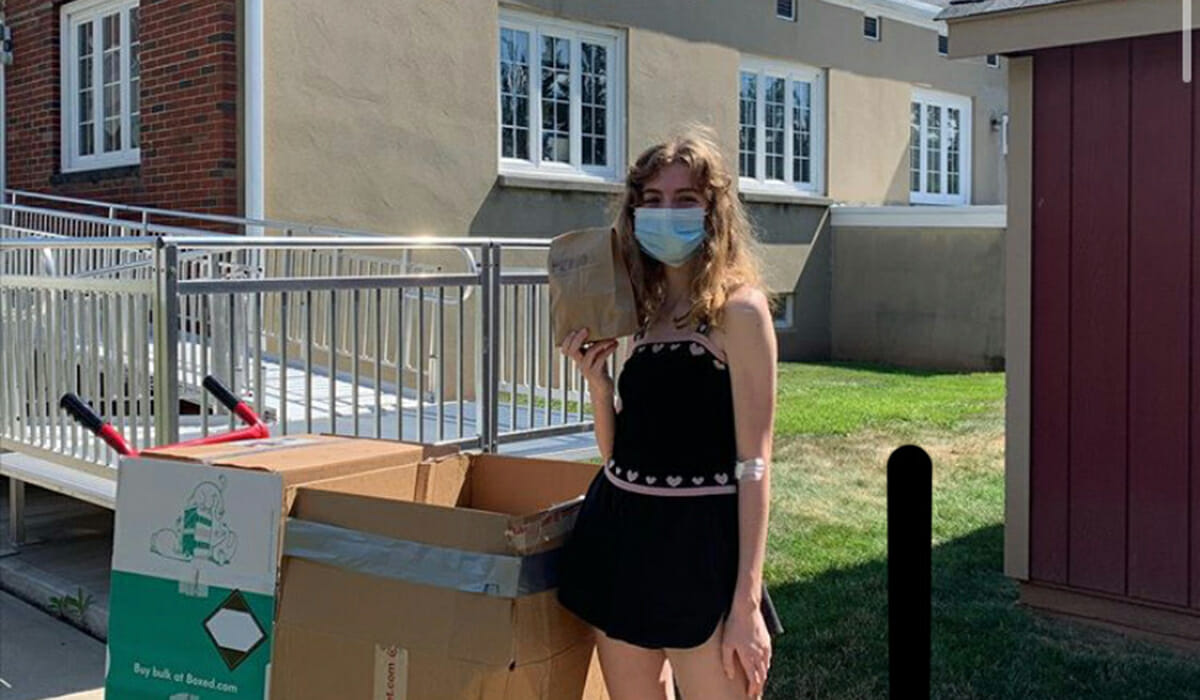 Meet Daily Point of Light Award honoree Samantha Parelli. Read her story and nominate an outstanding volunteer or family as a Daily Point of Light.
An average box of tampons costs $6 at the store. That might be chump change for some, but for others, it could mean the difference between dealing with their period or eating dinner that night.
Believing that no one should have to make that decision, 16-year-old Samantha Parelli started a chapter of the youth-led nonprofit organization PERIOD The Menstrual Movement at her high school in Livingston, New Jersey, in hopes to help end period poverty in her community.
Period poverty is the "lack of access to sanitary products, menstrual hygiene education, toilets, hand washing facilities and, or, waste management," according to Global Citizen. Access to toilets or hand washing facilities might not seem like a major issue in the US, but access to menstrual products definitely is, especially when it comes to underserved and low-income communities.
Only a handful of US states have passed laws mandating that schools provide free period products to students, Global Citizen said. And federal prisons only made these products free as of 2018, with the products often being of low quality,
Knowing that there's much more work to be done, Samantha and her group of volunteers with PERIOD at Newark Academy have organized drives and fundraising events since her sophomore year to collect tampons and pads and distribute them to people in need.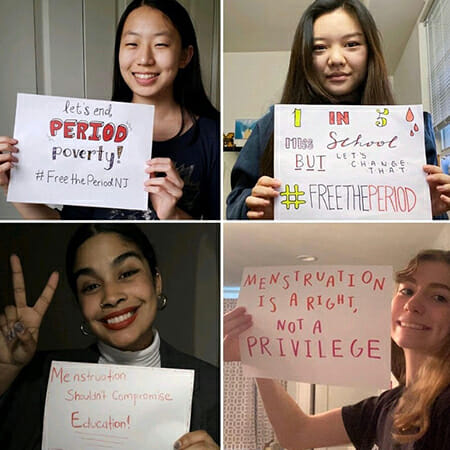 She started off by making them available at her school because she knew firsthand how uncomfortable it was for students to not have menstrual products readily available in school bathrooms.
"I've forgotten pads and it's been really inconvenient to have to ask around," Samantha said. "I knew my friends had similar experiences so I felt like it was a big problem, but it wasn't getting addressed in the way it should be."
So she worked with the school administration to get free menstrual products in her school's bathrooms. But today, two years later, Samantha is impacting much more than just her school.
She and other menstrual activists have been working on a bill that would ensure all public schools in New Jersey have free period products available in bathrooms. The petition has received nearly 1,000 signatures and they hope to present it to lawmakers soon.
Additionally, Samantha has been able to provide around 30,000 menstrual products to more than 10 community organizations such as food banks, homeless shelters and correctional facilities.
"It feels really good to see people getting period products, opening them and not having to worry about it for a three-nights' cycle," Samantha said. "It makes it so much more difficult for menstruators to go to their job or school and do well if they don't have access to this very basic need."
In recent months, with the Covid-19 pandemic forcing so many people out of jobs, the issue of period poverty was further exacerbated. Samantha said she personally received an email from a community member who said she could no longer afford menstrual products.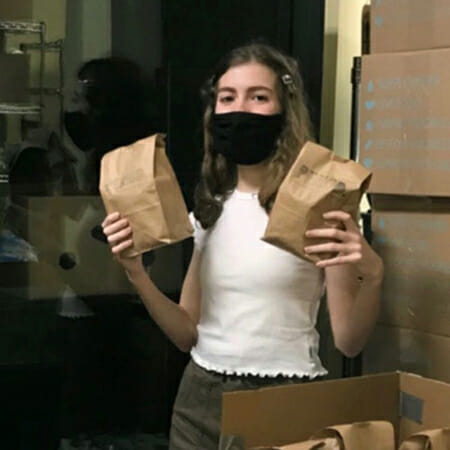 So even with the pandemic making fundraising and drives more difficult, Samantha kept going, even partnering with new organizations to distribute menstrual products to more people.
"It's amazing to see someone young so dedicated," said Denyelle Burgess, network engagement specialist at the Community FoodBank of New Jersey, which has received menstrual products from Samantha since last year.
"For people struggling with food insecurity, they wouldn't be able to afford menstrual supplies, so [Samantha's donations] have made a tremendous difference and it's allowed people to have access to these supplies throughout our entire 16 counties we serve," Denyelle added.
With schoolwork, college applications and extracurricular activities already loading up her plate, running a chapter of a nonprofit organization would seem like too much to handle. But she said it's all worth it.
"Volunteering is a win-win," Samantha said. "You're making yourself feel good and you're also helping others. If you have the power to change something you're not happy with, why not?"
Do you want to make a difference in your community like Samantha? Find local volunteer opportunities.
Share this post