Through Mentoring Project, Teen Helps Those in Need in His Georgia Community
Meet Daily Point of Light Award honoree Haaris Ahmed. Read his story and nominate an outstanding volunteer or family as a Point of Light.
Haaris Ahmed was looking for a volunteer program that would allow him to participate frequently when his school presented students an opportunity to work with The Mentor's Project of Bibb County. The program connects mentors in the Macon, Ga.-area with Bibb County Public Middle and High School students in need of support. Haaris joined as a mentor when he was only a freshman in high school, meeting with his protege once or twice a week to work on homework, go out to lunch, or just talk.
Now a senior, Haaris has evolved with The Mentor's Project in the time of Covid. While he can't meet with his protege in person, Haaris still remains in contact with him virtually. He is also helping The Mentor's Project to deliver food to families in need. Each week, he travels throughout Macon to deliver meals to several different families.
Describe your volunteer role with the Mentor's Project of Bibb County.
I am one of the lead volunteers for the program. I work very closely with the CEO of the program as well. It's mainly for middle and high school kids in our city that need extra help in both school and livelihood. I started as a freshman. The first two and a half years, I had a personal protege of mine. Every week during the school year I would go by and tutor him in school subjects, and sometimes I would go mentor him in other aspects as well. Once Covid hit in March, I was not able to do that, so the CEO of the company set me up with an opportunity to be delivering [food]. I really enjoyed it when I did it, and since then I've been delivering for The Mentor's Project.
What inspired you to get involved in the Mentor's Project?
I have a passion for helping others. My dad is a physician and I see multiple people around me, both family and friends, out there helping people. The joy it brings me whenever somebody gets help is hard to explain, but it just brings you so much joy.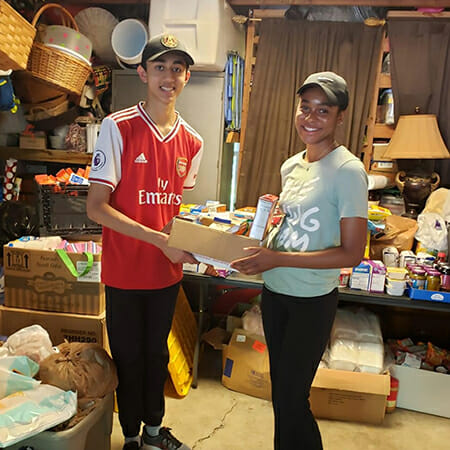 What would you do with your mentee?
On the weekdays, initially we would start by going over his homework and studying for any quizzes and tests he had. When we were done, I would talk to him about how stuff was going on. I would sometimes take him places and talk to him there, or maybe go for lunch with him.
Is there a memory from your time volunteering that particularly sticks out to you?
The first year that I was volunteering for my protege Carlos, when I met with him, he obviously needed help in his education. He was struggling. By working with him, and him understanding how to do better, in the end [he passed] through for the next grade. The feeling and emotion that overcame me in that moment was so much. It was really a joyous moment.
What's been the most rewarding part of your work?
I think definitely the experience of being able to see different aspects of how people live in my community and society.
Why do you think it's important for others to give back?
I think it's important for others to volunteer for them to share what they have with others and to help build our society in the best way possible.
What do you want people to learn from your story?
That anybody can help and everybody should.
Do you want to make a difference in your community like Haaris? Find local volunteer opportunities.
Share this post