Texas Volunteers Step Up to the Plate for Sick Kids in Daughter's Memory
Meet Daily Point of Light Award honorees Courtney and Chris Bonham. Read their story and nominate an outstanding volunteer or family as a Daily Point of Light.

It was just a brief moment of joy, but fourteen years later, Courtney and Chris Bonham can still describe the moment their hospitalized daughter received a small stuffed monkey as a gift. That 'single beam of sunshine' as Chris describes it, briefly lifted the Missouri City, Texas family up in what was a very dark time while the three lived their lives in and out of children's hospitals. Little Riley passed away in 2006 as a result of an injury suffered at birth, but Chris and Courtney continue to volunteer in their daughter's memory to bring small moments of joy to other families in the Houston, Texas area.
As volunteers for UMPS CARE Charities an organization founded through Major League Baseball (MLB) umpires which provides financial, in-kind and emotional support for America's youth and families in need, Courtney and Chris have united their efforts to support sick children and their families. Drawing from their own personal experience, the husband and wife volunteer team, who now have two more daughters, Madeleine and Harlow, are paying it forward to many struggling families in their greater community.
What inspires you to volunteer?
Chris: We gravitated towards this charity because of our experience. God connected us with this organization which has provided an opportunity to give back using the experiences we've had, and help other families that are in similar situations.
Courtney: When we visit these kiddos in their hospital rooms with their parents, they don't know who we are or what we've been through, we're there because we want to be there and we feel blessed to be there. The world keeps spinning but to see (these children), to be able to stand back and witness the smiles on their faces…to bring some joy into a situation where they may have gone quite awhile without joy, or they may be dealing with a lot of pain, it's a blessing.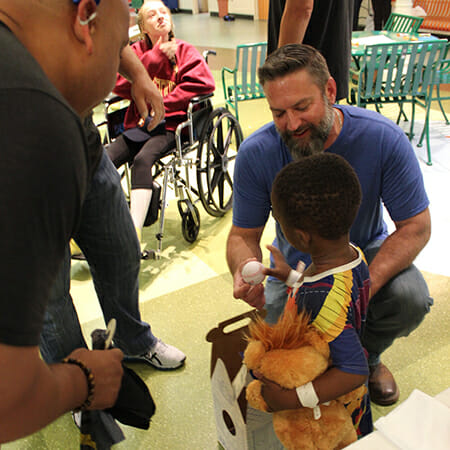 Describe your volunteerism with UMPS CARE Charities.
As volunteers with UMPS CARE Charities, we fundraise, make hospital visits to children and their families and support organization initiatives, including:
MLB Umpire Adrian Johnson's annual golf tournament: Fundraising goes towards BLUE for Kids pediatric hospital visits and other programs. This is one of the largest fundraisers for UMPS CARE Charities each year.
BLUE for kids: Program brings a crew of Major League umpires to the bedside of children with life-threatening illnesses, along with a Build-A-Bear® Workshop gift. To date, UMPS CARE has made more than 150 hospital visits and distributed more than 17,000 Build-A-Bear furry friends.
Kendra Scott Fundraising: A fundraising shopping event hosted around Valentine's Day, which happened to be Riley's birthday.
Share one personal story with me from your volunteerism.
Chris: We visited a young girl and her family at the Children's Memorial Hermann Hospital. During that visit, I'm already going there in my mind, thinking about Riley. The parents had the same look (on their faces) that I've had. I've been that father. After our visit with the child, she was elated, and the father and I had a brief conversation. He thanked me for being willing to offer my time for his daughter. For me, it wasn't so much what this man was saying, but how he was saying it. I can still vividly see his face in my mind, because of the shared experience I'd had with this man who I didn't even know. He was looking at me as a beam of light through absolute despair and the heartache (they faced). I cried for an hour after the interaction.
Why do you think it's important for others to give back?
Courtney: Serving people that are in times of need, especially families with children that are in need of encouragement, is an opportunity to feel humanity and love for one another. Volunteerism crosses all stages and phases of life and economic backgrounds, races and cultures. It's a reminder that there are good souls out there that want to help lift you up in times of need.
Chris: Our volunteerism shows these people that they're not alone. Because what they are going through is very isolating emotionally.
What's been the most rewarding part of your service?
Courtney: It's rewarding having the opportunity to be the only two people there alongside these umpires and UMPS CARE Charity staff. We get to be on sidelines helping umpires bring smiles to faces. It was a full circle experience for Chris and I both.
In one word, what does volunteering mean to you?
Chris: Love. Sharing.
Courtney: Love. I'd deliver bears to children's hospitals five days a week, all year round if I could.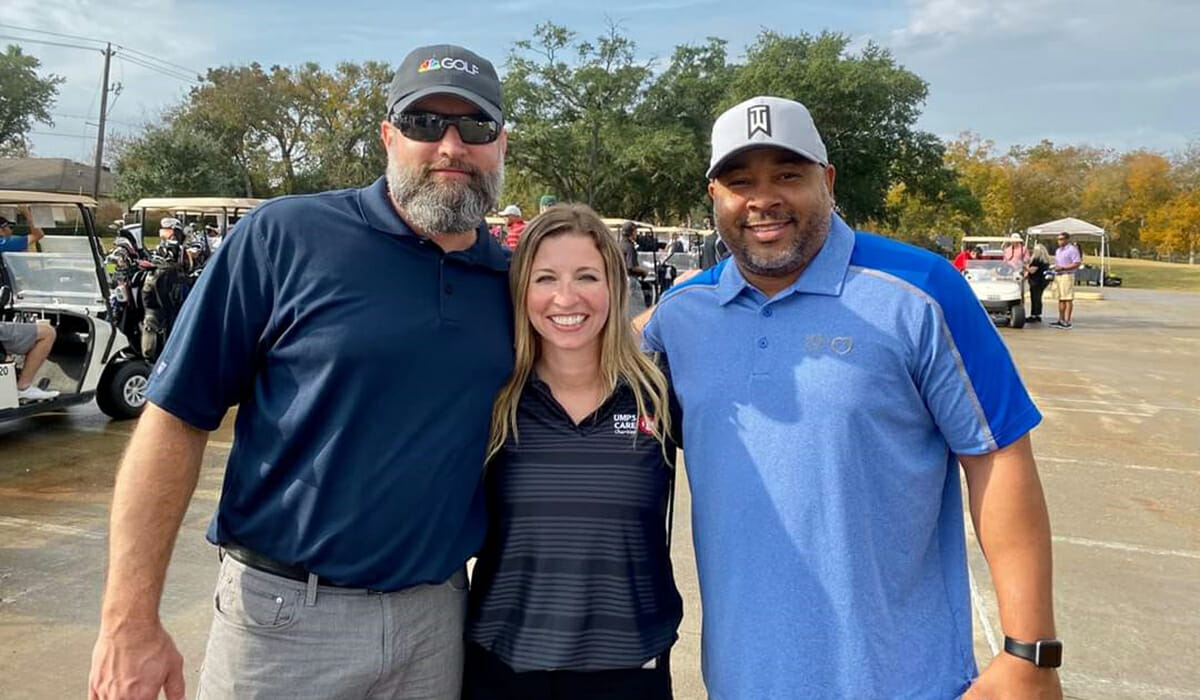 What do you think Riley would say to you about your service?
Courtney: I think she'd be very proud.
Chris: She'd be very proud.
How have you continued to volunteer throughout the COVID-19 pandemic?
Courtney: I've been a part of the team that has helped develop ways to reach out to hospitalized children while making sure their safety and health is protected. We developed an activity book that can be delivered to kids with individually wrapped crayons. The children are still there in the hospital (during the pandemic), and they're already so isolated, so the book serves as a way for parents and their kids to connect through activities, because there's a lot of downtime while you're in the hospital. Most events have been postponed due to the pandemic and hospital visits have been paused.
How can readers help?
UMPS CARE Charities relies on fundraising for their activities. Please visit the website for more information about how you can help.
Do you want to make a difference in your community like Courtney and Chris Bonham? Find local volunteer opportunities.
Share this post