This Wall of Love Offers Personal Items to Those in Need.
Twenty-eight years ago, Holly Jackson was living in a homeless shelter. The Cleveland native had fled from an unsafe relationship, opting for homelessness over abuse. It took a lot of work and perseverance, but she got back on her feet, finished college and feels gratitude every day.
Holly wanted to give back in a way that afforded dignity and respect to anyone in need. She started Walls of Love in November 2018 and has since organized more than 125 of these giving sites around the city. Fueled by donations and volunteerism, the Walls of Love are sections of fence around local businesses where winter care packages and personal items are left for those in need. Since some people are ashamed to ask for help, these sites offer an anonymous source of aid.
Holly is committed to making a difference in his community and she is today's Daily Point of Light Award honoree. Points of Light spoke with her about her commitment to service. Paying it forward in so many small ways gives Holly the chance to be a force for good for people.
What inspired you to start Walls of Love?
I left a domestic violence situation 28 years ago and became homeless. Because I worked, I fell through the cracks. I made more than the poverty guideline allowed but I didn't make enough to take care of my bills. When I had to humble myself and ask for help and was unable to get it, I was devastated and embarrassed. I never want anyone to feel like that again so I started these walls with the hopes that people could be anonymous. I wanted them to come to the wall with no stigmas or judgments.
How do you support the program?
By donations, fundraisers and personal out of pocket that I pay. As well as item donations from people and the community. We were just granted A501 C3 status so I'm looking for grant writers and people that can help me and hopefully will be able to sustain at that point with grants.
How many volunteers does your organization have?
The volunteer count changes based on walls and situations. The average is about 15 to 20 and the maximum has been around 50. In July I have one wall that's going up that has a 140 volunteers.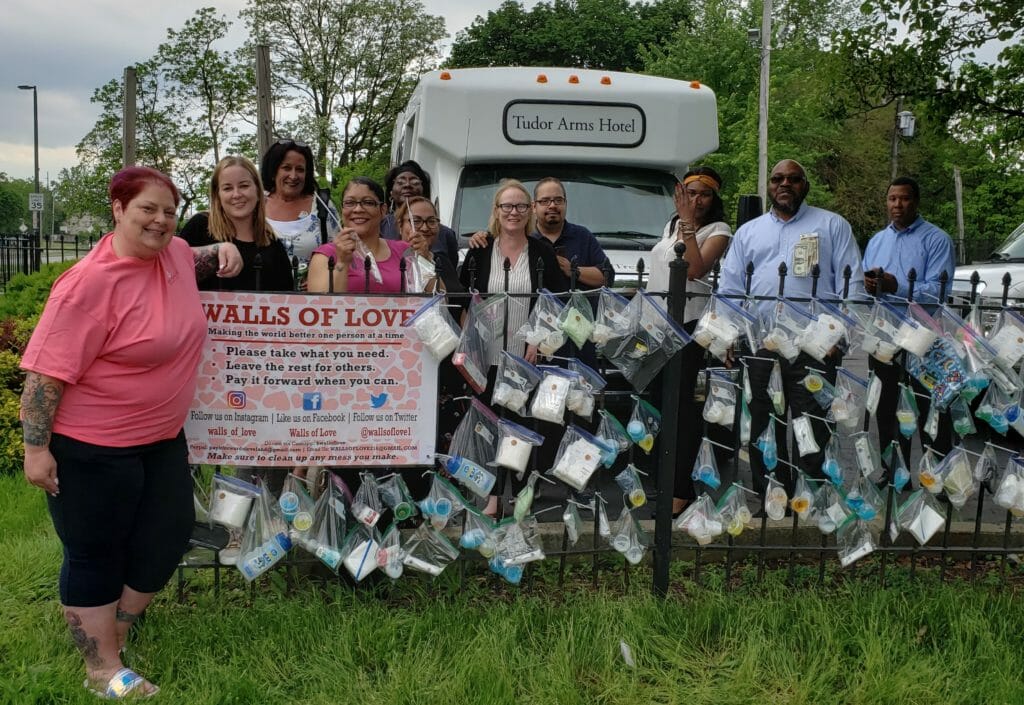 How do you find volunteers?
We get some volunteers with partnerships and some people just reach out asking if they can help. I also have some really awesome friends and coworkers who are always eager to help.
What inspires you to volunteer?
I volunteer because I want to make the world a better place one person at a time. I go out several times a week to take care of a couple permanent walls and one semi-permanent wall that is up nine months of the year. The rest are pop up walls.
What has been the most rewarding part of your work?
Seeing people getting the help they desperately need.
What have you learned through your experiences as a volunteer?
I have learned that you should never assume anything about an individual, and that people will surprise you every time. Often things are not always as they seem, and the people that need the help the most don't ask for it.
Are there any future partnerships, programs, or events that you are excited about?
I'm excited to continue my work with Cleveland Metropolitan School District as well as Save Our Children. I hope to take this program national and I'm always looking for partners in other cities. I would like to note that Walls of Love is a trademarked concept and can not be duplicated without my written permission.
Why do you think it's important for others to give back?
Because you never know how quickly you may be in a situation where you need help yourself. You also have no idea how much your interaction may impact someone's life for the better.
What do you want people to learn from your story?
That you can make a difference in something as small as a smile or kind word. Providing items of daily need and warm winter gear was supposed to be just a one-time thing. I have been blessed to do more than 125 walls and service more than 14,000 people. That motivates me to continue helping. Let's make the world a better place one person at a time!
Do you want to make a difference in your community like Holly? Click here for local volunteer opportunities.
Share this post