Through Youth Leadership Group, Teen Helps Provide Eye Care to Kids in Rural India
Meet Daily Point of Light Award honoree Abhiram Talluri. Read his story and nominate an outstanding volunteer or family as a Point of Light.
Abhiram Talluri said he never really understood the point of volunteering until his sister pushed him to give PURE Youth a try. Part of the organization People for Urban and Rural Education, the international leadership program aims to bring awareness on the impact of education through volunteer projects and fundraising. When he joined the Jacksonville, Fla., chapter, Abhiram's entire outlook on volunteering changed, and he says he has since become a better person.
Abhiram is a part of both PURE Youth and PURE Femme, which focuses on menstrual hygiene education. Through PURE Youth, the 16-year-old designed and planned the implementation of the 'FoFo' project, which helps test the eyesight of children in rural India and get them the help they need if vision problems are discovered. So far, the project has been implemented in ten schools. This summer, Abhiram will also travel to Barbados with PURE Femme to distribute menstrual projects and give presentations on menstrual hygiene to schools and shelters.
Describe your volunteer role with PURE Youth.
We're a part of PURE, and usually we're fundraising for the other parts of PURE for activities such as donating to shelters or schools in India and supporting them and making sure every child gets an education. I'm part of the Jacksonville chapter. The most recent fundraiser we did was a game night in my chapter. We did a game night for one of our focus groups which is PURE Femme Youth, which I'm also a part of. We were funding for patent manufacturing units. Usually I'm reaching out to people and trying to get funds, and when I'm doing my PURE Femme work, usually we make webinars or reach out to other organizations to see if they would like to partner with us and spread the word of menstrual hygiene awareness.
When did you first get involved with PURE Youth, and what inspired you to do so?
I think around two or three years ago. I've been an active member for the past few years. I really like their message. Most of our work is primarily based in India and I'm from India, so it really resonated with me, their message that we empower through education. I really liked that message so I wanted to join.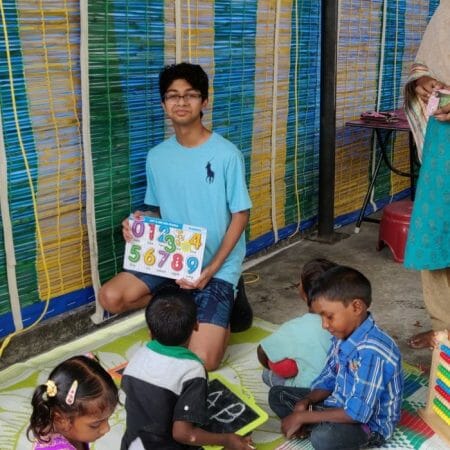 Describe your 'FoFo' project.
I called it PURE Sight, since it's being executed through PURE's on-ground team. I found an invention online for a tool which is like an on-the-go vision screening process. You use the tool and you can adjust it to see if you're nearsighted or farsighted. If they have any trouble with their vision, then we get them further help. We send them to more professional help and an actual vision doctor and make sure they get the glasses or any surgery if needed.
What inspired you to do the 'FoFo' project?
I started it back in January and I finished it in May. Since I was in third grade, I've had glasses, and it was really hard for me before I got them. I sat in the back [of the classroom] and seeing the board was really hard. I realized that kids in India in rural areas won't really have a doctor nearby. If there is one, it's going to be one a few miles away which is really hard for them to get to and really inconvenient. I wanted a really fast and simple way for them to get help and see if they need help, and for us to support them.
Are there any future partnerships, programs, or events that you are excited about?
My focus group in Pure Femme is planning on going to Barbados and talk to a few shelters and schools there about menstrual hygiene and how it shouldn't be a taboo topic. We're probably going to distribute pads to the shelters and schools as well. That's happening in August. That's our big project for this summer.
What's been the most rewarding part of your work?
Before I started PURE, I was kind of a selfish person you could say. I didn't really understand the point of doing charity work. My sister started before me and she was really enjoying it, so I wanted to give it a try. I've really enjoyed myself these past few years. I think I've become a better person because of PURE, so I think that's the most rewarding part.
How has your view of volunteering changed?
When I first went to India to do some work myself before the pandemic happened, I got to interact with the kids there. When I saw their smiles and how happy they were, genuine happiness just from getting the basic necessities, it really changed something in me and I really wanted to do more work for them.
What have you learned through your experiences as a volunteer?
Knowing how grateful I should be for having all these luxuries, and having warm water and water to drink in general, having food on the plate, knowing I'll have a meal tonight. I've learned to see that.
Do you want to make a difference in your community like Abhiram? Find local volunteer opportunities.
Share this post
---