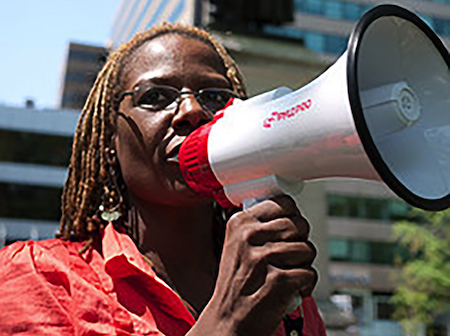 Meet Daily Point of Light Award honoree Tina Frundt. Read her story and nominate an outstanding volunteer or organization as a Point of Light.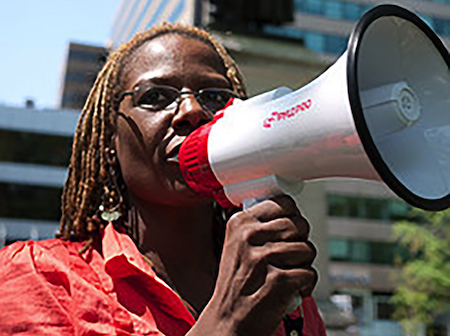 Tina Frundt
It's Tina Frundt's job to know these horrifying numbers: More than 2 million children run away from home each year. About a tenth of them – some 200,000 – become tools in sex trafficking. Their average age: around 12 for girls, even younger for boys.
"People hear the term 'sex trafficking' and they think of girls overseas being traded," says Frundt, executive director of Courtney's House, an organization that works to get children on the streets out of danger. "They don't realize that it's just a legal term for forced prostitution and that it's happening every day here in America."
As a confused and troubled 14-year-old, Frundt herself was one of those thousands. Befriended by an older man on the streets of Chicago, encouraged to trust him and eventually convinced that she loved him, she left her family and moved with him to Cleveland.
There, the man introduced her to a different family: a group of teenage girls he had seduced and put to work on the streets. Frundt would remain tangled up in his scheme until she was in her late 20s.
Once she escaped, she found a job with Polaris Project, an anti-trafficking organization in Washington, D.C., then moved on to start Courtney's House, in 2008.
Operating out of a donated D.C. row house, the drop-in center has helped more than 500 survivors and currently accepts two or three new cases – from walk-ins, lawyers and social workers – each week.
Frundt says she pursues a holistic approach. "We do everything from go out on the streets and rescue sex slaves to help them get scholarships once they exit that world," she says.
At Courtney's House – named after one of Frundt's daughters – survivors receive counseling services, play games and enjoy social activities. They're steered toward moving on with their lives.
"It's about establishing a new mindset," Frundt says. "These teenagers have a deep distrust of people. They've been traumatized. They can feel judged."
The organization trains government officials to see things differently, too, helping them to identify survivors, and encouraging judges and police officers to view kids charged with prostitution as victims, not criminals.
Frundt's become a passionate spokesperson on the issue and received the Free the Slaves Frederick Douglass Award, given to those who have survived slavery and go on to devote their freedom to helping others.
"I'm in a good place now," she says, "and I don't actually regret what I went through. It gave me what I needed to work with those faced with the same situation. I can say, 'You don't have to explain anything to me. I get it, I understand it and I'm not ashamed of it.'"
Share this post
---