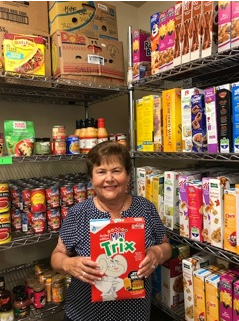 For Tina Haeussler, volunteering has been a way of life. Until her most recent volunteer efforts, much of her time was devoted to helping Hispanic immigrants learn to speak English. It was an effort, she said, aimed at helping them better integrate into American culture and secure gainful employment.
But, her language services dovetailed into helping families at high-risk for hunger. Through her work, helping individuals and families improve their English communication, Tina became involved with her local food pantry. Today, she runs the program.
Points of Light spoke with Tina about why she volunteers and how her efforts improve the lives of those who come to the food pantry for help.
Why do you volunteer?
It's what I do. All my life, I've volunteered. When my husband and I retired, I decided I wanted to volunteer besides travel. I've taught English to Hispanics in San Juan Capistrano, and now I'm involved with the St. Timothy Church Food Pantry.
What do you find to be the most rewarding?
I think it's making a difference in people's lives. I think I've made a pretty good impact when teaching English. I had a few men who came, and they weren't fluent at all. I taught them English, and after two years, they got jobs. One has been promoted to the supervisor of a bakery. I felt this was a really wonderful thing that we accomplished.
Why did you decide to get involved with the Catholic Parrish Food Pantry?
It came about by accident. I would once-in-a-while go in and help. I was helping to teach English, but they needed someone to help stock the shelves. I was familiar with the lady that was the head of the pantry at the time. She and her husband were elderly, and he got ill. I told her if she wanted to take a break to be with her husband, I would take over until she came back. And, she just never came back. That was about 9 years ago. We basically run it like a pretend grocery store.
Describe what you do and how it benefits those who come to the pantry?
I manage the food pantry. I order the food from the Second Harvest Food Bank. It's the county-wide food bank, and because our church is non-profit, we can purchase food at a low cost. I also coordinate donations from parishioners. Five teams of volunteers go to the local farmer's market on Sundays to go and pick up what's left over after the farmers make their sales for the day. I direct all the activities. I'm at the food pantry around 10 hours a day. Normally, we serve 80 families a week. So, that's about 250 people a month. Basically, it's the same families, but we're constantly getting new ones. We, maybe, see about 10 new families each month. I also coordinate a program that sends food home with schoolchildren over the weekend so they have something to eat when they're not at school.
Most of the people are the working poor. They have illnesses and high doctor bills. Some have high utility bills. They don't have enough money for food, so the Pantry easily supplements their food intake. Where we live is a high-rent area — it's expensive to live here. Some are just barely making enough to pay rent.
What have you learned through your volunteer experience?
I've learned that we're all created by God, and we're all the same. We should treat everyone the same. I think about the people that come into the pantry. It takes a lot to go to a food pantry. We try to treat them with as much dignity as we can. We try to call them by name and greet them every week, making the environment as pleasant as possible.
What do you want people to take away from your story?
I know all my volunteers have been volunteers for at least five years. They do it because they love the people. We all feel the same – that we're really helping people. It makes us feel good, but you don't volunteer because it makes you feel good. You do it because you want to make others feel like they're important. No matter the circumstances, other people do care about them and their situations. And, I think everyone I work with feels the same.
Do you want to make a difference in your community like Tina? Visit All For Good to find local volunteer opportunities.
Share this post