Turning Passion into Action, Skilled Cook Empowers Young People to Make Healthy Food Choices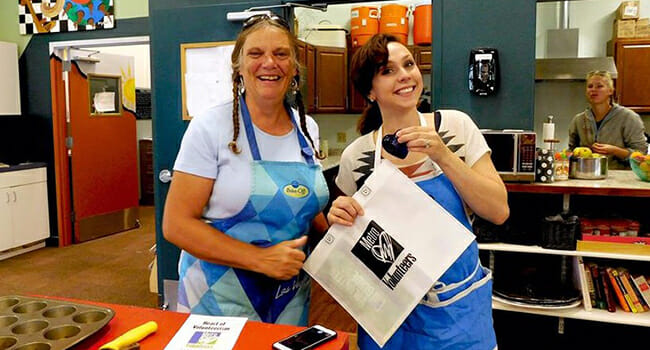 Kim Doyle Wille, a Colorado native, has been passionate about cooking since she was a young girl creating meals in her childhood home. Over time, she became skilled enough to be a winner of the 46th Pillsbury Bake-Off Contest in 2013. Creating a nonprofit focused on healthy food options for the students and families in Garfield County was a natural way to turn that passion into action.
The idea for Growing Empowerment came to Kim when the recession hit and she needed to call on her local Lift-Up food pantry for assistance. She was shocked to find out they were limited to boxed items full of salt, sugar and other unhealthy ingredients – and wanted to find a way for others struggling in the community to have healthier options.
Thanks to Beauty Beyond Belief Wildflower Seed, a Boulder, Colorado-based seed company, Kim was able to distribute donated seeds to local gardeners who were willing to donate a portion of their crops to Lift-Up.
As time passed, her passion for helping the community grew. She created an after-school gardening program where students could not only learn to grow fresh produce but also how to prepare healthy, fresh meals for their families.
"Getting to see the kids' enthusiasm and energy to make things makes it all worth it," Kim said.
Through Growing Empowerment, she has been able to collaborate with Cooking Matters, a national nonprofit dedicated to making sure all kids have the healthy food they need every day. One of these collaborations has been teaching at-risk teen parents at Yampah Mountain High School to make healthy meals on a budget and give them access to healthy food resources in the community.
"She has a unique gift and inspires many young parents every single day. Growing Empowerment empowers the community through education, sustainable projects and gardens for hunger relief and economic development within our communities," said Drew Schelling, Garfield County coordinator for Cooking Matters.
Kim hopes that with this program she can teach teens, while they're still young, how to prepare their own food and depend less on unhealthy options like fast food to feed their young families.
"Giving them basic life skills so they feel confident and they can feed themselves, that's a great thing," Kim said.
Metro Volunteers, a Points of Light affiliate, honored Kim with its monthly Heart of Volunteerism Award in recognition of her passion and dedication. For volunteer opportunities in your area, find your local Points of Light affiliate or search All for Good.
Share this post