College Grad Creates Mentorship Program to Help Girls Find Their Voice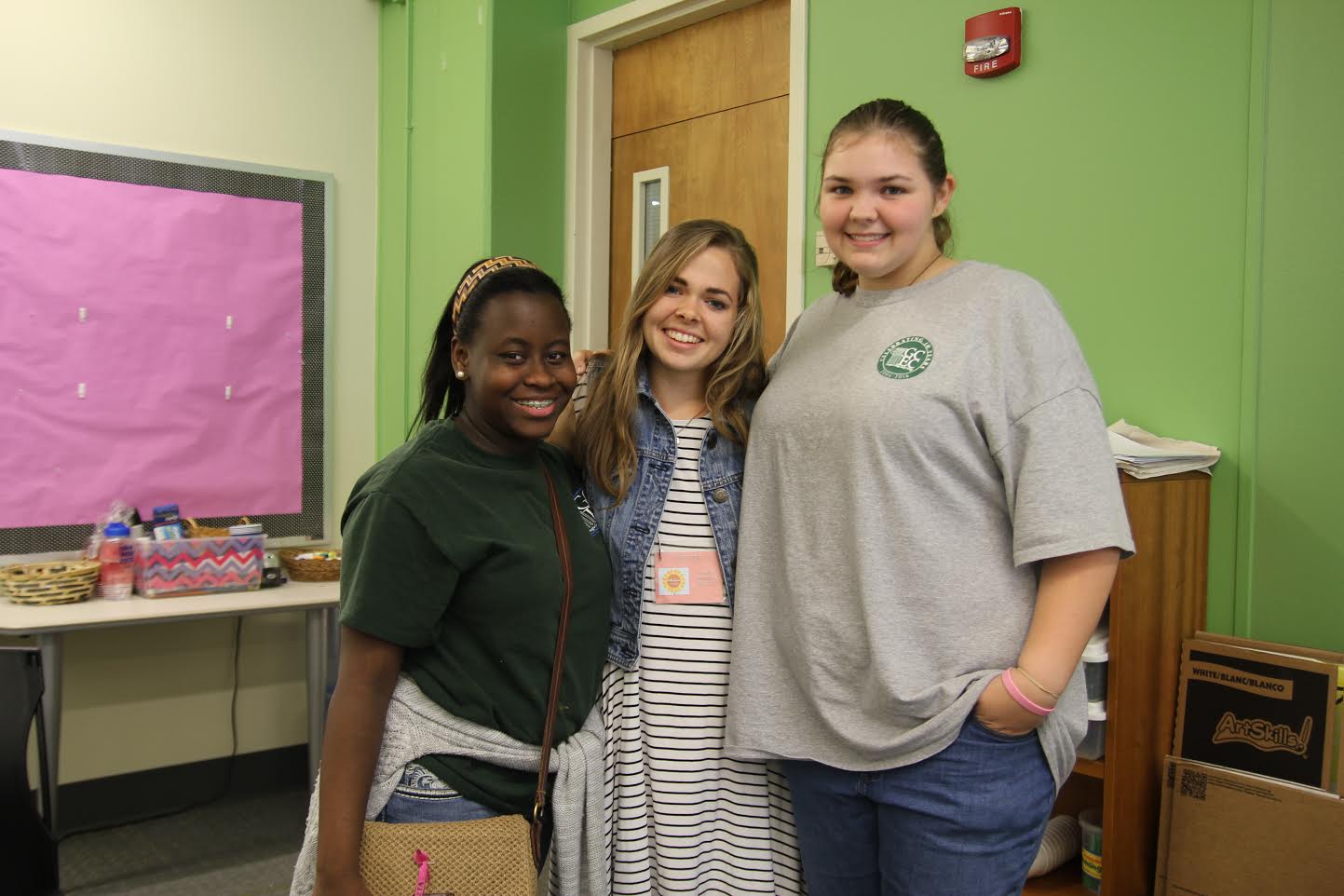 Helping young girls navigate the everyday stressors and pressure adolescents face has been important to Natalie Flanders since age 13. After hearing stories of girls being bullied by their peers, Natalie took it upon herself to become a mentor. Early on, she donated time through the national non-profit called Girl Talk, eventually becoming a national leader of the year during high school.
Natalie's volunteer efforts didn't stop there. After enrolling in Georgia College, she continued her involvement as a freshman and sophomore. Soon, she became president of the Nonprofit Leadership Alliance, a campus organization that helps students learn how to work within and lead non-profit groups. But, something was missing. That's when, in 2015, she launched Girls Grow, an organization that pairs college-aged women with high school girls to help them develop the confidence and leadership skills they need to succeed.
Two years later, the organization is still going strong and is looking to expand to other college campuses and communities. Points of Light spoke with Natalie about Girls Grow and the impact it's had on the lives of more than 200 high school girls.
Why did you start Girls Grow?
When I was a freshman in high school, I started mentoring through Girl Talk. It's a program where high school girls mentor middle school girls. I did that for all four years. It's really my passion. When I got to college, I felt lost without having a volunteer experience that I really connected with. But, it was going to be too difficult to be involved with having high school girls go to the middle school. Instead, I thought what if I had the college women lead the high school students at a local school? It started with five of us mentoring 15 girls. Within a year, we had 40 volunteers mentoring at three different schools. After seeing the success of the program, I decided to create a nonprofit called Girls Grow. With Girls Grow, I've developed a curriculum based on my experience with high school girls. I'm a psychology major with a concentration in development psychology. I've been able to do a study on the impact of the program, as well.
How does the organization work, and what are your goals?
First, I reached out to local high schools and afterschool programs, and we arranged a time for us to come into the schools. I created a student organization on campus with an executive board, and I promoted it on campus through word of mouth. Many college women connect with the idea of helping girls become more confident. Everyone has a different high school experience, and many wish they'd had a mentor to guide them through it. We've been able to connect with a broad range of [female students] across campus, so there are many college women the high school girls can connect with.
From there, the high schools started reaching out to me, asking if they could add us in their schools or afterschool programs. All of our mentors go through training and sign a contract that they'll be committed to the group. I've found that even those who seem like atypical mentor personas have something to offer to the girls. All the girls we serve are diverse. Some are quiet. Some are sassy. Everyone is looking for a mentor she can connect with. We have mentors who are freshmen through seniors, and we work to really make sure we are recruiting across our campus from all different organizations and backgrounds.
How is the group's curriculum organized?
We have seven sections. Each section has a few lessons and worksheets. We have "All About You" where, basically, the girls share who they are. It also helps them define themselves and identify any negative beliefs that they hold about themselves. We help them set mission statements and describe their personal intentions. This breaks down barriers so they can be authentic and vulnerable with each other. They create self-care plans that allow them to focus on how they take care of themselves because there's a lot of pressure in high school, no matter what background they come from.
We have a section on forgiveness and dealing with anger and loneliness, and one on communicating with others. It looks at how you're using social media. We never try to tell them how to act and feel, but we give them space to express who they are, what their actions are and how what they're posting on social media affects them and others. It's a conversation in a safe space.
We also talk about parents and friendships, as well as dating. We talk about healthy and unhealthy relationships and breakups, touching on how they can stay true to themselves while in a relationship. These conversations also help them think about their future. The mentors can talk about their college majors, share information, and answer questions.
Everyone meets at least once a week. Sometimes they meet as many as four times a week. They have the same mentor for an entire semester, and they can get new mentors halfway through the year. Instead of one-on-one conversations, we're set up more like small group scenarios for individual lessons. First, we have ice breakers, and, then, we have discussion questions where they can break off into smaller groups with mentors who can guide them through the questions and share their experiences on the topics. At the end of the session, we have what's called "Let's Keep Growing." It's a challenge for the girls to implement during the week, such as setting a positive intention. For example, it could be trying to understand where your mom is coming from when she gets upset with you and seeing how you can change your actions.
What impact has Girls Grow had on its participants?
Based on our study, 100 percent of the girls said they would recommend Girls Grow to a friend. And, 98 percent of our participants agreed that after one semester, Girls Grow has helped them to respect themselves and develop leadership skills. Also, 95 percent agreed that Girls Grow is helping them make better decisions, feel happier, and prepare them for their future.
Our chapter through Georgia College started in Spring 2015. Since then, we've helped 230 girls with 75 mentors, and we've logged 901 volunteer hours.
What'd next on the horizon for Girls Grow?
We're set to start a chapter at the University of Georgia this fall and at Georgia State this spring.
I graduated in May, and we're applying for 501c3 status now. The goal is to bring the program to schools across the country. We're developing training, and that's why we have the curriculum book. We just finished designing it, and getting it to reach out into the schools is my overall goal. We want to provide resources to parents, counselors and teachers so they can use them to connect more deeply with the girls and daughters in their lives. Our mission at Girls Grow is to be a nonprofit organization committed to creating a community of support for girls so they can grow strong, self-aware and confident.
Why do you think it's important to volunteer?
I think it helps us move out of our own heads and into our hearts. In this culture, nowadays, it's a "me" culture. It's what you're sharing on social media, what you're doing. When you're volunteering, and it's coming from a genuine space, you're trying to serve from your heart. You're doing it in a way that you know it's actually making an impact that not only benefit the community, but also helps you become an educated citizen. It helps you be a more sensitive and caring person.
Do you want to make a difference in your community like Natalie? Visit All For Good to find local volunteer opportunities.
Share this post