Two Young Competitive Swimmers Raise Awareness for Swimmer Safety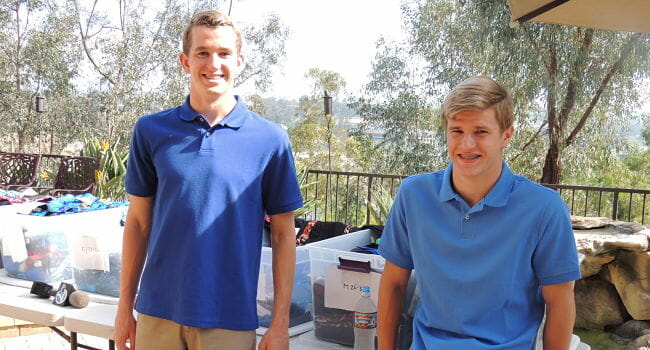 Twins Chris and Matt Hales, now 17-years-old, have traveled the world as competitive swimmers since they were in first grade. But one event outside of Puerto Vallarta a few years ago proved especially noteworthy. "It was their first trip out of the country," recalls their dad, Michael, who accompanied them. "And it was a really amazing experience – a lot of Mexican kids were pushed up against a chain link fence watching the meet from the outside. Everyone was so excited."
The boys were so touched that at the completion of the challenge, instead of exchanging googles and caps with their fellow athletes as is the tradition, they gave them to the young onlookers. "As we drove away, though, we all wondered if these impoverished kids would even have any use for this equipment," Michael recalls.
When they returned home to Orange County, CA, the brothers did a little research. "They found that poor people – even in America – often don't know how to swim because if they have access to free lessons, they can't afford the cost of swimsuits and accessories," says Michael.
As a consequence, more than 300,000 children die each year from drowning, according to the World Health Organization. Even in America, it's the second leading cause of death for those under 14.
"We decided why don't we do something about that?" says Chris. Just a few months later, the boys had established their nonprofit, Goggles for Guppies.
"The goal," adds Matt, "is to help everyone become water-safe."
The twins started their project by reaching out to a few local stores and asking if they would be willing to donate any unsold equipment. They also approached the USA Swimming Foundation, which runs about 800 swimming programs for at-risk and inner city youth, with their idea of sending the new, unsold equipment to those in need. Representatives were keen on the idea, but only if the boys would commit to handling the actual distribution.
Each week, the twins spend up to 10 hours on their volunteer efforts, even during the busy school season. About a dozen manufacturers and retailers are looped into their network and send inventory regularly, and others who hear of the effort often contact them offering to send $75 Speedo bathing suits and the like. One manufacturer, Finis, now donates one pair of goggles for each that it sells.
Once the family has sifted through what they've received, they send an updated list to the Foundation. The Foundation then sends requests for donations from local school districts and organizations like the Boys and Girls Clubs of America. "We set up an assembly line and get packing. Boxes line the length of the house and my three-car garage can barely fit one car," Michael jokes.
What started as a local effort has grown to be a countrywide and even international one, with the twins and their parents collecting, packing and distributing more than 17,000 swimsuits, caps, and goggles to needy youth in places as far away as Haiti and Guatemala.
"I'm just so proud of these kids," says Michael. "They not only came up with the idea but they've managed the whole effort and made it grow and grow. They've never gotten tired of it and kept wanting to do more."
Childhood drowning impacts everyone, Michael continues, and raising awareness is the easiest way to help out. "Ask your local retailers if they'd be interested in donating left-over items to Goggles for Guppies," he suggests. "Young athletes around the country have organized competitions to get sponsors to pledge new swim suits. Other kids have participated by making Goggles for Guppies their bar mitzvah or Eagle Scout projects. There are just so many ways to raise awareness and increase our inventory."
To find out more visit Goggles for Guppies or USA Swimming Foundation.
Share this post