Today at the Conference on Volunteering and Service in Houston, we celebrate a Michigan man who is bringing a community together to grow fresh food amid urban blight. Meet Tyson Gersh, today's Daily Point of Light Award honoree.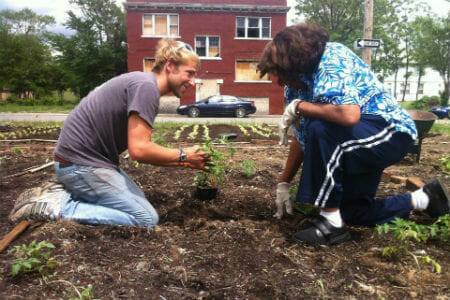 Tyson Gersh, left, and community member Delores Bennet plant seedlings together.
"Anyone have a little free time today? We could use a few extra hands on site!"
Tyson Gersh posts countless variations of this query on Facebook and Twitter, as he grows the Michigan Urban Farming Initiative, a nonprofit he cofounded in 2011 to address the lack of access to fresh food in some urban neighborhoods.
Since acquiring empty buildings and vacant lots in Detroit's North End at an auction – some 30 properties altogether – Gersh has counted on an ever-growing troop of 8,000 volunteers to turn ruins into a thriving farm that distributes the fruits of its labor for free.
"Everything we do has come from leveraging social media," Gersh says. "People are eager to help. They ask me what I need, and I say, 'You'll have to come to find out.' It could be tearing down a building, it could be weeding a garden."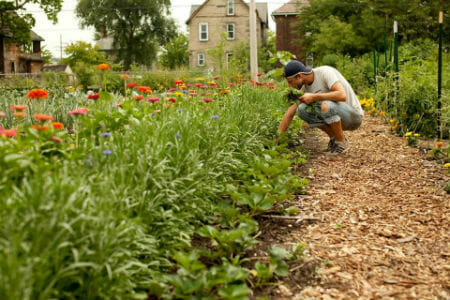 Tyson Gersh weeds a Michigan Urban Farming Initiative garden.
Once they come – whether from down the block or out in the suburbs – Gersh takes photos of them at work, then posts the images.
"There they are looking super dirty and their friends see it and want to get in on the fun," says Gersh, 26. "The networking has just gotten easier."
Gersh got the idea for the Michigan Urban Farming Initiative a few years ago, while – as part of his studies in social psychology at the University of Michigan – he worked as a research assistant for the Urban Community Oral Health Project.
His interviews helped him understand the relationship between socioeconomic status and physical and economic access to a variety of healthy foods.
The relatively simple idea of developing a community garden that would provide good food for all has morphed into a project that aims to "drive innovative green and blue [water-focused] infrastructure by a new model of blight deconstruction," Gersh says.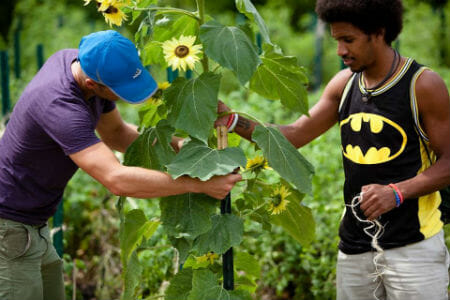 Tyson Gersh, left, and volunteer Michael Anderson stake sunflowers for the Michigan Urban Farming Initiative.
For instance, one crumbling structure is being torn down, leaving only its basement, which will be converted into a retention pond to provide water for the farm.
"In Detroit, there are 80,000 blighted properties; the city's response is to tear them down, which leaves behind vacant land, a feeling of disinvestment and danger," Gersh says. "We want to figure out ways to repurpose these existing buildings relatively cheaply."
Gersh adds that because two-thirds of the cost of demolition goes toward removing the basement and foundation, it benefits the organization – and the community – to use that piece.
"Tyson Gersh exemplifies the shifting – and expansive – nature of volunteer service today," says Tracy Hoover, Points of Light's president. "By using social media, his background in social psychology and a desire to make life better for others, he is drawing from his skills and passions to recruit volunteers and transform a neglected community."
Last year alone, the Michigan Urban Farming Initiative grew 15,000 pounds of organic produce, some 230 varieties of crops – including 30 kinds of tomatoes and 25 kinds of carrots.
"The neighbors get really excited about having access to fresh food," Gersh says. "Since most of them also serve as volunteers on the farm, they are literally reaping the rewards of what they sow. The experience of taking ownership and changing the world around you is really empowering."
To learn more about the Daily Point of Light Award, or to nominate a volunteer or organization, please visit www.pointsoflight.org/dailypointoflight.
Share this post