Using Respect to Battle Bullying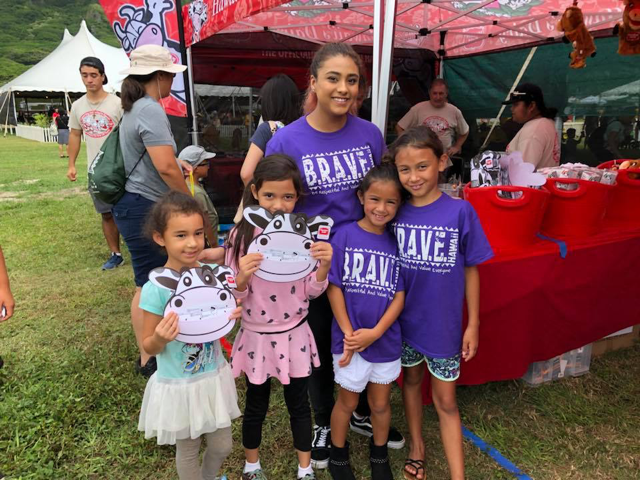 Being different, showing individuality, is a good thing. Or at least it should be, until those differences inspire bullies to berate and intimidate. As defined by the Centers for Disease Control and Department of Education, bullying is unwanted aggressive behavior, observed or perceived power imbalance and repetition of this behavior to hurt and intimidate. It's a real problem, an average of 1 in 4 U.S. students say they have been bullied at school. It happened to Mahealani Sims-Tulba when she was in the 5th grade and got involved in the competitive pageant scene with a few of her friends. Mahealani, now 18, was soon derided for being "too fat, not smart enough, not pretty enough" to do well in the competitions, bullying behavior that continued for years. With the support of her parents, she got past the attacks, but realized that not all kids who are bullied have that kind of support. Which is why, when she was 13, she created a 501c3 non profit organization called B.R.A.V.E. – Be Respectful and Value Everyone. Partnering with schools all over the state of Hawaii, Mahealani speaks and holds workshops for kids of all ages, reaching more than 70,000 kids to date with her message of anti-bullying positive reinforcement. She wrote a children's book, called "It's Okay to be Different," which she shares with children as young as five. Recently crowned Miss Teen Cosmos United States, she plans to take her B.R.A.V.E. Hawaii platform nationwide.
Mahealani is committed to making a difference in her community and she is today's Daily Point of Light Award honoree. Points of Light spoke with her about her commitment to service.
What inspires you to volunteer?
I was inspired to create B.R.A.V.E Hawaii when I became a victim of bullying in the 5th grade. I knew that there were many children who had gone through the same experiences as I did, and I wanted to share my story with others. I wanted to create positive programming that would build kids' self esteem and inspire kindness and positivity in kids of all ages. Not all kids have such great parents as I do, so I wanted to show other kids that someone was listening and understands what they are going.
Describe your volunteer role.
I am the founder and CEO of B.R.A.V.E Hawaii, which involves creating community service events and bringing kid volunteers together to create positive change. Our Foundation also uses donations to give scholarships to extraordinary kids who make a difference. I've been performing since I was six years old, and I know how it can build self-esteem. So we hold talent shows that give all kids the chance to express themselves in a supportive environment.
What's been the most rewarding part of your work?
The most rewarding part is knowing that I am able to touch the lives of other people and educate them about the effects of bullying. I have been able to speak to teachers, students who have been bullied, and even students who are the bullies, and I have been able to help them realize why that behavior is wrong. Being able to touch their lives and put smiles on their faces means a lot to me.
What have you learned through your experiences as a volunteer?
I've learned the importance of speaking up. Since we are able to have educational assemblies in the schools here in the state of Hawaii, we speak with many students and teachers. Many of the teachers tell us that their students experience bullying, but they never speak up about it. I've learned that if you speak up, especially if you are being bullied, not only does it make it easier to get help, but you encourage others to speak up about their experiences as well.
How does social media figure into bullying?
In this day and age social media can make it easier for kids to bully others. They bully behind the safety of their screen and keyboard, feeling they don't have consequences. We talk about that, how to stop that cycle, block the person, report them to social media and ultimately tell an adult and take action. It's important not to buy into the bullying, to live your life and walk away from it. Speaking up is the first step.
Are there any future partnerships, programs, or events that you are excited about?
We are very excited for our annual B.R.A.V.E Hawaii Toy Drive, which is coming up in November. We also excited about our B.R.A.V.E Hawaii Kids Showcase, where we will honor the winners of our B.R.A.V.E Hawaii Kids Scholarship Program. We also are launching BRAVE TV – a community access television show – January 15. We are also planning a benefit concert starring comedian Augie T (who happens to be my dad) February 25 with all proceeds going to BRAVE HI.
Why do you think it's important for others to give back?
I believe it is important for others to give back because there are people in our community who are constantly giving to us. As young people, I believe that if we give back to those who watch over us, it will make the world a better place. We must set examples for those who will come after us, and encourage them to give back to those who help them throughout their lives.
What do you want people to learn from your story?
I want people to learn that it is okay to speak up. Luckily, when I was going through my bullying experience, I had a very supportive family who helped me through it. I know that some children aren't so lucky. I want to communicate that they aren't alone – that there are thousands of other children who are going through the same thing. Ultimately, I want to be able to encourage others, and with their bravery and courage, they will be able to inspire and encourage other kids just like them.
Do you want to make a difference in your community like Mahealani? Visit All For Good for local volunteer opportunities.
Post written by Beth D'Addono
Share this post